Nevada gaming revenues jump 16 percent in May, largest increase since 2006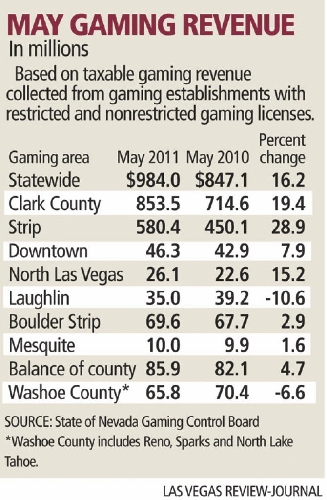 Keep the champagne on ice.
Nevada gaming revenues in May recorded the state's largest single month increase in almost 4½ years. Meanwhile, Strip casinos reported their highest single- month take from gamblers since January 2008.
The one-month totals, however, don't mean we're out of the woods yet.
But it's a good sign.
"While the May results are encouraging for the Las Vegas market, we continue to believe it is too soon to make a call on a sustainable recovery," Macquarie Securities gaming analyst Chad Beynon told investors Monday.
The Gaming Control Board reported Monday that Nevada casinos collected $984 million from gamblers in May, compared with $847.1 million in May of last year. The jump of almost 16.2 percent was the state's largest percentage increase since December 2006. The revenue total was the largest single-month total since September 2008.
On the Strip, gaming revenues grew 28.9 percent during May, with casinos collecting $580.4 million from gamblers, compared with $450.2 million a year ago. The Strip's percentage increase was the largest since February 2010, when gaming revenues grew 33 percent.
Analysts said several factors played into the results.
First, statewide gaming numbers were helped by methods casino regulators use to count slot revenues. April ended on a weekend and revenues generated by slot machine wagering fell into the following month's reporting figures.
In April, gaming revenues fell less than 1 percent statewide and 2 percent on the Strip.
However, on the Strip slot machine revenues grew 11.4 percent to $261 million while the amount wagered on slot machines was up 1 percent, the third straight month that slot wagering increased.
Gaming Control Board Senior Research Analyst Mike Lawton said the three straight months of increased slot machine wagering was the first time this metric has occurred on the Strip since June through August 2007.
"It seems like we're starting to see some traction in slot machine wagering, which is a positive sign for the state," Lawton said.
Meanwhile, baccarat results provided a strong lift to the Strip. Casinos collected $139.6 million from baccarat players, a 130 percent jump compared with a year ago, while the amount wagered on the game increased 58.4 percent, to $1.2 billion.
Special events, including the Manny Pacquiao- Shane Mosely championship fight at the MGM Grand on May 7 and UFC 130, at the MGM Grand on May 28, drew large contingents of high-end customers.
A year ago, baccarat revenues declined because of a lower-than-average hold percentage.
"It was an easy comparison," Lawton said.
Stifel Nicolaus Capital Markets gaming analyst Steven Wieczynski said investors should focus more on slot machine totals than baccarat results.
"Slot handle is often a more meaningful indicator of the Strip's overall health, as it generally reflects improved guest visitation and increased spend per visit once on property," Wieczynski said.
He added that any recovery on the Strip would be driven by a general improvement in lodging trends and convention and group visitation figures.
The May numbers helped statewide gaming revenues increase 2.5 percent for the first five months of year. Strip gaming revenues are up 4.7 percent through May.
Throughout Clark County in May, gaming revenues climbed more than 19 percent as every reporting area in the market except one — Laughlin — showed increases in gambling activity. Casinos in Laughlin reported a decline of 10.6 percent during May.
"While the Las Vegas Strip casino revenue results surprised to the upside largely due to stronger baccarat trends, we believe the broader wagering trends along the Strip and downtown and locals markets are encouraging," said Jefferies & Co. gaming analyst David Katz.
For the calendar year, gaming revenues on the locals markets — the balance of Clark County, Boulder Strip and North Las Vegas — are up 2.3 percent.
Still, Union Gaming Group Principal Bill Lerner said he "continues to be apprehensive" about the overall recovery in the locals market, primarily because Las Vegas' 12.4 percent unemployment rate is markedly higher than the nation's 9.1 percent rate.
Gaming taxes collected in June based on May's gaming revenues were $68.3 million, an increase of 17.6 percent compared with $58.1 million reported in the same period last year.
For the fiscal year, which ended in June, gaming tax collections were more than $651.8 million, an increase of 3.3 percent over fiscal 2010. Lawton said the overall figures slightly exceeded the projections made by the Nevada Economic Forum in May.
Contact reporter Howard Stutz at hstutz@reviewjournal.com or 702-477-3871. Follow @howardstutz on Twitter.