Nevada gaming win rises again in May as visitor count inches up
Updated June 29, 2017 - 10:22 am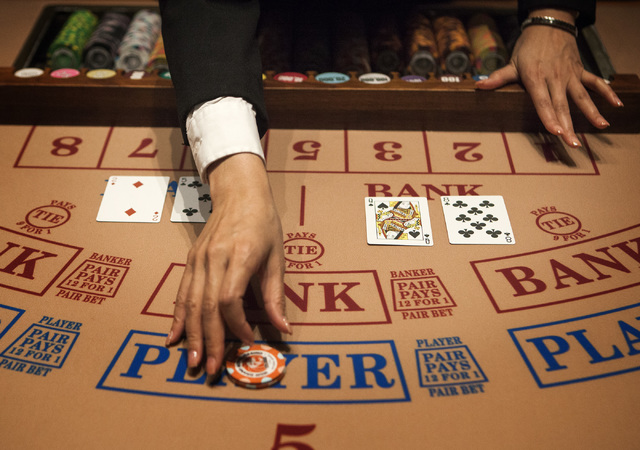 The state's casinos recorded their third straight month of rising gaming win in May and the highest monthly total since February, the state Gaming Control Board reported Thursday.
The board reported winning $991.6 million from gamblers, a 3.5 percent increase over May 2016.
Clark County gaming establishments continued to outperform the rest of the state with $860.7 million, a 3.5 percent increase for the entire county, $546.8 million, up 3 percent, for the Strip and $55.2 million, up 9.5 percent, for downtown Las Vegas.
Of the 19 markets measured in Nevada, 12 showed improvement from over a year ago.
The three-month average for March, April and May, considered a more accurate barometer for measuring performance, also showed improvement with the state up 4.1 percent, Clark County climbing by 4.2 percent, the Strip up 2.6 percent and downtown soaring by 17.8 percent.
The state recorded gaming win increases in April (1.2 percent) and March (7.4 percent) after a 4.5 percent decline in February.
Statewide, May numbers were bolstered by a 13.7 win percentage on table games and an above-average 7 percent win on slot machines.
Penny slots strong
Penny slots continued to carry revenue in casinos statewide with $282.7 million won in May, with a 10.2 percent win percentage and 2.2 percent ahead of May 2016.
At the tables, baccarat brought in $100.9 million from 28 locations while blackjack raised $110.8 million from 147 casinos. Baccarat win percentage of 13.1 percent was slightly below the average recorded in the past 12 months.
The Control Board's Tax and License Division senior research analyst said baccarat play appears to be stabilizing.
"I think what we have been experiencing in baccarat can be compared to a very rough ride on a roller coaster," said analyst Michael Lawton. "However, it appears that the ride might be smoothing out for us as we have now recorded increases in volumes three times this calendar year compared to last year when we recorded only one increase the entire year."
Through Wednesday, the state has collected $689.1 million in fees for the fiscal year, 1.9 percent ahead of last year's pace.
Visitor volume inches up
Meanwhile, the Las Vegas Convention and Visitors Authority reported later in the day that visitor volume inched up by 0.3 percent in May to 3.6 million, the second-busiest May on record. For the first five months of 2017, volume is 0.5 percent below last year's record pace as the prime vacation season arrived.
Convention attendance perked up by 20.2 percent to 514,615, thanks to favorable show rotations. The Licensing International Expo with its 16,200 attendees was held in May this year after being in Las Vegas in June 2016. The American Academy of Physician Assistants, with 7,000 people, met in Las Vegas after meeting elsewhere last year.
Occupancy, average daily room rate and revenue per available room all performed better than last May with occupancy up 1.1 percentage points to 89.1 percent, room rates up 3.6 percent to $127.14 and revenue per available room up 4.9 percent to $113.28.
Southern Nevada's rural destinations continue to tread water in 2017. Visitor volume for Laughlin was up 1 percent to 164,106 with the five-month total up 0.1 percent to 808,028.
Mesquite was up 2.4 percent to 115,951 for the month, but is down 1.2 percent to 579,991 for 2017.
Contact Richard N. Velotta at rvelotta@reviewjournal.com or 702-477-3893. Follow @RickVelotta on Twitter.
May tourism indicators
May 2017 May 2016 Change
Volume 3.602 million 3.592 million 0.3%
Citywide occupancy 89.1% 88% +1.1 points
Average daily
room rate $127.14 $122.73 +3.6%
Room nights occupied 4.078 million 4.056 million +0.6%
Convention attendance 514,615 428,031 +20.2%
Air passengers 4.208 million* 4.150 million +1.4%
Average daily highway
auto traffic 119,411 116,193 +2.8%
Clark County
gaming revenue $860.7 million $831.7 million +3.5%
*Highest level of 2017