Nevada gaming win tops $1B for second straight month
Updated August 28, 2019 - 2:02 pm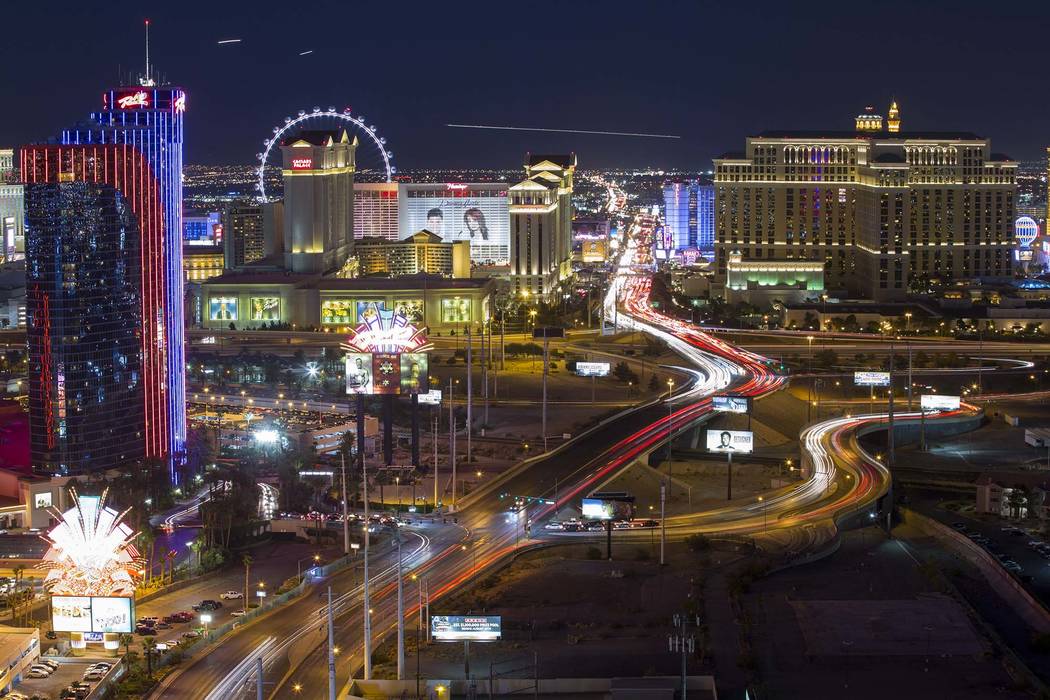 State gaming win for July surpassed $1 billion for the second straight month, with most Clark County key markets showing improvement over a year ago, the state Gaming Control Board reported Wednesday.
The board reported statewide win of $1.024 billion, a 2.9 percent increase over July 2018.
It was the second straight month of gaming win improvement after five consecutive months of declines.
In Clark County, win was up 2.6 percent to $860.4 million, with the Strip up 1.6 percent to $541.8 million and downtown Las Vegas soaring 7.6 percent to $52.5 million.
Only one Clark County market showed a decline for the month, North Las Vegas, which was off 0.9 percent to $27 million.
Washoe County was flat at $78.1 million, but South Lake Tahoe showed the greatest improvement in the state for the month, up 16.9 percent to $35 million.
The three-month gaming win trend, generally a more telling gauge of activity because it eliminates volatile swings resulting from calendar comparisons, showed a 2.5 percent increase statewide for the months of May, June and July. On the Strip, the three-month win trend was up 2.3 percent.
For the calendar year, state win is up 0.3 percent over the first seven months while Strip win is down 1 percent.
The path to July's strong win total was different from June, which was driven by strong baccarat play.
"This month's results were driven by continued increases to both slot volume and win, up 3.9 percent and 4.4 percent, respectively, in July," said Michael Lawton, senior research analyst for the Control Board.
"Slot volumes have decreased only once in the past 12 months and are currently up 1.9 percent calendar year to date," he said. "Meanwhile, slot win has recorded increases in six of the first seven months this calendar year and are currently up 2.7 percent to date."
The Las Vegas Convention and Visitors Authority also reported Wednesday that every tourism indicator was up in July.
Despite having the lowest monthly total of convention attendance in 2019 at 498,800, July's count was up 22.2 percent over July 2018.
The increase was attributed to the return of 18,500 attendees for the Association of Woodworking and Furnishing Suppliers. Also, the 44,000 head count for the ASD Show, a retail showcase, fell in August last year, but was held entirely in July this year. The LVCVA counts are logged on the last day of a show.
Visitor volume was up 0.7 percent to 3.686 million people, and the 4.204 million room nights occupied was the highest monthly total of 2019.
The average daily traffic count on highways leading into Las Vegas also had its highest monthly performance in July with an average 135,889 vehicles a day, a 3.8 percent increase over July 2018.
Weekend occupancy was at 97.2 percent, the highest month in 2019, and the average daily room rate was up 6.6 percent to $126.92 a night.
Contact Richard N. Velotta at rvelotta@reviewjournal.com or 702-477-3893. Follow @RickVelotta on Twitter.
July tourism indicators
July 2019 July 2018 Change
Visitor volume 3.686 million 3.66 million +0.7%
Citywide occupancy 91.1% 90.8% +0.3 points
Room nights occupied *4.204 million 4.155 million +1.2%
Convention attendance ^498,800 408,000 +22.2%
Average daily room rate $126.92 $119.08 +6.6%
Air passengers 4.514 million 4.426 million +1.2%
Average daily highway
Auto traffic *135,889 130,920 +3.8%
Clark County
Gaming revenue $860.4 million $839 million +2.5%
*Highest in 2019 calendar year
^Lowest in 2019 calendar year