Nevada panel keeps barrier between gaming, marijuana
Updated March 5, 2018 - 6:00 pm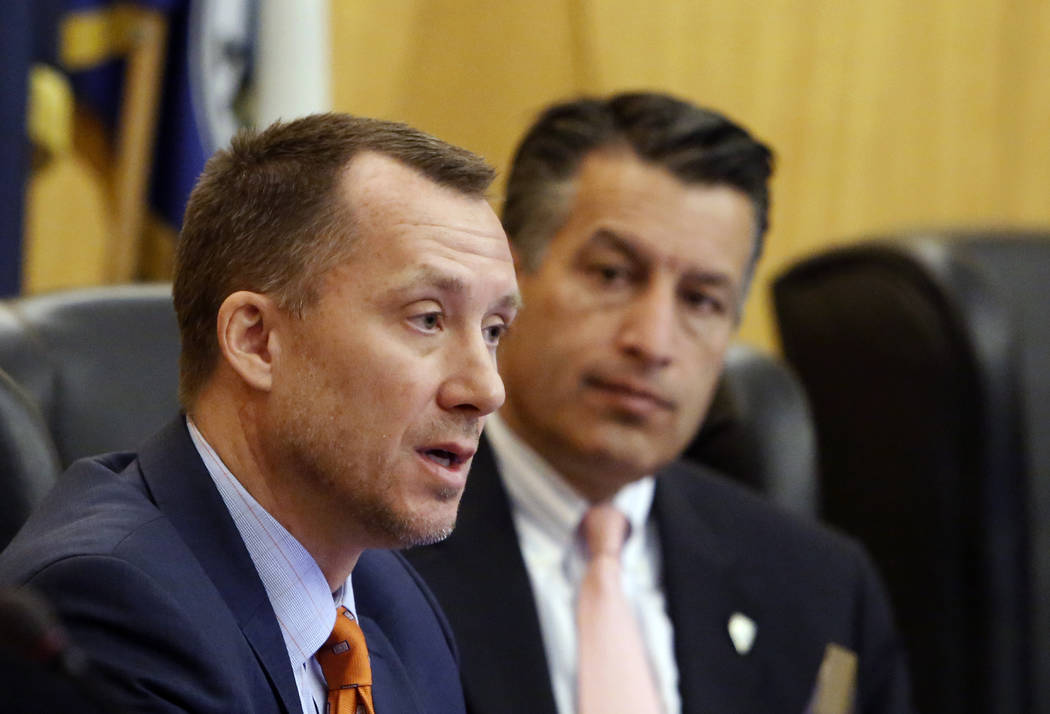 If state gaming regulators follow the lead of Gov. Brian Sandoval's 12-member Gaming Policy Committee, the gaming industry and Nevada's new marijuana distributors will never share a business relationship.
The only time their paths may cross will be when marijuana companies stage conferences at resort convention centers and exhibition halls to bring business people together to talk shop. But the companies will be prohibited from bringing products to those exhibitions.
No marijuana smoking lounges at resort properties; no landlord-tenant relationships for the sale, cultivation or distribution of marijuana; no financing deals benefiting either a gaming company or a pot provider.
That was the conclusion of the committee, which needed less than an hour Monday to discuss and tweak a resolution addressing the state's stance on marijuana and the gaming industry.
The action reinforces policy that already existed, but was debated anew once voters approved an initiative legalizing recreational use of marijuana in 2016. Gaming regulators have always maintained that their licensees should steer clear of the marijuana business because the federal government views possession and consumption as a violation of the Controlled Substances Act.
"Part of the collision here is our gaming licensees are required to comply with both federal and state law, which they have done," Sandoval said after the committee voted unanimously in favor of a resolution outlined by Nevada Gaming Commission Chairman Tony Alamo.
Historic action
Alamo considered Monday's action historic because not only did regulators weigh in on the policy, but gaming industry stakeholders also backed it.
The committee included executives from three Las Vegas-based gaming companies as well as two state lawmakers, including a leading marijuana advocate, Sen. Tick Segerblom, D-Las Vegas.
Gaming regulators have been reluctant to give their blessing to casinos to open dispensaries in resorts or have any kind of business relationship with a pot provider, even after Nevada voters approved the use of medical marijuana in the state in 2000 and recreational marijuana in 2016 because of the federal government's position.
"I think the governor ended up right where we should be," Segerblom said after the vote. "Before, it was not clear when you had a conference whether there was a violation of the gaming law. The reality is that until the feds decide what they're going to do, we can't have marijuana in the hotels so short of that, we need to figure out how to do business because this is a huge economic opportunity, too."
Recreational marijuana sales began July 1. In its first six months of legal operations, the state's marijuana industry has generated $30 million in tax revenue from the estimated $200 million in sales.
Tourism bonanza
But questions continued to be raised over how marijuana sales could be parlayed into a tourism bonanza.
More questions emerged in January when U.S. Attorney General Jeff Sessions announced that he was rescinding three policies of non-interference with marijuana-friendly state laws established during the Obama administration. State leaders say they have received no indication how newly appointed U.S. Attorney Dayle Elieson would pursue marijuana cases in Nevada.
But regardless of Elieson's treatment of cases, a legal entanglement involving a violation of federal laws could then result in state complaint about a licensee's unsuitable methods of operation as outlined in the state's Regulation 5.
One area the committee didn't pursue was how licensees should approach use by employees. Under current policy, properties can set their own standards on how they deal with employees who test positively for marijuana use.
"I would imagine this is something that should be taken up by the Gaming Control Board because I think they need to set policy for the entire industry," Sandoval said. "One of the members wanted to talk about this, but it really didn't fall within the parameters of why I called this Gaming Policy Committee. It's likely that even the Legislature should consider that. That's probably the proper venue."
Contact Richard N. Velotta at rvelotta@reviewjournal.com or 702-477-3893. Follow @RickVelotta on Twitter.