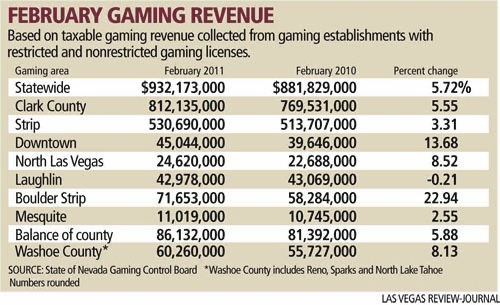 Nevada gambling revenues increased 5.7 percent in February to $932 million, a figure greeted by analysts as "solid progress" despite a weaker convention calendar and Chinese New Year falling in January.
The modest increase in February was preceded by an 18.4 percent jump in January, when Nevada casinos collected more than $1.038 billion from gamblers in a month that saw the lucrative Chinese New Year begin on Jan. 23.
Nevada Gaming Control Board officials said Tuesday that Strip revenues of $531 million were up 3.3 percent compared with February 2011. Downtown Las Vegas reported gaming revenues of $45 million last month, a 12.7 percent increase from February 2011.
The Boulder Strip brought in $71.6 million last month, up almost 23 percent. Mesquite casinos generated just over $11 million, up 2.55 percent, while Laughlin saw gaming revenues decline 0.21 percent last month to $42.9 million
Casino revenues in North Las Vegas totaled $24.6 million in February, up 8.52 percent from the same month last year. Overall, Clark County reported a 5.5 percent increase in February gaming revenues, hitting $812.1 million.
"Considering the weaker convention calendar in the first quarter of the year, this is solid progress thus far," said Brent Pirosch, director of Gaming Consulting Services for the Global Gaming Group at CB Richard Ellis in Las Vegas.
"In terms of large conventions (30,000 plus attendees), there were approximately 631,000 attendees in the first quarter of 2011, while this year had 522,000," Pirosch said. "The difference is largely attributable to the loss of the ConAg show because of its rotational schedule."
He said 120,000 people attend the ConAg show every third year, when it's in Las Vegas.
State gaming tax collections were up 69 percent in February to more than $70 million, according to gaming officials. So far, Nevada has collected more than $127 million in gaming taxes since Jan. 1.
Total slot machine revenue in Nevada was $571.5 million, a 10.3 percent increase over February 2011. The state's numbers were helped by $350.6 million collected last month from table games.
Baccarat, the game favored by high-end gamblers, reported a 19.06 percent decline in revenues last month, to $114.1 million.
"The (Chinese New Year) calendar shift negatively impacted February 2012 baccarat revenue," said David Bain, a gaming analyst with Sterne Agee. "We expected a slightly better baccarat result, despite the calendar shift."
In a research note Tuesday, Bain said last month's "strength in core games outweighs less predictable baccarat."
Revenues from blackjack and craps were up 18.2 percent and 16.1 percent, respectively. Meanwhile, roulette revenues also increased 18.1 percent last month.
Smaller games, such as minibaccarat and Pai Gow, each recorded 59 percent decreases in revenues last month, compared with February 2011.
Sports books statewide reported revenues increased 160.3 percent in February to $11.5 million, with most of the revenues being generated by sports books on the Strip. Gaming regulators said Strip sports books reported revenues last month of $9.31 million, a nearly 403 percent increased from February 2011.
Pirosch said these revenue figures prove a recovery is under way.
"In fact, if there were no baccarat numbers in March, we would still be ahead of last year — four percent ahead of last year," Pirosch said. "After two months, we are already ahead of last year."
Pirosch attributed the "solid numbers" to a strong stock market and a housing market nationwide that has bottomed out and stabilized, which has caused consumers to feel better about spending on a trip to Las Vegas.
"Gas prices have not had any noticeable effect" on Las Vegas, said Pirosch.
Contact reporter Chris Sieroty at csieroty@review
journal.com or 702-477-3893.