Nevada to gain from nationwide legal sports betting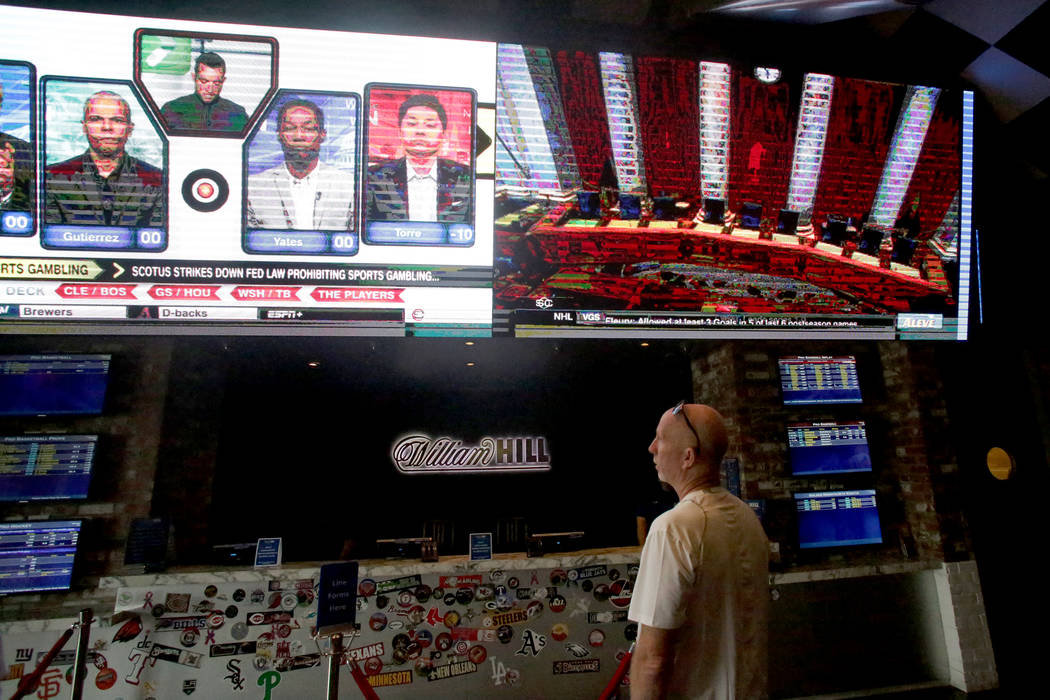 Nationwide legal sports betting could generate a much larger handle and more local casino visitation than Nevada gaming insiders expect, a Wall Street analyst said.
His proof? A surge in local hockey bets.
The regular-season hockey handle jumped 40 percent from October to April to $271 million in Clark County — which includes the Strip, downtown and locals markets. It was up more than 30 percent in the locals market alone.
People bet 15 times more on the Golden Knights than their opponents, and 40 percent of the people making those bets had never done so before, Brian McGill, a gaming analyst at Telsey Advisory Group, said in a note Monday.
"So, we have the least popular major sport in a town that knew nothing about hockey until this year driving up the handle by 40 percent in a year. How much would get bet on the Giants in New York given the history and popularity of the sport versus hockey?" McGill said in his note.
Local casino slot revenue jumped 8 percent in April when adjusted for hold and the number of weekends, the analyst said. That may have been driven by Golden Knights viewing parties at local gaming destinations, McGill said, citing casino executives.
"While everyone could sit at home and bet on their phone, people are going out to watch the games in outdoor viewing parties, bars and restaurants, and casinos. This bodes well for casino visitation even if you can bet on your mobile devices," he said.
Delaware, New Jersey
Delaware approved sports betting last week effective this Tuesday at three racetracks in the state. Mobile betting will still not be offered in the state.
The New Jersey Legislature is hosting hearings this week on sports betting and could send a final bill to the governor by Friday. New Jersey could offer betting as early as this weekend.
The New Jersey bill includes an 8.5 percent tax on Atlantic city casinos, plus an additional 1.5 percent payment to help the troubled resort town pay down its debt.
Officials from Major League Baseball, the NBA and the PGA Tour testified against the bill Monday. They say the leagues need integrity fee payments — or compensation for keeping watch for corruption — as well as additional tools like information sharing and real-time data controls to make sure betting is conducted honestly.
State lawmakers brushed back those concerns, telling the leagues that such payments aren't going to happen.
The New York Legislature is seeking to pass a bill before the summer recession June 20. Pennsylvania could also pass sports betting this summer.
"While summer is generally quiet for sports betting, we will get a taste of what it looks like as the summer goes on," McGill said.
Contact Todd Prince at 702-383-0386 or tprince@reviewjournal.com. Follow @toddprincetv on Twitter. The Associated Press contributed to this story.