Nevada's gaming win was down 4.5 percent in May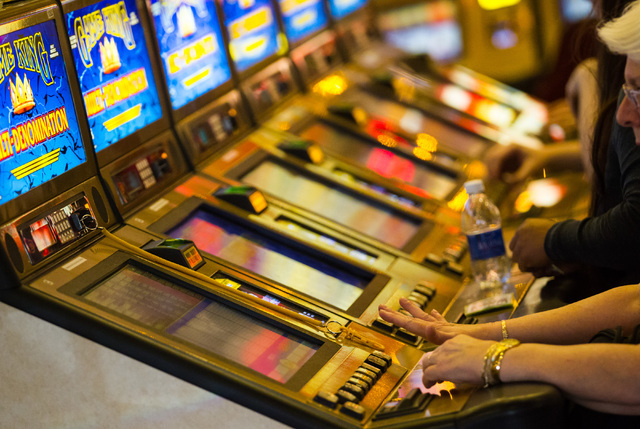 A rarity in the calendar and a tough comparison against an extraordinary month in 2015 made the state's decline in May's gaming win look worse than it was.
The state Gaming Control Board reported Thursday that gaming win dipped 4.5 percent to $958.1 million for the month compared with a year ago, leaving win for the state's nonrestricted gaming licensees flat for the first 11 months of the fiscal year.
With five weekends and the Manny Pacquiao-Floyd Mayweather boxing match occurring in May 2015, it wasn't likely that May would have better numbers.
"The state did $1 billion (in gaming win) just five times since January 2009 and one of those months was May last year," said Michael Lawton, senior research analyst for the Control Board's Tax and License Division.
"It's a tough comparison driven by events that occurred last May, including the Pacquiao-Mayweather fight and the Rock in Rio (music festival) that attracted 172,000 people."
By comparison, there was one big showcase event this past May, the Amir Khan-Canelo Alvarez fight, the debut sporting event for the T-Mobile Arena. It didn't have near as much star power as Pacquiao-Mayweather.
The board also reported Clark County gaming win fell at 4.4 percent with Strip win down 11.7 percent, but downtown Las Vegas, North Las Vegas and the Boulder strip all up by double-digit percentages. Those big increases were attributed to anomalies in data collection.
Lawton said lower volume and not luckier players drove most of the win decline.
On the Strip, win was down in virtually every category of the casino. Penny slots and betting on basketball were the only areas where win was higher than it was a year ago.
Penny slots in Strip casinos won $112.3 million, a 10.2 percent increase over May 2015, and basketball bets generated $1.5 million in winnings, a 2,788.6 percent increase over last year.
But everywhere else, the players dominated. Win for baccarat was $88.9 million, an 18.6 percent decline from the previous year; blackjack win was down 12.7 percent to $86.6 million; and craps was off 35.4 percent to $21.6 million at the 40 Strip locations.
For most areas across the state, May was a down month. Strip casinos won $531 million for the month; Mesquite was off 2.8 percent to $9.7 million; and Washoe County, which includes Reno, Sparks and North Lake Tahoe, was down 3.4 percent to $68.2 million.
South Lake Tahoe suffered the state's worst win decline for the month, down 15.1 percent to $68.2 million.
But there were some bright spots, mostly because data were collected for more days this year than last because of the day of the week on which the end of the month fell.
North Las Vegas had the state's highest win increase for the month, 27.8 percent to $27.2 million. The Boulder strip was close with a 25.9 percent increase to $77.5 million.
Downtown Las Vegas win was up 13.1 percent to $50.4 million, Laughlin was up 1.9 percent to $39.6 million and the rest of the county was up 4 percent to $96.3 million.
The rest of Nevada's population centers had down months as well with Elko County off 5.1 percent to $22.9 million and the Carson Valley down 6 percent to $8.7 million.
State officials compile gaming win figures by fiscal year so for the first 11 months, from July 1, 2015, to May 31, win was up just 0.2 percent to $10.23 billion compared with the 2014-15 fiscal year. Because of the leap year, the current year has one extra day of play.
Contact Richard N. Velotta at rvelotta@reviewjournal.com or 702-477-3893. Find him on Twitter: @RickVelotta.