New head of UNLV gaming institute talks basement poker games and center's future
Updated January 22, 2023 - 10:59 am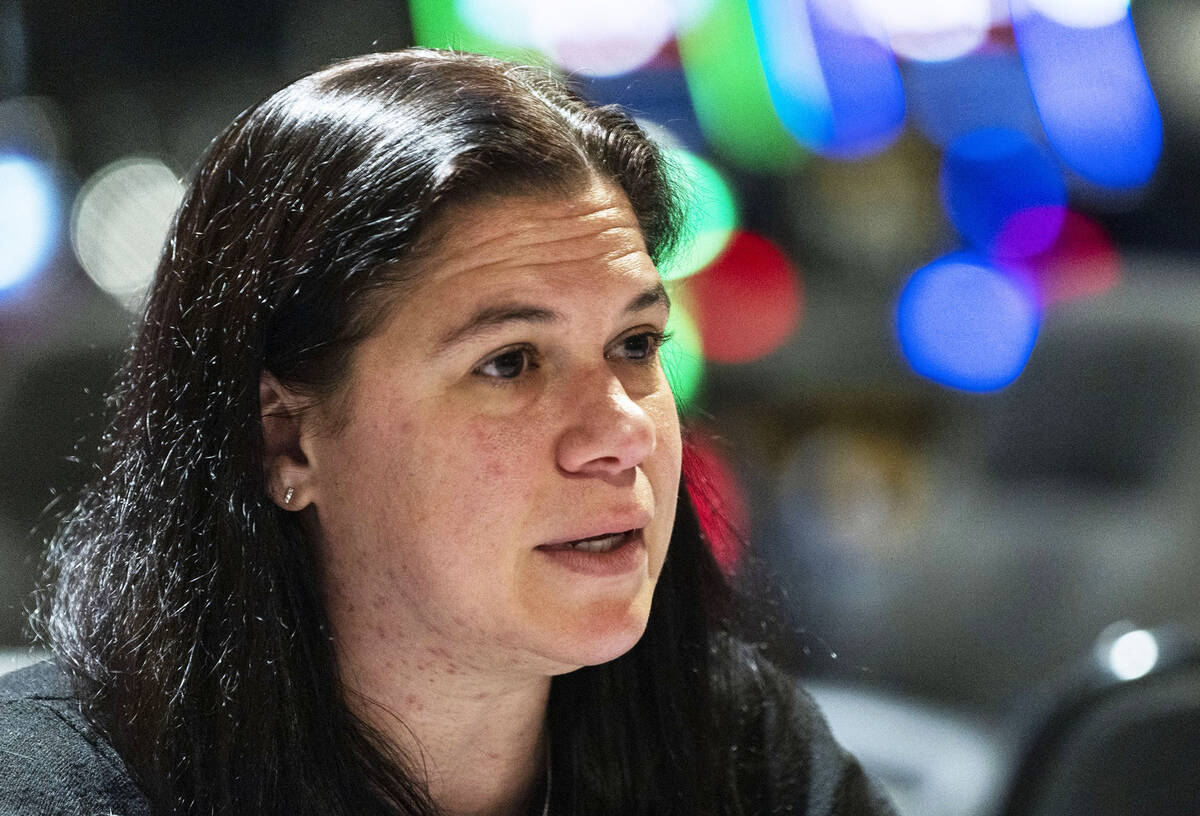 Brett Abarbanel said her interest in gambling research stemmed from the basement poker games she played at Brown University as an undergraduate student.
Armed with knowledge from her statistic classes, she saw it as a chance to watch those lessons in the real world.
After graduating college, she soon found herself in Las Vegas doing research at the UNLV International Gaming Institute, where she worked while earning her master's degree and Ph.D. at UNLV.
"I ended up finding (IGI executive director) Bo Bernhard in a magazine. I thought he (did) really cool stuff, so I called him and he had a job," she said. "I ended up working here, getting my degree here and it all cascaded from there."
After a brief stint at UCLA, Abarbanel rejoined the IGI as director of research, where she led work on regulatory frameworks, problem gaming and how esports wagering could be implemented in Nevada.
This month, she was named executive director of the institute, succeeding Bernhard, who is now the university's vice president of economic development.
Abarbanel will lead the nearly 30-year-old gambling research center through its work in studying gaming innovation, problem and responsible gaming, and the socioeconomic impacts of the casino-resort industry, among other issues.
Abarbanel sat down with the Review-Journal to discuss her appointment, the future of the institute and what it was like working at a racetrack when she was younger. This interview has been edited for length and clarity.
Review-Journal: How are you feeling about your new position as head of the nonprofit research center?
Abarbanel: I'm incredibly excited about this. This is a place that's been part of my academic life for over 15 years now. I did my graduate degree at UNLV, and I left and I came back when the director of research position opened. And now it's something that I get to lead. This is a subject that I find incredibly fascinating, and so to be able to take the reins of an institute that has really laid the foundation for everything that I know and love about gambling research and education and innovation is really a dream come true. I'm really excited to continue a lot of the initiatives that we already have in place like our subcenters — the International Center for Gaming Regulation and our Center for Gaming Innovation, as well as our LeaderVerse initiative, our big DEI (diversity, equity and inclusion) initiative as well as responsible gaming. There's a lot of different programs that all live underneath our centers and initiatives, and I'm excited to keep those going as well as expand into all the other different ways that gambling continues to evolve.
What sparked your interest in gaming research?
When I was an undergraduate, I didn't really know what I was going to do. I ended up majoring in statistics. A friend of mine said, 'We're in the middle of this huge popularity of poker' — this was right in the middle of the poker boom of the early 2000s — '(and) I see you're majoring in statistics. How would you feel about me bankrolling you?' I said, 'Well this sounds great. What a fun application of the work I'm doing in the classroom,' which is, of course, an incredibly nerdy thing to say and yet was completely genuine when I said it out loud. We had a group that played together literally underground, like it was in a basement. I think at the height of its popularity it had a good 100 people on the list who would show up. There was a $20 buy-in and a $50 buy-in, which was big money when you made $8 an hour. It ended up spawning some of the big names in poker today. Scott Seiver played in our game with us (and) Isaac Haxton — both of them still play to this day. I had a great time, and that was really the start of my interest in this space. I had grown up near a horse racetrack (Del Mar Racing in Del Mar, California). I found it to be a really fascinating place both in terms of the animals themselves as well as the racing and the gambling that was going on there. So in addition to my time playing poker as an undergraduate, I also actually worked a couple of summers at the racetrack — everything from getting up at 4 a.m. and working on the backside of the track, like taking entries for a few days out, to being on the front of the track and joining the folks in the winner's circle and kissing the horse and waving and holding flowers. Both were equally fun to me. When I finished my degree, my now-husband said he really wanted to be a poker player. The best places to go are Las Vegas or L.A. and I said, 'Well, I grew up in San Diego so I'm not going to L.A. Let's go to Vegas.'
Were there any particular IGI research projects that you focused on early in your career?
When I started, everything was about using my statistics degree. I was so excited because one of the great things about a statistics degree — kids, if you're listening — is that you can use it anywhere. Everybody needs people who know how to deal with numbers. I started out really hyperfocused on using that statistics degree but there were so many other things to learn about and I expanded very, very quickly into, 'Well, what interests me?' I did some work in sportsbook operations. There was some qualitative work looking at women who play poker. That was a really fun one because I got to be part of the study itself, and a lot of different other areas. As I mentioned, as the gambling world evolves, so too, does the IGI approach to gambling.
How does your team work with gaming regulators and other jurisdictions around the world?
Our second subcenter is the International Center for Gaming Regulation, and we actually share that with Boyd Law School, here at UNLV. One of the huge things that they do, that's incredibly wonderful, is regulatory education. We get a ton of regulators who come in. For example, our sports betting regulation class sells out every single time since (the Professional and Amateur Sports Protection Act) was overturned in 2018. We also get folks from other parts of the gambling world. We get, for example, industry folks who want to come in and learn more about how this regulation works because if they're going to start venturing into the space, they need to know what compliance looks like and what's necessary for something like a license and operating within a regulated space. In many ways, everything that we do touches on policy impact. The research that we do has an element of implication for policy as well as whatever else it is that we're researching because all of the things that we look at are existing within this space where regulations exist. In 2017, we did a fairly large project looking at the socioeconomic impacts of casino resorts in Japan. In 2016, Japan passed a new law that would permit these casino-resorts. It's not the first time gambling is allowed in Japan, but they don't have broader casino-resorts set up. We put together a big fancy academic report. It was translated to Japanese, and we flew a team out to Tokyo where we presented to a group of about 1,000 people who were interested in learning about this. One of the most gratifying things about it was at the end, a government representative got up and thanked UNLV and everything that we've provided, and they recognized us as the esteemed knowledge hub of gambling. It was such a flattering thing to hear because that's really what we strive to do.
What do you think is the most pressing issue or topic you're working on today?
That's a very difficult question because it's more like a top 10 list. No. 1 would probably be sports betting — this is the big vertical of gambling that's spreading all throughout the U.S. We have almost two-thirds of states now with legalized sports betting, and it continues to grow. Others, that go across all different forms of gambling, is the idea of responsible gaming. It's a very big subject about the idea of harm minimization. We try to approach gambling in a holistic manner. You can't talk about all the incredible things that exist within gambling — fun, excitement, jobs, the economic impact — without also talking about the potential harm that comes out of it. These are things like how do you train employees to communicate with guests, and help them gamble in healthy ways rather than potentially harmful ways? Another huge area right now in the gambling world is DEI. That's where our LeaderVerse Initiative comes in. It's run by Becky Harris, who is the former chair of the Nevada Gaming Control Board and actually the first female chair. So she's probably the ideal person running the DEI initiative.
What's your outlook for Las Vegas this year?
I always have incredibly high hopes for the city. The city is incredibly resilient. And so even when it goes through tough times, things like huge recessions or a COVID pandemic, in which we shut down every single casino on the Strip, we do manage to bounce back. I have a lot of faith in this city to have a very successful 2023 and onward.
McKenna Ross is a corps member with Report for America, a national service program that places journalists into local newsrooms. Contact her at mross@reviewjournal.com. Follow @mckenna_ross_ on Twitter.