New Nevada online poker site deals out 100,000th hand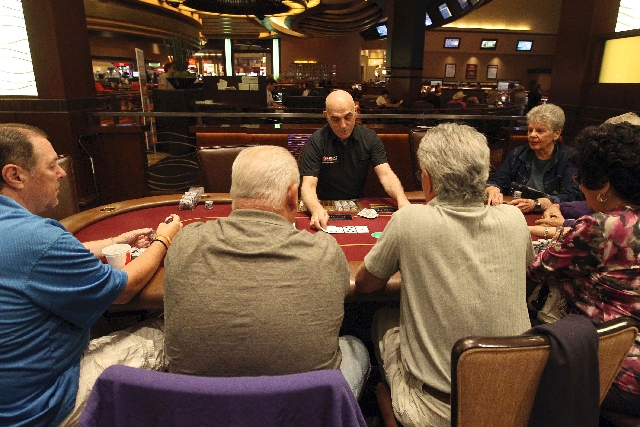 Ultimate Poker has registered thousands of users from every U.S. state and 20 countries.
That's in just 72 hours.
By Thursday evening, the website dealt its 100,000th hand of poker.
Around 10 p.m., Ultimate Poker had 50 poker tables with action.
"I would say we were the largest poker room in the state at that hour," Ultimate Gaming CEO Tobin Prior said Friday.
Company officials said the launch of Ultimate Poker, the nation's first legally regulated pay-to-play online gaming website, has exceeded expectations.
Ultimate Poker Chairman Tom Breitling didn't want to reveal official numbers for the website's first few days, which can only accept wagers from gamblers playing on computers or mobile devices located within Nevada's borders.
Breitling has shared the information with Nevada gaming regulators.
He did say Ultimate Poker is collecting revenue through a rake — the percentage of wagers removed from each pot by the house. The website also collects revenue through tournament fees.
Nevada will soon earn 6.75 percent of the revenues, the state's first gaming taxes via online wagering.
Station Casinos, controlled by brothers Frank Fertitta III and Lorenzo Fertitta, owns 57 percent of Ultimate Poker. Breitling, who owns 14 percent, has led the development of Ultimate Poker, which has branding and marketing ties to the Fertitta-owned Ultimate Fighting Championship.
Breitling said players are registering as users both through the website and at cashiers cages inside all Station Casinos properties in Southern Nevada. Players can use the casinos to add money to accounts and withdraw winnings.
What's surprising, Breitling said, was the number of customers setting up accounts from outside Nevada through the website, even though they can't access the action until they physically enter Nevada.
"I think that's a testament to Las Vegas," Breitling said. "People are planning their trips and are saying this will be a part of that trip."
Any poker player in the world can sign up and deposit money into an account at www.UltimatePoker.com in advance of visiting Nevada.
Station Casinos plans to tie its players club rewards program into activity on Ultimate Poker, allowing customers to earn points for online wagering. The company's casinos have been promoting the launch of Ultimate Poker all week.
Ultimate Poker offers limit and no-limit Texas hold 'em poker through single-table cash games, sit-and-go events and multitable tournaments. The poker games will have buy-ins from a few cents to $100.
On Sunday, Ultimate Poker will host its first tournament, an event that guarantees a prize pool of $10,000.
"We're seeing great response," said Breitling, who has been working on bringing Ultimate Poker to life for three years.
The company employs more than 100 workers in technology and customer service. This week, Breitling said more staff has been brought on to answer customer questions.
The website was overwhelmed early on and there was some slowness in the sign-up process. Also, geolocation and age-verification protocols slowed the time it took to register.
Prior said issues are being worked out.
"We're pleased with how the technology has reacted," he said.
Breitling said the initial 72 hours took him back to 1998, when he helped launch the first online travel bookings in the U.S. through the precursor of Travelscape.com.
The Internet poker experience has been similar.
"Just because we're pioneering new ground, people still have customer service inquiries," Breitling said. "We know they are gravitating toward a trusted website."
Nearly two dozen casino operators and technology providers have been licensed by state gaming regulators since Nevada's online gaming regulations were adopted after the 2011 Legislative session.
It's unclear when the next Nevada online poker website will go live.
Ultimate Poker expects to pick up the business as the summer months close in. At the end of May, the World Series of Poker opens its six-week run at the Rio and is expected to attract thousands of poker players.
"It's nice to have 100 percent marketshare for now," Prior said.
Contact reporter Howard Stutz at hstutz@reviewjournal.com or 702-477-3871. Follow @howardstutz on Twitter.