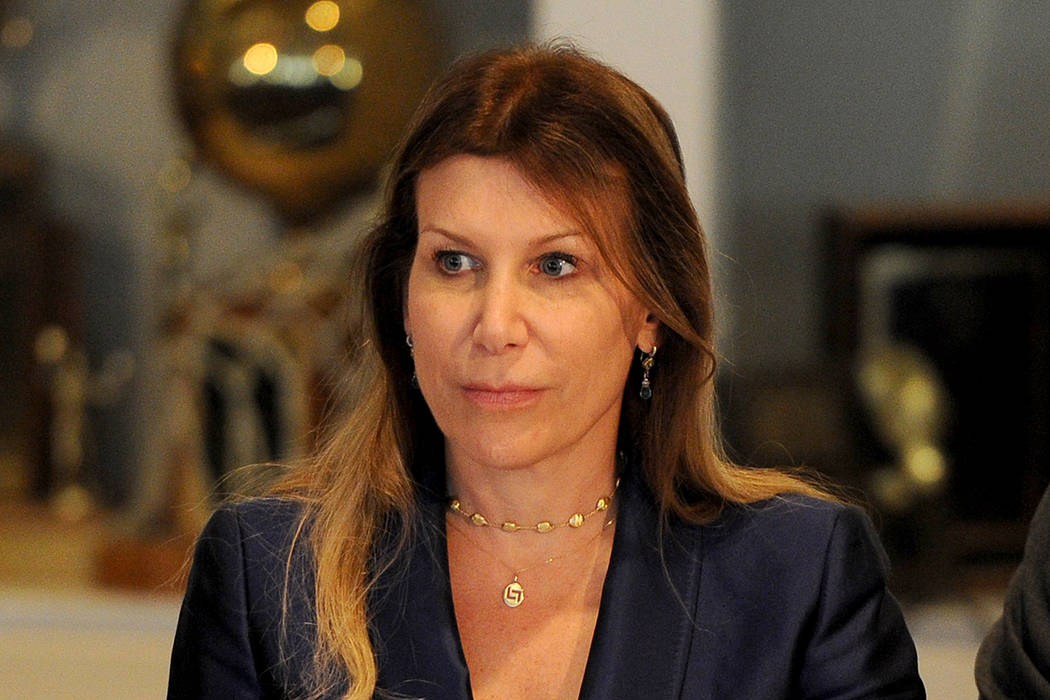 Former Wynn Resorts Ltd. executive vice president and general counsel Kim Sinatra will receive a $1.8 million cash settlement as she leaves the company, the company reported Wednesday in a Securities and Exchange Commission filing.
A copy of the five-page settlement agreement as well as a 26-page employment agreement between the company and Sinatra's successor, Ellen Whittemore, were included in the filing.
Whittemore, a gaming attorney with 30 years' experience and a former shareholder in the Las Vegas law office of Brownstein Hyatt Farber Schreck, will be paid $600,000 a year, plus benefits.
According to the SEC filing, Sinatra, who officially left the company Friday after being relieved of her title on July 15, will be required to maintain contact with the company through the end of the year "regarding any outstanding matters that involved employee during the time and scope of her employment."
Cooperation agreement
Whittemore's $600,000 annual base salary is subject to the company's compensation committee, and she'll be eligible to participate in a performance-based incentive plan for executive officers that has a target bonus of 100 percent of the annual base salary.
The agreement also offers inclusion in a profit-sharing plan, an executive stock option plan, pension and retirement plans and insurance and hospitalization coverage.
She will be required to be licensed by the Nevada Gaming Commission — a board she has appeared before frequently on behalf of other licensing applicants.
Sinatra, 58, joined Wynn Resorts in 2004 and became the company's general counsel and corporate secretary in 2006.
She held considerable influence at the company and was one of Wynn's highest paid employees.
Last year she earned $13.3 million, more than some top gaming CEOs, according to Equilar, a compensation data compiler.
Wynn Resorts has been under pressure to purge some of its senior ranks since allegations emerged in late January that Steve Wynn had sexually harassed employees for decades. Wynn has denied the allegations.
The allegations prompted the Massachusetts Gaming Commission, the Nevada Gaming Control Board and Wynn's own board of directors to launch investigations earlier this year that are ongoing.
One investigation concluded
Earlier this week, the Wynn board announced in an SEC filing that it had concluded its investigation, but would not disclose its contents until after regulators in Massachusetts and Nevada had reached their own conclusions.
The Massachusetts probe is expected to be completed by the end of summer and Nevada officials have indicated they expect to wrap up theirs after Massachusetts.
Steve Wynn stepped down as company CEO and chairman in February. Four other directors have since left the board.
The allegations of sexual harassment emerged as Steve Wynn was entangled in a bitter six-year legal fight with ex-wife Elaine Wynn that eventually ensnared Sinatra.
Elaine Wynn told a court in March she informed Sinatra in 2009 that Steve Wynn had settled a sexual harassment lawsuit with a female employee in 2005. Elaine Wynn said Sinatra, after consulting with lawyers, informed her that the settlement was not an issue of concern for the company.
Sinatra later issued a news release stating that Elaine Wynn only "made an oblique reference to a settlement" during their 2009 conversation.
Wynn Resorts, which is expected to open its $2.4 billion Encore Boston Harbor casino next June, could potentially lose its Massachusetts gaming license.
Contact Richard N. Velotta at rvelotta@reviewjournal.com or 702-477-3893. Follow @RickVelotta on Twitter.