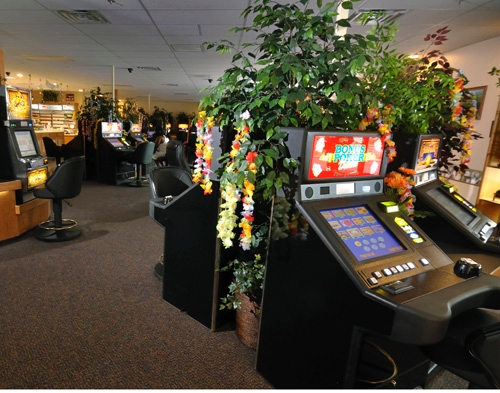 Owners of Dotty's Gaming & Spirits have sued the Nevada Gaming Commission, seeking to overturn recent changes in regulations governing the operation of slot machines in a tavern.
The gaming commission last month amended its definition of a tavern and gave existing businesses as much as two years to meet the revised regulations.
Dotty's, through its parent Nevada Restaurant Services, said in lawsuit filed in Clark County District Court last week that the retroactive changes violate the constitutional rights of Dotty's and other current restricted licensees.
Earlier this year, Dotty's owners filed a similar lawsuit against the Clark County Commission in federal court after the panel made similar changes to the county ordinance covering tavern operations.
Dotty's owners claimed during the gaming commission's Aug. 25 hearing in Las Vegas that the regulation changes, which include a new requirement for a bar that seats at least nine patrons, could cost the company as much as $6 million — roughly $100,000 per location. Dotty's, which was first approved in 1995, has almost 60 locations statewide.
The changes in the regulation, which were supported by the Nevada Tavern Owners Association and the Nevada Resort Association, were viewed as a move to eliminate the Dotty's business model. The company had been accused of skirting state law by offering mostly slot machine wagering without the usual trappings of a tavern.
The gaming commission, following a nearly seven-hour public hearing, voted 4-1 for the new regulations, which included a tavern having a nine-seat bar, 2,000 square feet of public space and a kitchen operating at least half the time the business was open. Only gaming commission Chairman Pete Bernhard voted against the changes.
Commissioner Tony Alamo Jr., whose draft changes to the regulation were ultimately approved, has said he wasn't worried about a lawsuit.
"I don't run my life worrying about lawsuits. I run my life and decisions based on what I think is right," Alamo said in July.
On Monday he said he's looking forward to the "attorney general's office defending" the commission's action.
Chief Deputy Attorney General Mike Wilson declined comment on the lawsuit.
In its complaint, Dotty's attorneys said neither the commission nor the proponents of the regulation changes "offer any factual reasons or evidence to support the need for change, other than their subjective opinions."
Dotty's attorneys blamed Station Casinos for pushing the changes and wanted to know the extent company officials lobbied the commission in favor of the regulation revisions.
Contact reporter Howard Stutz at hstutz@reviewjournal.com or 702-477-3871.
Follow @howardstutz on Twitter.