Packer voices concerns after detention of Australians
October 17, 2016 - 5:44 pm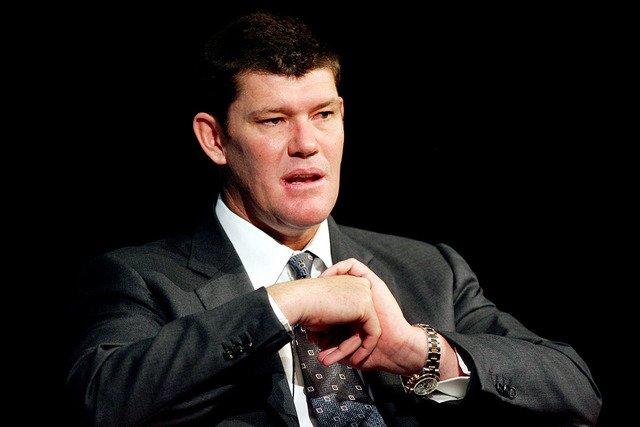 BEIJING — The major shareholder in Australia's largest casino operator voiced concerns on Tuesday after the Chinese government announced that a senior executive and two other Australians had been detained in an investigation of suspected gambling crimes, in an apparent crackdown on overseas tours for high rollers.
James Packer, an Australian gaming developer with a personal fortune estimated by Forbes business magazine at $3.6 billion, said on Tuesday that he had sought regular updates on the detentions and had asked Crown to do everything possible to contact the employees and to support their families.
"As the major shareholder of Crown Resorts, I am deeply concerned for the welfare of those Crown employees detained in China," Packer said in a statement.
"Crown will do whatever it can to support our employees and their families at this difficult time. Our No. 1 priority is to be able to make contact and to ensure they are all safe," added Packer, who founded the Australian casino operator.
The head of Crown Resorts Ltd.'s VIP International team, Jason O'Connor, is believed to be one of 18 Crown employees being questioned by Chinese authorities, the company said in a statement on Monday to the Australian Securities Exchange.
Packer said he was respectful that the detentions had occurred outside Australia and were subject to Chinese rules and investigative processes.
The Chinese foreign ministry said in a regular briefing on Monday that Australians have been detained in Shanghai for suspected involvement in gambling crimes, but did not provide further details.
Fairfax Media reported over the weekend that police took the three Australians, who were visiting China on business, and local Chinese employees based in several Chinese cities, including Beijing and Shanghai, away from their homes late Thursday and detained them. O'Connor was among the Australians.
The raids were part of an apparent crackdown on the firm's operations to lure high-worth Chinese gamblers to its Australian casinos, Fairfax said.
Casino gambling is illegal on the mainland and Chinese law prohibits agents from organizing groups of more than 10 Chinese citizens to gamble abroad. The crime is punishable by up to three years' imprisonment. The industry has been known to skirt the ban by touting destination packages.
Casino operators have sought to lure Chinese high-rollers who have avoided Macau since President Xi Jinping's ongoing corruption crackdown deters visits to the offshore enclave that is the only place in China where casinos are legal.
In 2015, police arrested 13 South Korean casino managers and 34 Chinese agents for selling packages with free tours, free hotels and sexual services.
Crown declined to say why O'Connor was in China. Crown has said in recent financial disclosures its "International VIP" business segment has surged in recent years thanks to ramped up overseas marketing.
It was not clear whether any of the staff had been charged.
Australia's Department of Foreign Affairs and Trade said it had been notified Monday by China of the detentions and said consular officials were arranging visits. The department said the Australians had legal representation.
Crown said it was supporting the Chinese and Australian families of the detained employees. Headquartered in Melbourne, Crown has gambling interests in Australia, Macau, Manila, Philippines, and London.
Crown shares fell 14 percent to close on Monday at AU$11.15 ($8.47), the biggest single-day decline in the company's history.
Grant Govertsen, a Macau-based analyst at Union Gaming, a gambling-focused investment bank and advisory firm, said such crackdowns are common in China.
"I think what people are losing sight of is the fact that these arrests happen all the time, several times a year with the Koreans, and it's been going on like that for years," Govertsen said. He said that the detention of the Australians "could represent a sea change, but it could also be business as usual."