Parking systems in place for Vegas Golden Knights hockey games
September 18, 2017 - 6:35 pm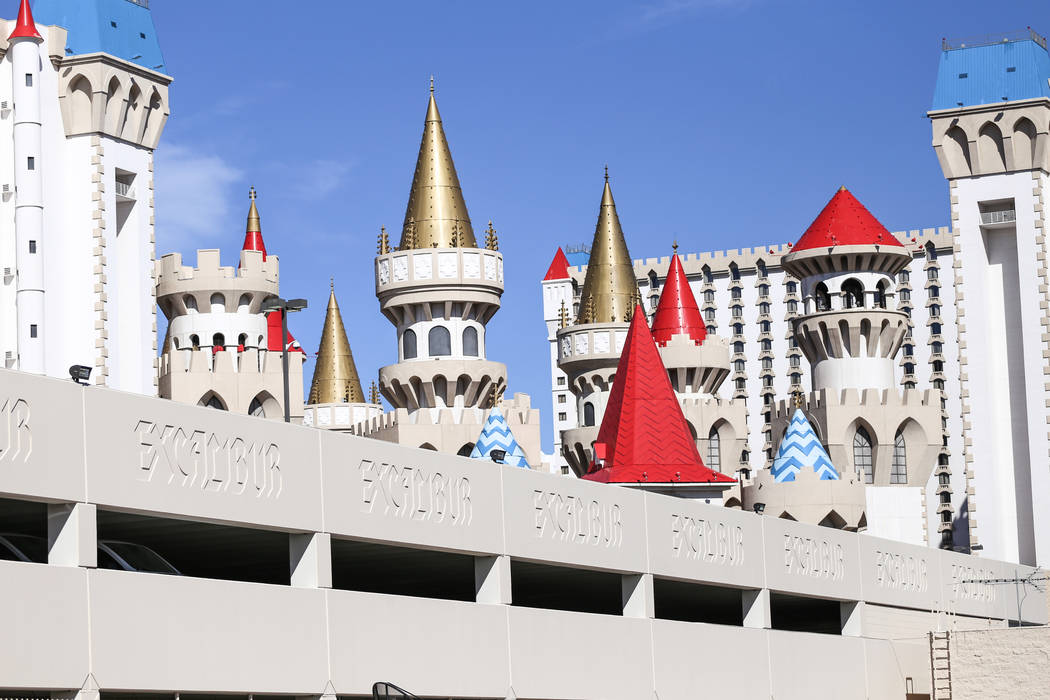 A 3,000-car parking garage is ready for Vegas Golden Knights fans when the puck drops for an exhibition game next week and for the team's NHL regular season home debut on Oct. 10.
In fact, it's been ready for weeks, serving guests and employees of the Excalibur.
MGM Resorts International, which operates the Excalibur and is a partner in T-Mobile Arena, the home of the Golden Knights, had a soft opening in June to make sure everything was in place and functional for Southern Nevada's first foray into major-league sports.
The new garage, just west of the hotel and off Frank Sinatra Drive near the Tropicana Avenue overpass, was one of the key projects MGM planned in the $90 million parking initiative the company announced in late 2015. The new garage, which is connected to an existing parking structure at the Excalibur, cost $54 million to build.
Gordon Absher, an MGM spokesman, said the new garage isn't equipped with overhead red and green lights that alert drivers of available parking spaces, but he added that the company would consider installing them based on usage.
And MGM officials are expecting it to be used well, since it may provide the closest place to park with the least amount of departure traffic.
"Our traffic forecasts anticipate hockey is going to be close to double what we regularly forecast for concerts and other events," Absher said.
About 14,000 season tickets have been sold for the Golden Knights' inaugural season. The arena holds 17,500 for hockey.
From the Excalibur garage to the front door of the arena is a 10- to 15-minute walk on newly installed 15-foot-wide sidewalks along Frank Sinatra Drive.
A well-marked route to T-Mobile guides pedestrians under the flyover and Tropicana overpasses without crossing a major street.
Because the Golden Knights are expected to have more hometown appeal than the concerts and performances that have been staged at the venue, it's likely that more auto traffic will be present for hockey games, Absher said.
The first test is Sept. 26, when the Golden Knights play the Los Angeles Kings in a preseason exhibition game.
"We're really encouraging fans to think about their commute before they ever get in their cars," Absher said. "If you try to get to a game 45 minutes before the puck drops, you may be disappointed if you run into a sign saying the garages have been sold out. The team has alerted their season ticket holders about all-season parking availability."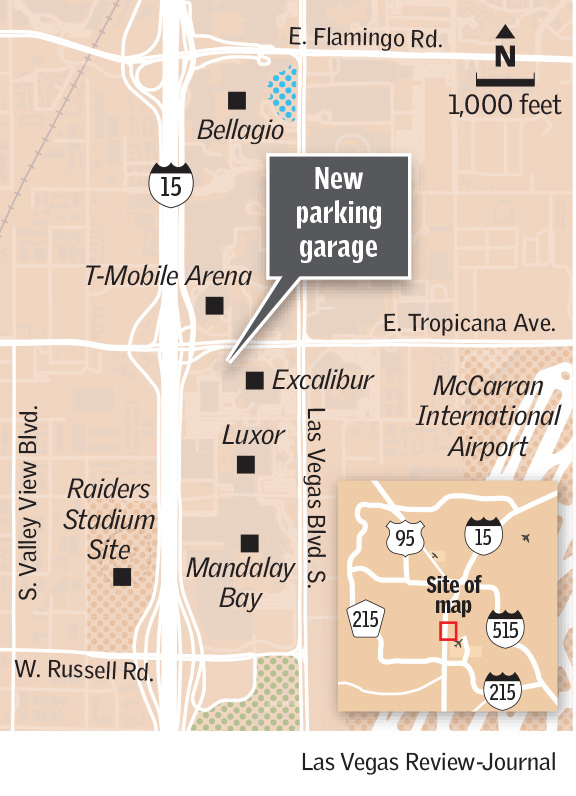 Absher said there are other options to get to the arena, including parking at the SLS, patronizing its restaurants and then taking the Las Vegas Monorail to the MGM Grand and walking from there. Local residents can buy monorail tickets for $1 a ride.
He said fans could also park at Mandalay Bay and ride the free tram to Excalibur and walk across the pedestrian bridge to New York-New York and access T-Mobile from there.
Contact Richard N. Velotta at rvelotta@reviewjournal.com or 702-477-3893. Follow @RickVelotta on Twitter.
Buying parking tickets in advance
MGM Resorts International is encouraging hockey fans to purchase parking in advance by accessing lasvegas.parkmobile.com and choosing the Vegas Golden Knights venue option.
The site lists all Golden Knights home dates and fans can purchase parking for any game during the season. Event parking at the Excalibur garage is $15, which includes a $2 service fee, the same amount charged at MGM Grand on game days. Parking is $20 at lots closer to T-Mobile at New York-New York, Monte Carlo and Aria.
Game-day parking jumps to $20 at MGM Grand and $25 at Excalibur and isn't available at New York-New York and Aria.