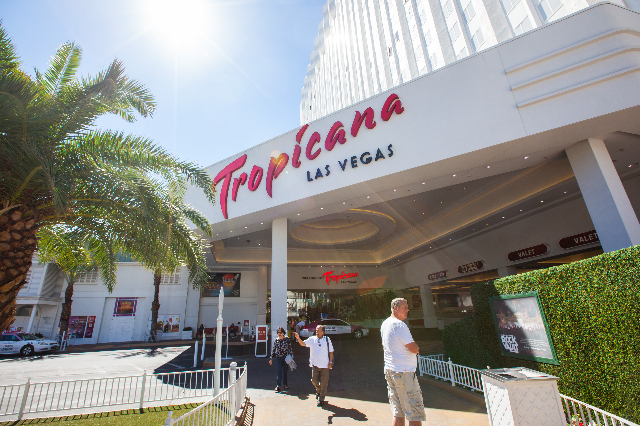 Regional casino company Penn National Gaming said its restated financial results for 2013 and 2014 won't be submitted until February, but the operator of the Tropicana and M Resort said in a statement it expects total cash flow to reach $754.4 million for 2015.
The company is adjusting its financial statements for those two years to reflect the rent paid to real estate investment trust Gaming and Leisure Properties from a lease to a financial obligation.
Gaming and Leisure was spun off from Penn National in 2013 when the regional casino operator placed 21 of its 29 casinos and racetracks — including M Resort —€" into the REIT. Penn has continued to manage the casinos under a lease. The Tropicana was purchased for $360 million by Penn in August and is not part of Gaming and Leisure.
Penn National announced the earnings restatement following the company's third-quarter results, saying auditors required some changes to the lease accounting that altered the operating leases to financial liabilities. The company said the reclassification would not have an effect on cash, cash flow, revenue, or rental payments.
The adjustments were needed to maintain the company's listing on Nasdaq.
In addition to the cash flow guidance for the year, Penn National told investors it expects to report net revenue of $2.786 billion for all of 2015. For the fourth quarter, which ended Thursday, the casino operator projected revenue of $722.5 million and cash flow of $81.6 million.
"Despite some weather-related concerns in December and a calendar-hampered November, Penn reiterated its net revenue guidance," Deutsche Bank gaming analyst Carlo Santarelli told investors. "We believe the removal of the (earnings per share) risk should bode well for shares as we transition into the new year and face more challenging comparisons given favorable first-quarter 2015 weather."
Penn National CEO Tim Wilmott said the company is committed to improving the Tropicana by bringing in nongaming amenities. He said Penn would spend $200 million in upgrades over the next four years.
The initial effort is to improve the casino's slot machine floor with new games and to upgrade the resort's technology into Penn National's player rewards system, which has a 3 million-member database.
Penn National is also on track to open a $390 million Indian casino near San Diego by the middle of this year.
Contact reporter Howard Stutz at hstutz@reviewjournal.com or 702-477-3871. Find @howardstutz on Twitter.