Perlman, former chairman and CEO of Caesars World Inc., dies at 90
September 9, 2016 - 4:49 pm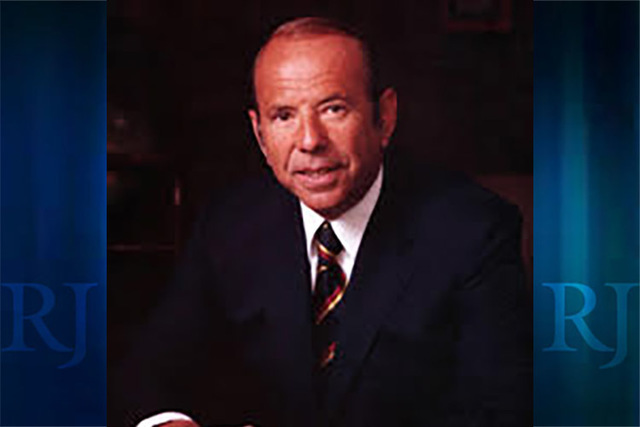 Clifford Perlman, a visionary credited with bringing Wall Street money to Las Vegas and boxing matches to the Strip in the 1970s, has died at the age of 90, a month after suffering a stroke.
Perlman, who lived in Miami and Bel Air Calif., died Sept. 4 at his California home. He's the former chairman and CEO of Caesars World Inc., the parent company of Caesars Palace. He and his late brother, Stuart, founded the family restaurant chain Lum's in 1956, and later bought then 3-old Caesars Palace from Jay Sarno in 1969 for $60 million.
That made it the first publicly traded company to own a casino, said Gary Selesner, president of Caesars Palace. The hotel grew from 550 rooms to 1,750 under his leadership and he started the trend of Hollywood movies being made at the property, marketed the casino internationally and shined the spotlight on Las Vegas with marquee fights, he said.
"Clifford Perlman was a visionary who took Caesars Palace to a new level," Selesner said. "He recognized the potential of Las Vegas with that expansion. During his 13 years running the property, he pushed it forward in so many ways and many of those strategies with the movies and expanding all started with him. He did do much for the Caesars Palace brand but a lot of these things were key for Las Vegas becoming the international destination and place where you went for luxury and to have fun."
Perlman developed Caesars Tahoe and Caesars Atlantic City and started the trend of companies owning multiple properties, Selesner said.
Caesars was so profitable that the brothers sold off their restaurants and became Caesars World, said David Schwartz, director of the Center for Gaming Research at UNLV. Under them, Aetna became the first mainstream lender to give them a loan.
"I think it showed Wall Street that a casino business could be profitable and was a good target for investment," Schwartz said.
Perlman's daughter, Robyn Perlman, who was a freshman in college when her dad bought Caesars, said she recalls asking him two years before he bought the hotel why he wanted to do so. He loved Las Vegas even though he lived in Miami, she said.
"He used to go out there on junkets, and I think he probably saw the potential because he was a visionary," Perlman said. "He was an innovator. He saw things differently. In simple terms, he loved a new idea, and he loved to execute on a vision."
That vision took root at Caesars in the form of the Alan King Classic tennis tournament and the Grand Prix auto race. Caesars worked with fight promoter Don King in hosting major fights. During Perlman's tenure, the biggest fights included Muhammad Ali vs. Larry Holmes, Holmes vs. Ken Norton and Holmes vs. Gerry Cooney and Sugar Ray Leonard vs. Tommy Hearns. Madison Square Garden in New York City had been a center for big fights at the time, while most of the smaller boxing matches in Las Vegas were held at the convention center.
"That was really important because that established Vegas as a place for big fights and big event which is second nature now," Schwartz said. "I think it helped spread the brand of Caesars and Las Vegas."
Perlman said the concept came about when Don King came to her dad for a venue holding 20,000. He went to his management team, and they couldn't find a place to hold it, she said. When he suggested the parking lot, the team said that would cost $5 a seat to set up a temporary fight arena, she said.
"He said he never saw the cost of the seat," Perlman said. "He saw what the drop at the table would be like if 20,000 people were walking through Caesars. Not only did it help Caesars but all of the other hotels did tremendous business because of the people it brought into town."
Perlman said she recalls the story behind her day building the first moving sidewalk in Las Vegas. And of course it only went in one direction – inside the casino, she joked.
"I remember when he talked about it. He said it was hot on the street and let's make it easy for people to get into the hotel," Perlman said. "The hotel was pushed back with all those fountains and it was a great distance off the street. It became very easy and not only was it easy but it was interesting. It was like taking a ride."
The Perlman brothers left the casino industry in 1982 when they were unable to get a gaming license in Atlantic City. The state's Gaming Commission denied the license because of business ties with alleged associates of mobster Meyer Lansky, Schwartz said. The U.S. Supreme Court upheld the ruling, he said.
Perlman said her dad thought it was unfair guilt by association but decided to sell for the best interest of the shareholders. He didn't want to do anything to hurt the stock, she said. They sold their interest for $100 million.
"Miami Beach was a small town with everybody doing business," she said. "My father felt that unless someone was proven to have done something wrong that as a businessman you should be allowed to do business. He had a very big moral compass."
Perlman is survived by his wife, Nancy Hutson Perlman; his five children, Robyn, Billy, Jason, Clayton, and Ivy; his two grandson's, Michael and Benjamin; and sister Marilyn Tredwell.
Perlman was born March 30, 1926 in Philadelphia. He served in the U.S. Army in the 86th Infantry Division.
"He was the kind of man that loved life and looked at everything as an experience," Perlman said of her dad. "He always said that being in the war was really a frame of reference of what life was all about. He crossed the Rhine on his 19th birthday and was in the Battle of the Bulge. That shaped his feeling that nothing is so terrible if you're alive. You might lose a business or gain a business but that's separate from living life. That was his credo."
Services are set for Monday at Riverside Gordon Memorial Chapel in Aventura, Florida. Donations may be made in his memory to The Business & Leadership Institute for Early Learning in Hollywood, Florida.
Perlman is a member of the Nevada Boxing Hall of Fame and Nevada Gambling Hall of Fame.