Pickleball dominates weekend at downtown Las Vegas' Plaza hotel
Updated April 8, 2017 - 10:10 am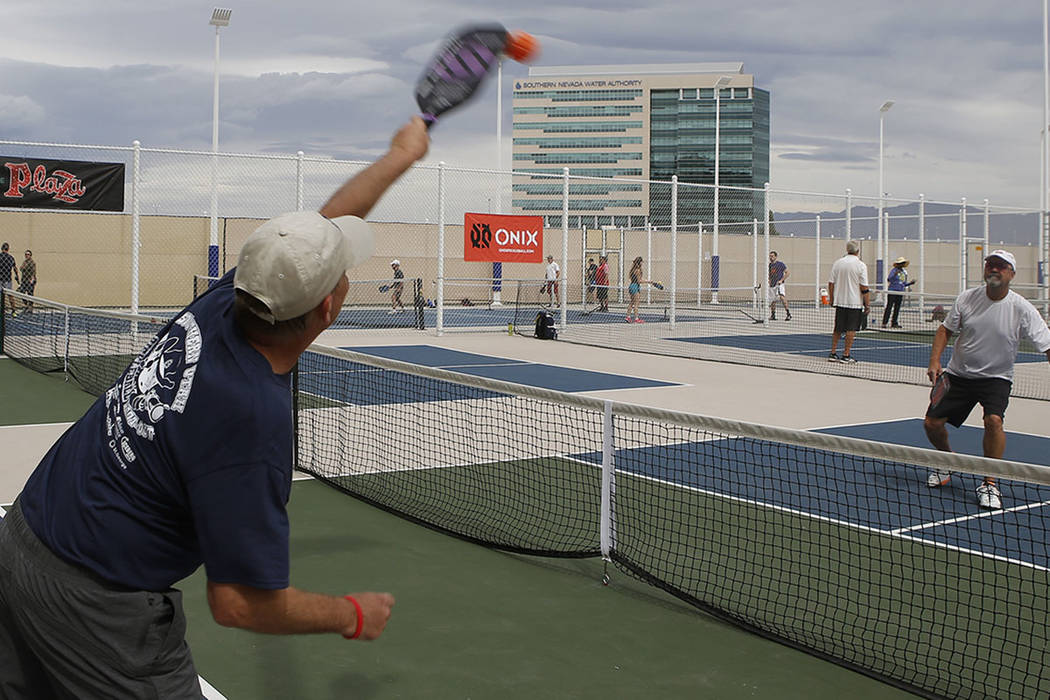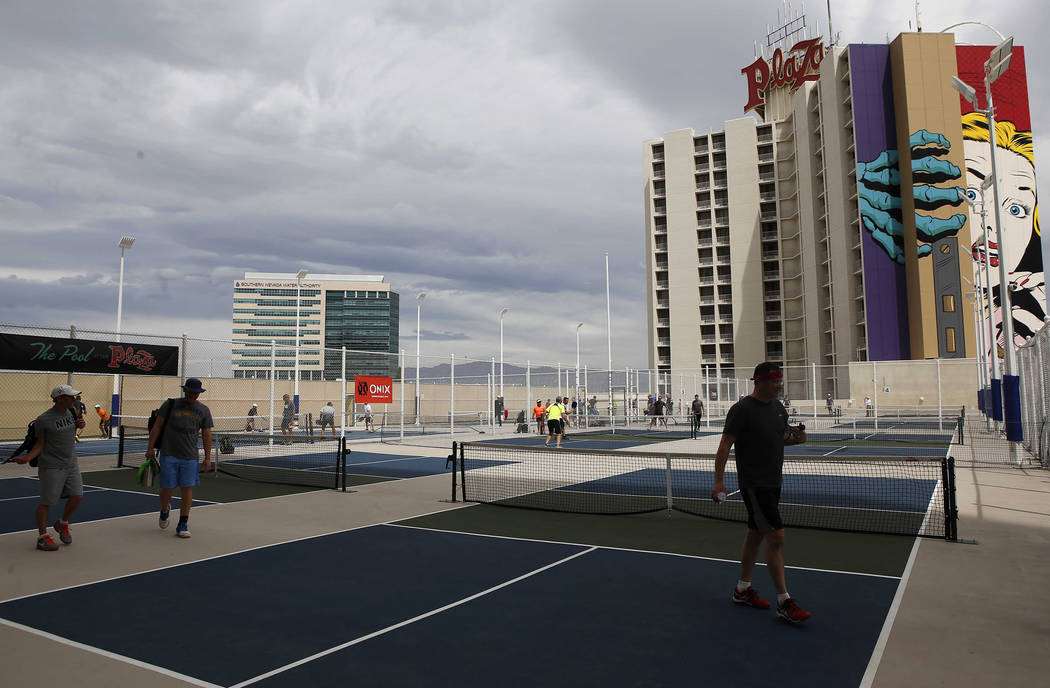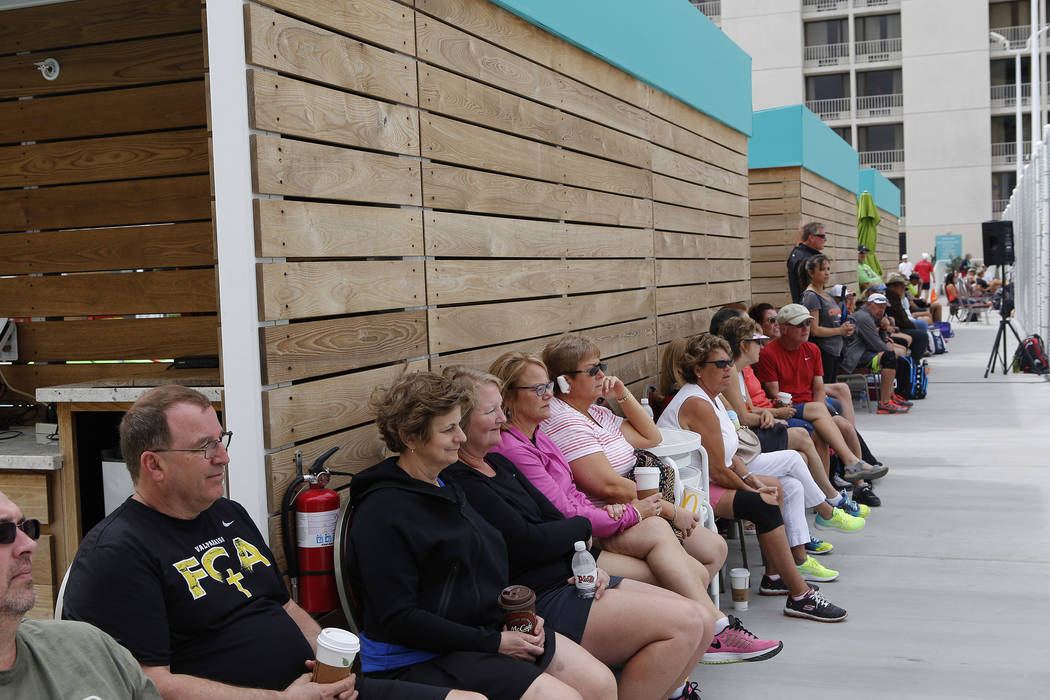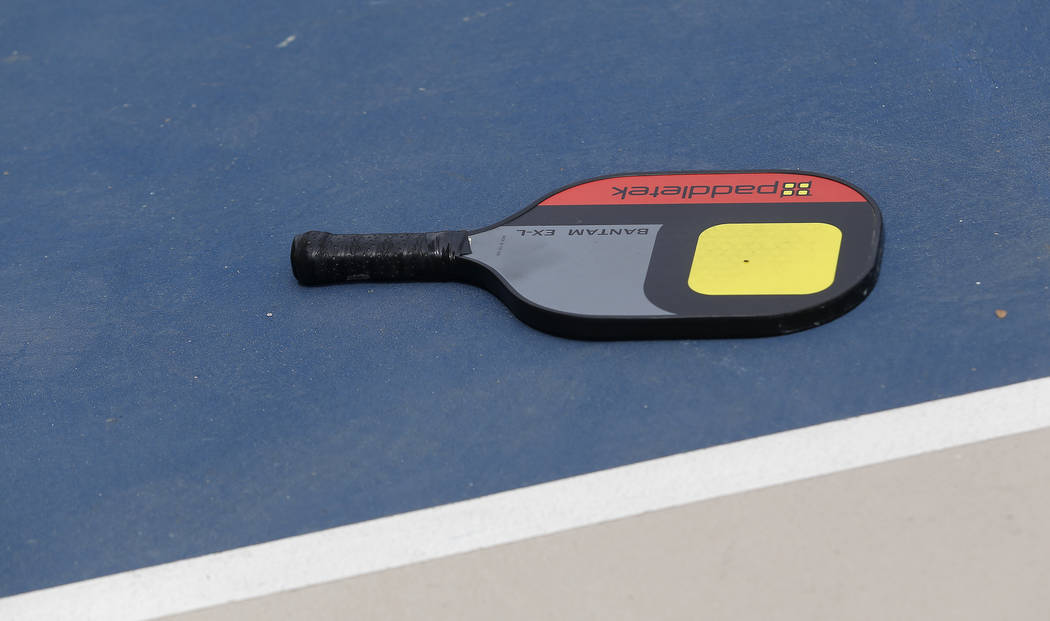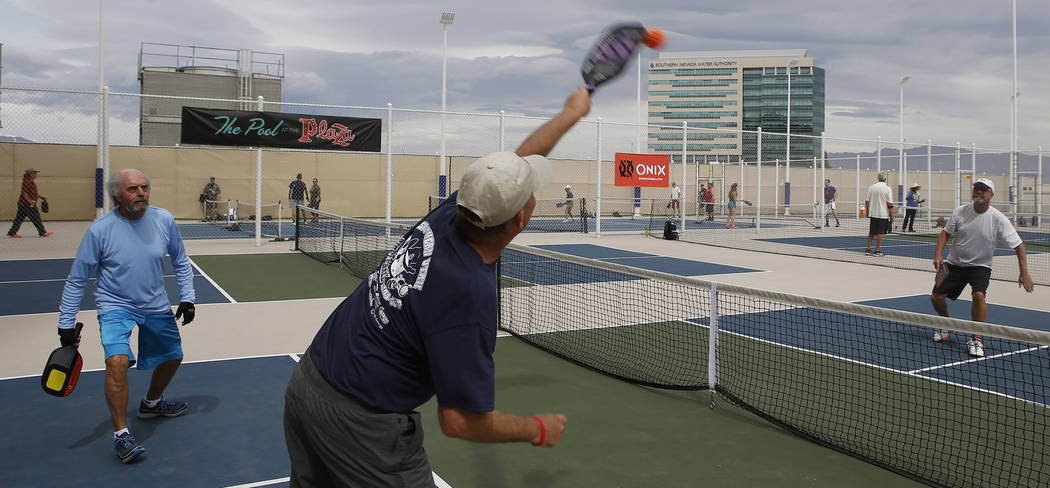 Pickleball.
Even the sport's name inspires giggles.
But the effect pickleball is having on downtown Las Vegas is no laughing matter.
More than 200 players are in the middle of a four-day tournament at the Plaza, which has converted most of its rooftop pool deck into Pickleball Central. Many of this weekend's hotel guests are tournament players who have had the Sin City Showdown on their calendars for months.
They've come from as far away as Maine to play an easy-to-learn game with a peculiar name that started as a backyard diversion for three families on Bainbridge Island, Washington, a short ferry ride from Seattle. Legend has it that pickleball was invented in 1965 by future congressman and Lt. Gov. Joel Pritchard, Bill Bell and Barney McCallum, who successfully found something for their bored children to do in the summer.
The game spread across the country. Now, it's being played tournament-style in Las Vegas at the self-appointed local headquarters of the game, the Plaza.
Popularity explodes
"The game is 50 years old, but it's exploded in the last eight to 10 years," said tournament co-director Steve Carter, who said retirees have adopted the game as their own, but it's quickly gaining with a more youthful crowd.
"About 2½ (million) to 3 million play it, but that's expected to reach 8 million by 2018," he said.
Pickleball is a racquet sport that combines elements of badminton, tennis and table tennis.
Carter said when the Plaza was contemplating options for refurbishing its pool deck, some employees approached CEO Jonathan Jossel about converting some existing tennis courts to pickleball courts.
"We kind of laughed at it at first," Jossel said of the proposal. "But then, we started researching it and I went out to watch some people play. It was an amazing sight, a bunch of 40-to-65-year-olds playing pickleball."
The operator of one of the Plaza's food court tenants, David Hakan of Zaba's Mexican Grill, is an avid pickleball player and encouraged the plan.
Plaza niche
Jossel, always looking for a niche-crowd angle to draw crowds to downtown Las Vegas, took a chance on developing 12 permanent pickleball courts and four more temporary courts for tournament play.
The pickleball demographic is right in the center of the Plaza's wheelhouse.
Last fall, the Plaza staged its first tournament. Word quickly got out about the spring tournament, which began Thursday and runs through Sunday, and about 75 percent of the participants are from out of town.
Organizers agreed to spread out an event that could have been completed in three days to over four days.
Event directors bracketed players by age — under 50, 50-59 and over 60 — and skill level and had games for men's and women's singles, doubles and mixed doubles.
Tournament entrants paid a $40 registration fee and $10 per division to play and got a discounted hotel rate at the Plaza.
Because pickleball is a social sport and many of the players know each other through competing in tournaments around the country, plenty of opportunity was made for "Vegas time" for participants and their supporters to explore the city and go to restaurants or shows.
"Most of the people here aren't interested in hard competition and medals and events sanctioned by the USA Pickleball Association," Carter said. "They're just here to have fun."
Maine entrant
Rocky Clark, a five-year player from Portland, Maine, eyed the courts Thursday and proclaimed the Plaza venue to be one of the nicest on which he's ever played. He said after playing indoor pickleball in the Northeast for months he's happy to get back outdoors and loves the fact that the fifth-floor pool deck has a nice view of the downtown area.
His family used the opportunity to play in the Sin City Showdown to have a family reunion. His mother from Crystal River, Florida, sister from Concord, Massachusetts, and brother from Goshen, New York, are playing — both on the pickleball courts and in Las Vegas.
"This is the first time I've seen it and I love it already," Clark said while surveying the courts and the downtown environment.
That's just the kind of one-sentence review Carter and Jossel like to hear.
Contact Richard N. Velotta at rvelotta@reviewjournal.com or 702-477-3893. Follow @RickVelotta on Twitter.
WHAT'S PICKLEBALL?
Sin City Showdown tournament co-director Steve Carter says it's "human-sized ping pong" but pickleball is actually a combination of tennis, badminton and ping pong, played with wooden or composite paddles and a softball-sized plastic ball that resembles a Wiffle Ball.
Play occurs on a 20-by-44-foot court divided by a 36-inch-tall tennis net.
Players serve with an underhand stroke and volley as in tennis.
Games are played to 11 points and must be won by at least two points. Players only score when serving and either score or relinquish the serve when an opponent faults.