Poll: Americans accept casinos as they would any other business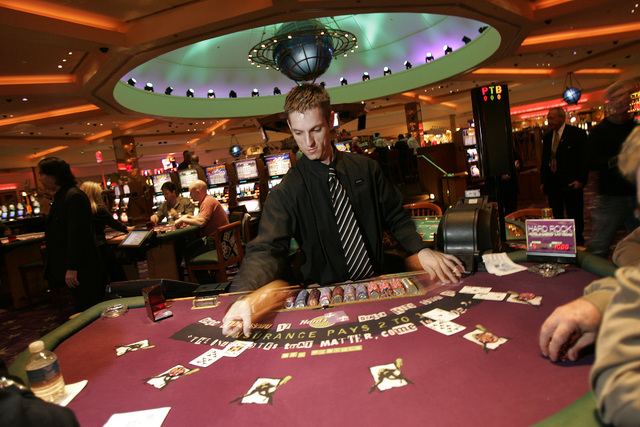 Americans view casinos as they would any other business in their communities, according to a nationwide survey conducted on behalf of the American Gaming Association.
The results, in which public acceptance of gaming reached 57 percent, will be released today.
Leaders of the Washington, D.C.-based trade organization and lobbying group are expected to use findings from the survey to help guide a planned public awareness campaign for the industry.
The survey could be part of an effort to make the gaming regulatory process more uniform in states with casinos.
The opinions might help in an effort to lower the tax burden casinos face in some markets.
"There has never been a better time to go on the offensive," American Gaming Association President Geoff Freeman said. "There is no need to be defensive. The public has seen the value of having casinos and we need to promote the hell out of the industry."
The figures are being touted by the AGA as the highest support ever found for casinos in the annual survey, which took into account opinions of 1,000 registered voters across political lines May 17-22.
Nearly 9-in-10 of those surveyed — 87 percent — thought gambling was an acceptable activity by Americans.
Organizers of the survey said more than 70 percent of Americans believe casinos create jobs, strengthen communities and support local businesses. Also, 51 percent of those surveyed thought casinos should be taxed like any other business.
The pollsters said Americans have become desensitized to the issue of gaming after more than 20 years of expansion that has landed commercial casinos in nearly two dozen states. In addition, more than 20 states have casinos owned by American Indian tribes.
"Part of the reason has been the spread of casinos," pollster Mark Mellman said. "People see casinos and advertisements for casinos more and more. Casinos have become more commonly accepted."
The Mellman Group conducted the nationwide survey with Public Opinion Strategy, which is co-owned by Glen Bolger.
This was the first time either group conducted the Survey of Americans' Attitude Toward Legalized Gaming for the AGA.
Bolger, who reviewed previous polling results, said those surveyed believe gaming brings "tangible economic benefits" to their communities.
He said the survey found that casinos customers "look like middle America." Nearly two out of every three casino visitors, 62 percent, were homeowners, while 70 percent considered themselves "middle class" or "upper-middle class."
Bolger said one of the survey's surprises was that more than one-third of casino visitors attend religious services once a week. Sixty-three percent of casino visitors liken the entertainment experience to such activities as shopping, going to a sporting event or socializing.
"A big part of the attraction is that casinos are used for other entertainment means, such as dining or going to the movies," Mellman said. "Going to a casino has become a more normal activity in the U.S."
The AGA is expected to implement the findings within an overall effort to change the way casinos are taxed and regulated throughout the U.S. The organization has previously sought a more uniform regulatory structure for the casino industry.
Freeman said the survey will help in that effort. In addition, he hinted the AGA would seek ways to lower the tax burden on casinos in markets where the industry pays rates 50 percent or higher.
Freeman said the "tax and torture model" on the casino industry "is no longer sustainable."
Casinos in many states, such as New Jersey, have seek gaming revenue figures plummet as competition open in neighboring states. Freeman said the timing is right for the gaming industry to take a more active position on various issues.
He cited a survey finding that 59 percent believe casinos improve their communities and help local economies.
"What this survey shows us is that communities with casinos want them treated like any other businesses," Freeman said. "In mature markets, casinos need to have the ability to reinvest and modernize. We're in a highly competitive environment and we need a regulatory model that promotes efficiency and investment."
Freeman said the "enormous expansion of gaming" has changed the way state's need to look at casinos.
"Every state saw gaming as the Golden Goose," Freeman said. "But geese can't keep on giving."
One area the survey didn't explore was Internet gaming. Opinions on legalizing the activity were not asked, Freeman said.
Contact reporter Howard Stutz at hstutz@reviewjournal.com or702-477-3871. Follow @howardstutz on Twitter.
By the numbers:
87 PERCENT
poll respondents who think gambling is an acceptable activity
70 PERCENT
poll respondents who think casinos create jobs, strengthen communities and support local businesses
51 PERCENT
poll respondents who think casinos should be taxed like any other business