Quarter for Boyd affected by flood costs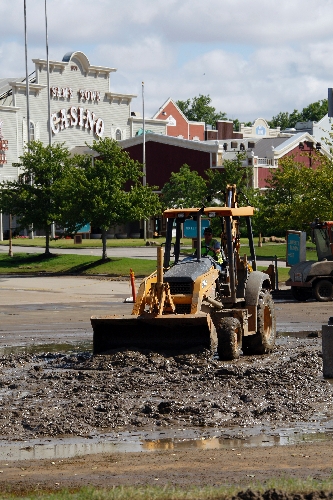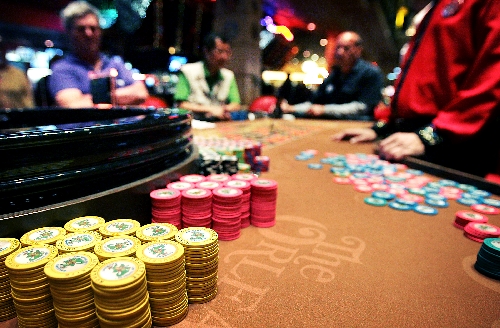 The mixed bag of news in Boyd Gaming Corp.'s second-quarter earnings report on Wednesday largely fell in line with what Wall Street analysts had expected.
Revenues during the three months ended June 30 dropped 0.7 percent from one year ago to $574.4 million as declines in the Las Vegas locals market and Atlantic City proved larger than gains on Fremont Street and properties in the Midwest and South.
Among the locals, company executives said The Orleans has rebounded strongly this year, but others have lagged along with the valley's economy and in the face of a major marketing push by archrival Station Casinos.
Due to sharply higher interest expense that outpaced lower operating expenses, Boyd posted a $3 million net loss, or 3 cents a share, compared with a year-ago profit of $3.4 million, or 4 cents a share.
When subtracting one-time items such as the $1.1 million to clean up Sam Town's in Tunica, Miss., after flooding in May took it out of commission for 25 days, the adjusted profit came in at $800,000, or 1 cent a share. The consensus estimate of analysts tracked by Thomson Reuters Financial was 2 cents a share.
With little spark for investor enthusiasm, the stock declined 61 cents or 6.33 percent, to close at $9.03 Wednesday on the New York Stock Exchange.
In a characteristically upbeat presentation, Boyd Gaming CEO Keith Smith said the results "reflect a continuation of the positive momentum" that had been the message in the first quarter.
In particular, he highlighted gains of one profit measure, earnings before interest, taxes, depreciation and amortization, or EBITDA, as a reflection of how cost-control efforts have succeeded despite flat revenues.
With regard to the Las Vegas locals market, he added, "We have long held the belief that strengthening business trends on the Las Vegas Strip will lead to improved results in our Las Vegas local business. We are finally beginning to see these results."
Analysts, however, were still wary.
"(W)e believe a recovery is not imminent," wrote Bill Lerner of Union Gaming in a research report.
At a different point, he added, "(W)e believe that the Las Vegas locals market continues to be negatively impacted by the local economy, for which we think the recovery will lag that of the Strip (and the nation at large.)"
Further, the promotional onslaught by Station could be taking its toll, Boyd Chief Operating Officer Paul Chakmak said.
In response to one question about the competition, he said Boyd would continue to emphasize efficient operations and targeted promotions rather than broad advertising campaigns.
"Some of our competitors have taken a different approach to that," he said.
But he added that expense of big campaigns "aren't necessarily the end all and be all" to improving profits even if revenues rise.
On Fremont Street, revenues rose
2.5 percent to $56.6 million, but much of the gain was eaten up by higher fuel bills on the flights Boyd charters to bring in Hawaiian customers.
Still, the company plans to upgrade to a Boeing 767 jet in the fall, increasing the number of seats it can sell by 12 percent.
Borgata in Atlantic City, half-owned by Boyd, continued to face sharp competition from nearby states, particularly Pennsylvania. MGM Resorts International has requested the Nevada Gaming Control Board another year to sell its half.
That move, wrote Credit Suisse analyst Joel Simkins, "only delays the inevitable that MGM will part with its stake in Borgata at a very low price, likely to Boyd."
Up until now, Boyd has declined to exercise its option to buy out MGM Resorts.
Contact reporter Tim O'Reiley at
toreiley@reviewjournal.com or 702-387-5290.