Railroad Pass Casino enters a golden phase with zoning approval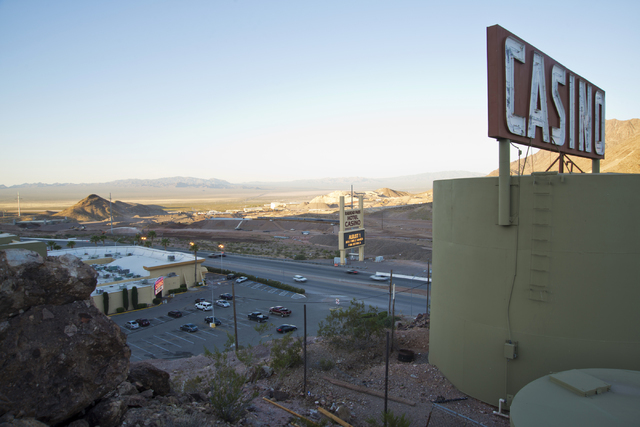 The Railroad Pass Casino — the oldest operating casino in the state — appears ready for a rebirth as it enters its 85th year.
An ordinance amending the zoning map was approved by Henderson City Council on Tuesday to make way for a 10-acre travel center on the casino's property.
Michael Tassi, assistant director of Community Development and Services for the city, said it is Railroad Pass Casino owner Joe DeSimone's "golden ticket" to move forward with the project.
"It was part of the strategic plan in buying the place," DeSimone said. "We started working feverishly on it once we bought the property."
The ordinance — to rezone the area from tourist commercial to community commercial — will allow DeSimone to construct a car and truck fueling station.
He said the casino is "strategically located" for such an operation, as the Interstate 11 project is currently under construction.
The existing site fronts and has direct access from the U.S. 95 freeway, which is used by about 75 percent of his customers that come from Boulder City.
The approved Interstate 11 plan would vacate U.S. 95, to be replaced with the Interstate 11 freeway located directly east of the current U.S. 95 location. Vacating the U.S. 95 freeway is going to allow DeSimone to develop the site.
The site will expand outward into where the 95 is located to add parking spots for truck drivers.
Each night, DeSimone said, the property has about 50 to 55 trucks parked in the lot.
"We don't provide any services for them," DeSimone said. "So we might as well do that."
There will be parking for about 100 trucks, and the travel center will include a convenience store, showers and two quick-service restaurants. He said it will be the first truck stop between Kingman, Arizona, and Las Vegas.
The project also includes revamping the trailhead to access River Mountain Loop, which was coordinated with Boulder City.
"The city has always used a portion of our property to access the trailhead," he said. "It will just be better now."
The hotel also has 120 rooms, DeSimone said, so he's hoping to cross-market the services.
"The casino will market with the truck stop, and the truck stop will operate with the casino," he said. "We're doing really well, and now, we're going to do even better."
He said the realignment of the road is expected to be finished Jan. 1, and he's hoping to open the center in the latter part of March or April.
"The truck stop is something I've wanted to do since I purchased the property," DeSimone said. "We have the capital to do it, and the know-how to do it. So it's shame on us if we don't."
Contact Natalie Bruzda at nbruzda@reviewjournal.com or 702-477-3897. Find @NatalieBruzda on Twitter.