Record football betting helps boost Nevada casinos' win
October 31, 2017 - 8:33 am
Updated October 31, 2017 - 12:59 pm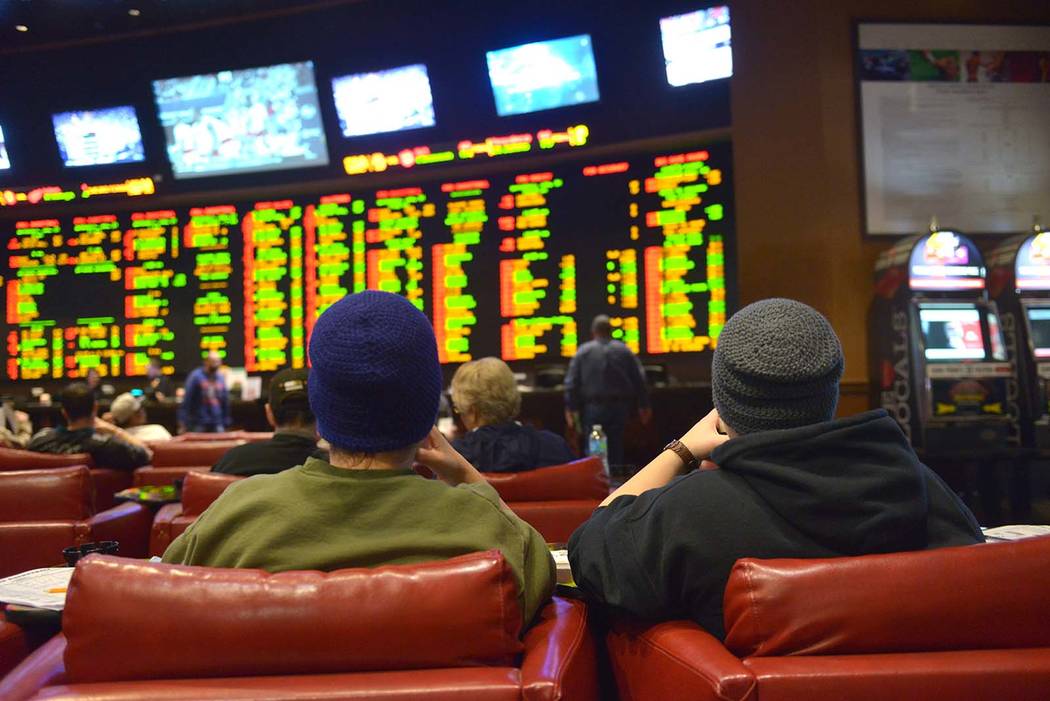 Football was Nevada's friend in September as the state's sports books set a record for sports wagering volume at $558.4 million, edging November 2015's total of $557.4 million, the state Gaming Control Board reported Tuesday.
The sports pool win of $44.4 million in September was the fifth-highest monthly total ever recorded.
But that high gaming win didn't result from higher visitor volume as the Las Vegas Convention and Visitors Authority reported a 2.5 percent decline in visitation to 3.6 million people.
It was the fourth straight month of declining visitor volume, but those declines were against record and near-record months in 2016.
Convention traffic plunges
Convention traffic plummeted by 24.6 percent to 463,565, mainly as a result of negative show rotation with three major shows going elsewhere or not meeting and another moving from September to October.
It was the lowest monthly number of conventioneers in 2017.
The Solar Energy Trade Show (18,000 attendees) and Specialty Graphic Imaging Association (24,000) did not meet in Las Vegas this year and the MINExpo (44,000) that was here in 2016 meets just once every four years. In addition, the Global Gaming Expo and its 27,000 attendees met in Las Vegas in October this year, but in September in 2016.
Citywide occupancy was off 1.8 percentage points to 91.1 percent in September, but the average daily room rate was 1.8 percent ahead of September 2016 at $139.57.
Traffic at McCarran International Airport and vehicles on major highways was up 0.4 percent for the month with 4.071 passengers using McCarran and an average 114,687 people in vehicles on entering the city on highways. The Nevada Department of Transportation has no way of differentiating tourists from local traffic.
On the gaming side, football paced sports books, with the house's 11.1 win percentage in that sport and the win of $40.7 million up 10.3 percent from last year. A $5.2 million downturn in the books' "other" category was attributed to late payouts from August's Mayweather-McGregor fight.
New Jersey's battle
The big wins for sports betting could play well later this year as New Jersey leads a fight to legalize wagering on individual games beyond Nevada.
New Jersey will argue before the U.S. Supreme Court in December in a bid to strike down the Professional and Amateur Sports Protection Act that blocks sports betting in other states. Delaware, Oregon and Montana have systems in place to permit sports parlay bets.
Besides sports bets, non-baccarat table-game play paced an increased September gaming win, the state Gaming Control Board reported Tuesday.
Across Nevada, win was up 3.3 percent to $979.9 million. Clark County win was up 2.8 percent to $831.7 million with the Strip climbing 4.7 percent to $567.9 million.
High volume
Volume also was a key in non-baccarat table play, according to Michael Lawton, the Gaming Control Board's Tax and License Division senior research analyst.
"This month's statewide increase was driven by non-baccarat table win up $17.1 million (blackjack up $4.7 million, craps up $8.4 million, roulette up $1.1 million and sports up $3.4 million) and slots, which were up $9.4 million," Lawton said in an email.
"Both the non-baccarat table win and slot win increases were driven by increases to volume," he said. "In fact, slot volume has increased in seven consecutive months."
Downtown Las Vegas, which has seen strong percentage increases over the past 15 months, was flat in September at $49.3 million. Operators attribute that to a reporting anomaly and expect October's win to be strong.
Gamblers played luckier than they did a year ago in every denomination of slot play except the high-end $5, $25 and $100 machines.
The three-month win trend, often regarded as a more significant indicator of win performance than the monthly totals, showed the state and Clark County riding 5 percent increases while the Strip was up 4.6 percent and downtown, 6.7 percent.
Contact Richard N. Velotta at rvelotta@reviewjournal.com or 702-477-3893. Follow @RickVelotta on Twitter.
September tourism indicators
September 2017 September 2016 Change
Visitor volume 3.567 million 3.658 million -2.5%
Citywide occupancy 91.1% 92.9% -1.8 points
Average daily
room rate $139.57 $137.11 +1.8%
Room nights occupied 4.013 million 4.138 million -1.9%
Convention attendance 463,565* 614,924 -24.6%
Air passengers 4.071 million 4.053 million +0.4%
Average daily highway
auto traffic 114,687 114,244 +0.4%
Clark County
gaming revenue $831.7 million $808.9 million +2.8%
*Lowest level of 2017