Red Rock Resorts CEO unsure if Palms, Texas Station and others will reopen
Updated August 5, 2020 - 12:18 am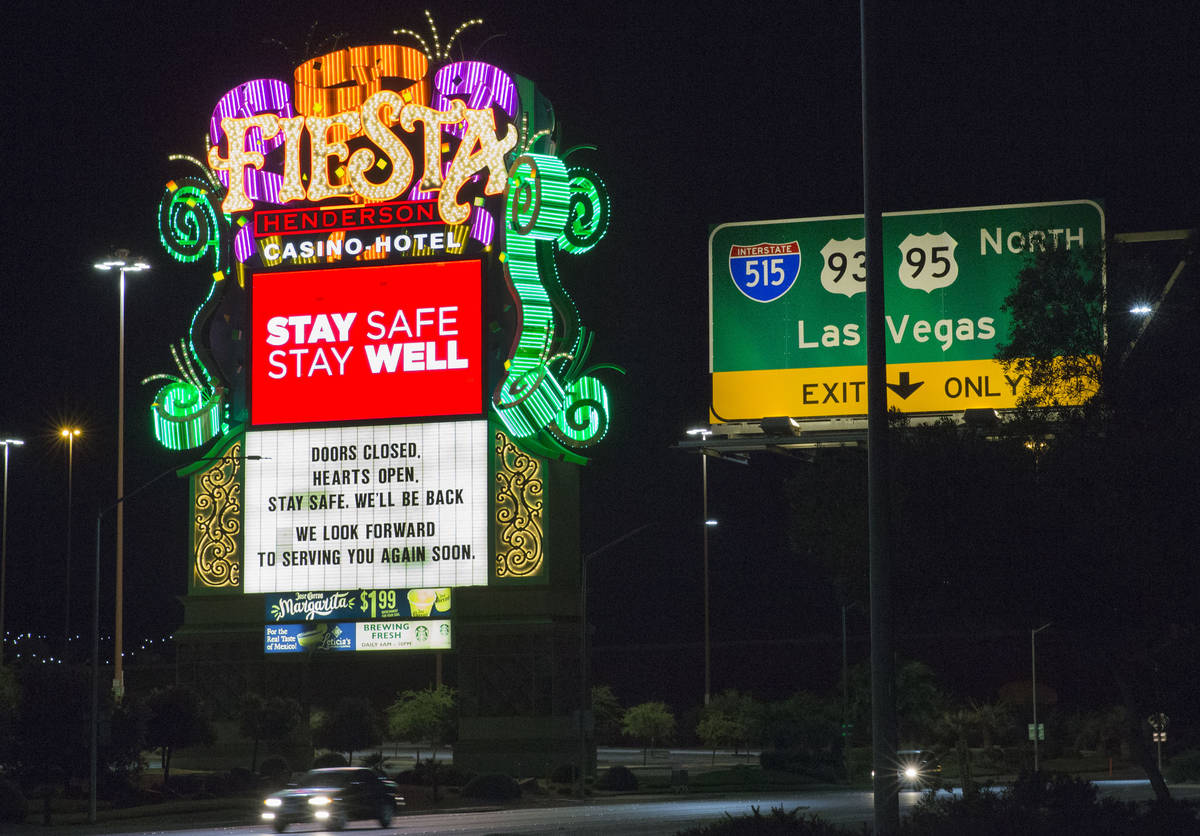 It's unclear when, or if, Station Casinos' remaining closed properties will reopen.
Red Rock Resorts, the parent company of Station Casinos, had shuttered its 20 Nevada properties for nearly 80 days under state orders to help curb the spread of COVID-19. The Palms, Texas Station, Fiesta Henderson and Fiesta Rancho have yet to reopen.
During a second-quarter earnings call, company executives were asked about the future of one of Red Rock's Strip-adjacent properties, the Palms. Chief Financial Officer Stephen Cootey said the company would need to assess the performance of its reopened properties and the health of the economy before deciding whether it would reopen the Palms.
CEO and chairman Frank Fertitta III stepped in and said that uncertainty extended to all four unopened properties in the state.
"We don't know if, or when, we're going to reopen any of the closed properties," Fertitta said during the Tuesday call. "We think it's too early to make that decision at this time."
A Red Rock spokesman declined to provide additional comments.
All options on the table
Red Rock Resorts owns and operates 10 major properties and 10 smaller casinos in the Las Vegas Valley, including Green Valley Ranch Resort, Palace Station, Boulder Station and Wildfire-brand casinos. It also manages Graton Resort & Casino in Northern California on behalf of a Native American tribe.
Nehme E. Abouzeid, president of consulting firm LaunchVegas LLC, said the company likely was trying to be cost efficient when deciding which would reopen, knowing which properties its customers would gravitate toward after the June 4 reopening.
"We know Palms was an ambitious attempt to go after the upmarket tourist crowd close to the Strip," he said. "The other closed resorts resemble the Station locals model, but are older properties."
The company reported a 77.5 percent drop in revenue for the second quarter but said its reopened properties in Las Vegas had been performing well in the second quarter, with cash flow and margins higher than the year prior thanks to a streamlined cost structure.
Fertitta said the company has been "very pleased" with the results from its reopened properties and has been able to move some of the revenues typically earned at the four closed casinos to its other properties.
"We're going to continue to try to get clarity to navigate the situation to make well-informed decisions (on reopenings), but I'm sure whatever decisions we make will be in the best interest of shareholder value," Fertitta said.
The casino operator's net revenues were $108.5 million for the second quarter, while it posted a net loss of $118.4 million.
Amanda Belarmino, an assistant professor at UNLV's College of Hospitality, said companies like Red Rock will need to make tough decisions as they navigate a post-shutdown, pre-vaccine environment.
"This type of cautious approach (on reopenings) makes the most sense," she said. "All indicators are pointing towards a slow recovery for travel, which in turn will lead to a slow recovery for local unemployment and disposable income for locals to spend at local casinos."
Brendan Bussmann, director of government affairs for Global Market Advisors, said Fertitta's comments show just how devastating the pandemic has been for Las Vegas operators.
"I'm sure all options are on the table," he said. "They have to figure out what's best for the long-term viability of the company."
Even so, Bussmann said the comments don't necessarily mean the company is looking to sell any of its properties at this time.
Abouzeid said the properties' reopening will depend on Las Vegas' recovery.
"The shutdown has forced every operator to take a hard look at the profit and loss statements of each business unit," he said in an email. "It will be survival of the fittest going forward with no sacred cows."
Challenging quarter
Cootey said the second quarter was one of the most challenging in the company's 40-plus-year history. Even so, he said he was pleased with the company's performance.
"(The second quarter) reflects both the resilience of our local business model and the impact of decisive action the management team took during the closure," he said.
Nearly five months since the initial casino shutdown, the company is still navigating pandemic-related policies. For example, Gov. Steve Sisolak ordered bars and lounges in certain counties to close, which made bar-top gaming machines inaccessible.
That directive affected roughly 650 of Red Rock's bar machines in Las Vegas, Fertitta said.
"It's definitely not helpful," Fertitta said. "This is kind of an ebb and flow thing with changing requirements, whether it be pools, whether it be at the bars, whether it be you have to wear a mask or you don't have to wear a mask. Every day is trying to navigate through a new set of circumstances."
The company credited streamlined costs for its improved margins during the quarter.
Cuts were made by reducing salaries for senior executives, suspending the quarterly dividend, cutting back on amenities and reducing staff at both the property and corporate levels, among other measures.
The company was one of few in Las Vegas that kept its full-time employees on its payroll and health benefits through much of the shutdown — a move that cost the company over $72 million, as well as nearly $40 million through the Coronavirus Aid, Relief, and Economic Security Act.
Still, the company had to cut a significant number of jobs. Fertitta said its workforce has been cut in half since the beginning of the crisis.
"(The pandemic) forced us to really challenge and rethink everything we do," he said. "Hopefully, we can move forward and be able to operate the business in a much more efficient basis."
Fertitta added that certain amenities will probably not return, but he did not provide examples.
"They were amenities that maybe generated a lot of traffic but not necessarily high-margin business," he said.
Red Rock shares closed up 4.7 percent Tuesday at $12.24 on the Nasdaq.
Contact Bailey Schulz at bschulz@reviewjournal.com or 702-383-0233. Follow @bailey_schulz on Twitter.
A previous version of this story incorrectly identified the Palms as Red Rock Resorts' only Strip-adjacent property.
Red Rock Resorts Inc.
Second-quarter revenue and earnings for Las Vegas-based Red Rock Resorts Inc., operators of the Red Rock Resort, Green Valley Ranch, Palms and Palace Station among other Las Vegas locals properties. (Nasdaq: RRR)
Revenue
2020: $108.5 million
2019: $482.9 million
Change: -77.5%
Net income (loss)
2020: ($118.4 million)
2019: ($7.1 million)
Earnings/(loss) per share
2020: ($1.01)
2019: ($0.06)