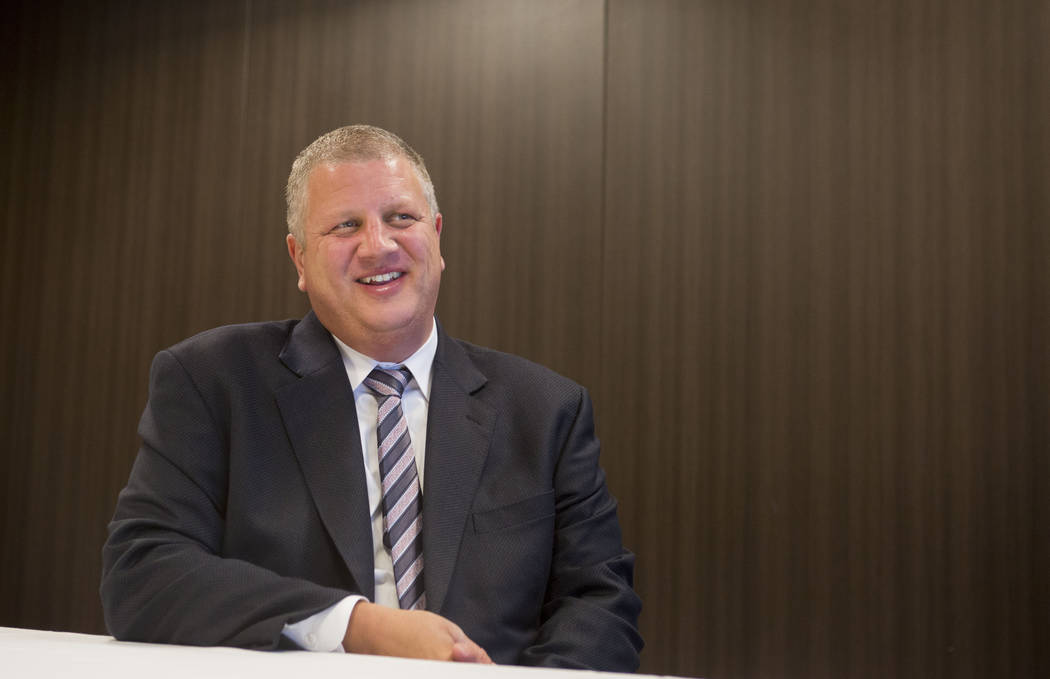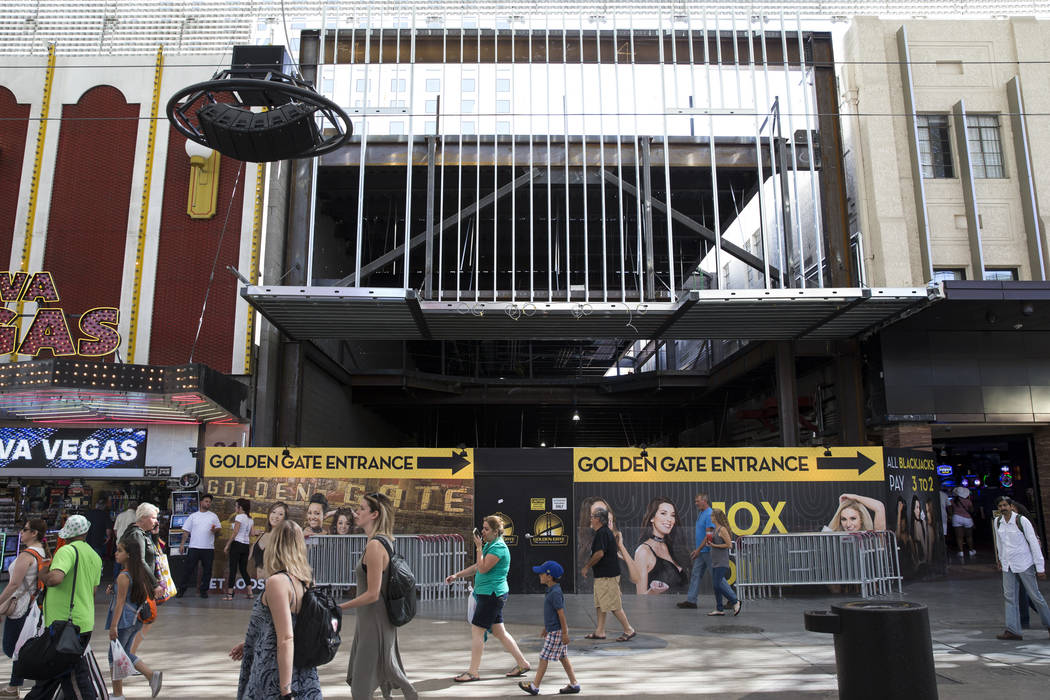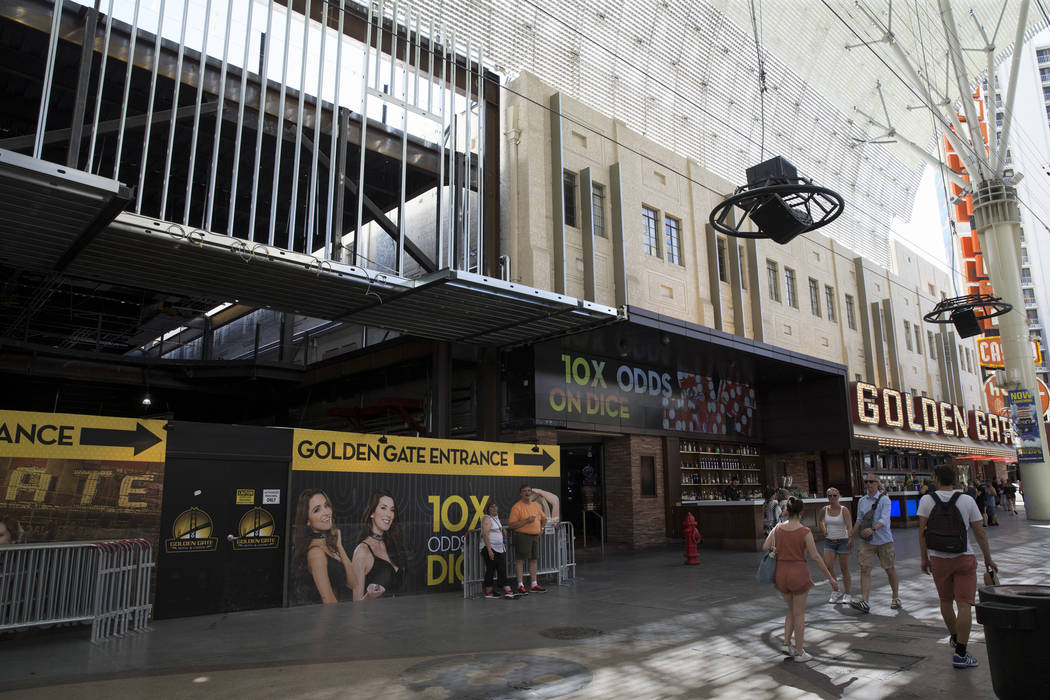 Take it from Derek Stevens, the takedown of Vegas Vickie is just the beginning.
The process of removing the neon sidekick to Vegas Vic and the 24 big letters that spell out "Las Vegas Club" on signs from the venerable casino has started a seven-month demolition that will create a one-block cavity in downtown Las Vegas by the end of the year that will become the home of a new resort.
But what that resort will be like — that's still a work in progress.
"We've been through an awful lot of design meetings and we're in the process still of finalizing the design," Stevens said from a conference room at his D Hotel on Monday, the day crews began taking Vegas Vickie down. "It's something we're still working through at this point."
Stevens said there are several variables in play for the final design, including the new resort's height and number of guest rooms. Because the height and size of the resort haven't been finalized, there's also no price for the finished product.
One thing Stevens is pretty assured of is that there will be more rooms when the project is completed than there were when the Las Vegas Club closed its doors.
Historic hotel
The historic downtown property opened in 1930, a year before casino gambling was first legalized in Nevada. When it closed for good on Aug. 20, 2015, the Las Vegas Club had 410 rooms.
"One thing we're going to try to do is provide a hotel resort that has some of the more modern amenities that we don't have downtown," said Stevens, who also owns downtown's Golden Gate and an outdoor performance venue, the Downtown Las Vegas Events Center. "We'll still respect the fact that this is downtown Las Vegas and Fremont Street with an awful lot of people walking by every day, that's for sure."
But for now, it's all in the removal.
"It's an entire city block so we're talking about (demolishing) the old Granite Gaming headquarters, we're talking about Mermaids, we're talking about the Glitter Gulch, we're talking about a parking structure and then we're talking about an older casino and two towers. The entire city block is going to be cleared off."
When demolition is completed, Stevens will be left with the fresh canvas of an entire city block with Fremont Street frontage.
"We'll get the whole thing cleaned up and then start from scratch," he said.
Construction will begin in the first quarter of 2018, immediately after demolition is completed, Stevens said. A two- to three-year construction schedule is anticipated, meaning the new property would open sometime after 2020, right around the time the new Las Vegas stadium and the Strip's Resorts World Las Vegas property are scheduled to debut.
Name a secret
Stevens said he already has a name in mind for the new resort, but he's keeping that close to the vest for an announcement another day.
Stevens is confident his new project will be a success for several reasons: Early development seeds cultivated downtown are bearing fruit and downtown has been on a roll. After Zappos moved downtown and several Downtown Project startups sprouted, downtown became more desirable. Stevens attributes some of that to the collegial atmosphere that exists as a result of the joint ownership of the Fremont Street Experience, the massive LED canopy that envelops five city blocks.
"The one thing about downtown that you have to remember is that we all have our own hotel-casinos and businesses, but when it comes to Fremont Street, legally, we're actually partners," Stevens said. "It's pretty great. We get together every Tuesday and kind of go through things. So down here, we're not rooting against anybody.
"We know that when people come downtown, there's a certain vibe down here and they're not just coming to see my place or his place, but they're going to come down and experience all of them."
Paul McGuire, chief marketing officer of the Fremont Street Experience, concurred that downtown operators are in sync with the concept of upgrading product with reinvention while respecting the history and heritage of downtown.
"Everything he (Stevens) has done with the Golden Gate — the historic Nevada Hotel — has captured the essence of and framed the historical aspects of the original Strip and Glitter Gulch," McGuire said. "You have to reinvent yourself to stay relevant, but you can do that while respecting the heritage of the place. I think Derek epitomizes that."
Contact Richard N. Velotta at rvelotta@reviewjournal.com or 702-477-3893. Follow @RickVelotta on Twitter.