Resorts World Las Vegas ground breaking announced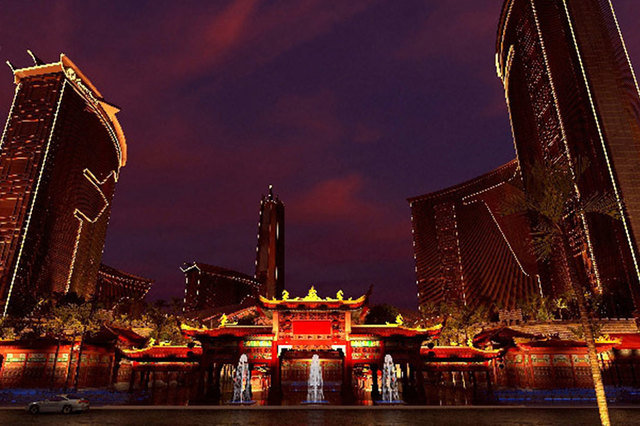 Malaysia-based Genting Berhad will break ground on the $4 billion Resorts World Las Vegas on May 5, a company spokesman said Monday.
The Strip development, which has been in planning for two years, is projected to include 3,000 hotel rooms and a casino with a combined 3,500 slot machines and table games in its initial phase. The property will have 30 food and beverage outlets, a 4,000-seat theater and an elaborate garden attraction that will serve as the property's front door to the Strip.
Spokesman Michael Levoff confirmed the groundbreaking date in an email and said more details will be provided in coming weeks.
Genting bought the site from Boyd Gaming Corp. in March 2013 for $350 million and announced plans for the project. The site, once home to the Stardust, houses the unfinished Echelon development, on which Boyd halted construction in August 2008.
Levoff said in January that preliminary work had been done on the site, including a $2 million utility relocation at the corner of the Strip and Resorts World Drive. Genting also has renewed building permits and is finalizing the development agreement with Clark County.
Genting was given a preliminary finding of suitability to hold a state gaming license by Nevada gaming regulators in May. The company still will need to apply for a full gaming license before Resorts World Las Vegas can open.
Construction is expected to take place over multiple years and include at least two or three phases.
Resorts World Las Vegas is expected to provide $1.5 billion in construction wages and $84 million in taxes while employing several thousand workers.
Once open, the property would account for 8,500 direct jobs and 3,300 indirect jobs. The development is projected to generate $155 million in annual tax revenue.
Genting operates casinos around the world, including Resorts Worlds in Singapore, Malaysia, the Philippines and New York.
Genting also has investments and businesses in biotech/life science research, energy production, oil and gas exploration, plantations and property development. The company collected $5.2 billion in revenue in 2013, has cash on hand of more than $5 billion and has $3 billion in long-term debt.
Contact reporter Howard Stutz at hstutz@reviewjournal.com or 702-477-3871. Find him on Twitter: @howardstutz.