Sands posts increases in fourth-quarter revenue, earnings
January 24, 2018 - 2:21 pm
Updated January 24, 2018 - 6:33 pm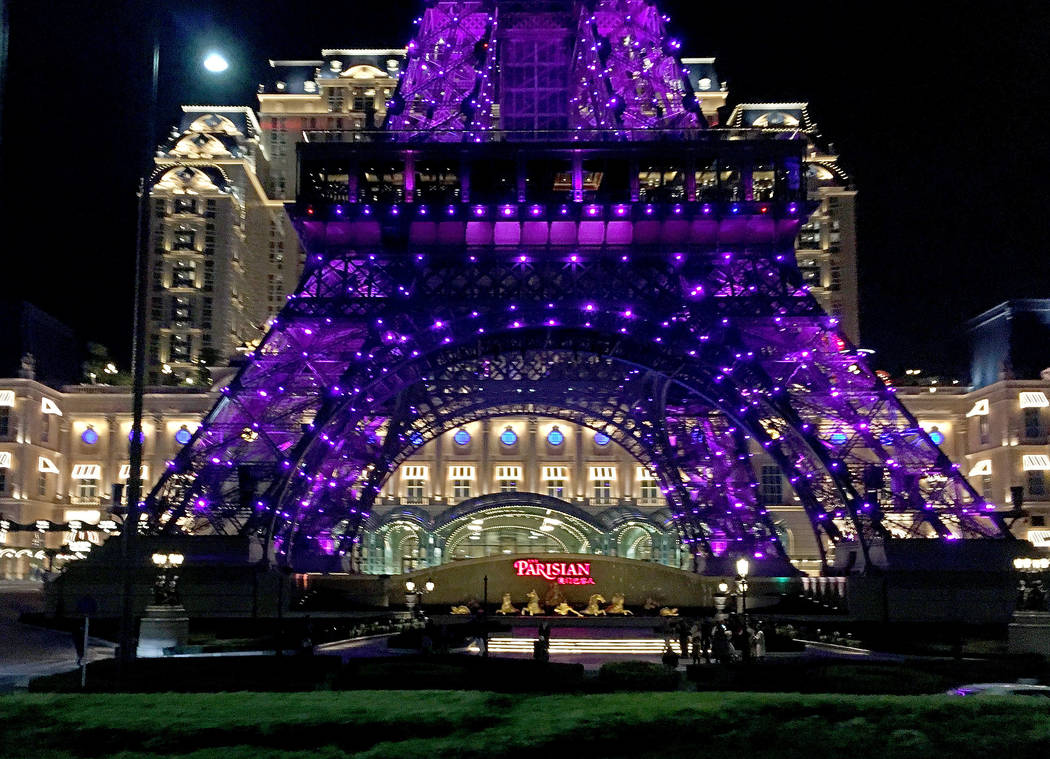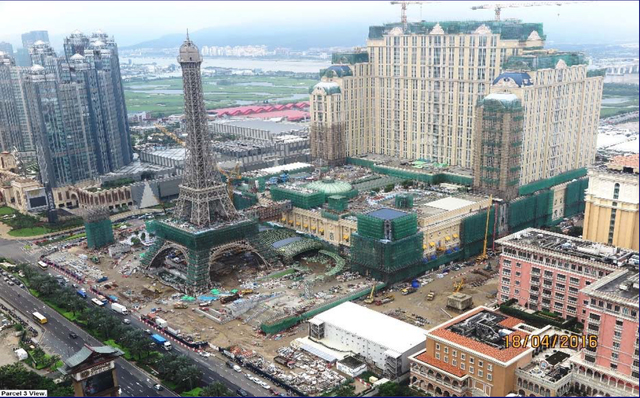 Las Vegas Sands Corp. on Wednesday shrugged off tepid results at its Las Vegas properties with strong efforts in Macau and Singapore to post double-digit percentage increases in revenue and earnings in the fourth quarter.
The Las Vegas-based company, headed by Sheldon Adelson, outperformed Wall Street analysts' earnings and revenue forecasts for the quarter that ended Dec. 31. The company reported adjusted net income of $700 million, 88 cents a share, on revenue of $3.44 billion compared with income of $491 million, 62 cents a share, on revenue of $3.08 billion in the same quarter in 2016.
A survey of 13 analysts on average expected the company to report earnings of 77 cents a share, while 12 analysts anticipated revenue of $3.27 billion.
The company also paid a dividend of 73 cents a share and repurchased $75 million in shares of common stock during the quarter.
Adelson was delighted with the results, joking during the earnings call that the middle initial of his name, G, should stand for "growth."
Music venue teased
Sands executives also offered some new hints about the company's plans to build an 18,500-seat music venue in Las Vegas with joint-venture partners Madison Square Garden.
Rob Goldstein, president and chief operating officer of Sands, said detailed information about the facility would be disclosed in a few weeks and construction would start by summer with completion in 2020.
"It's going to be quite an arena," Goldstein said during the call. "You'll see something that's pretty spectacular. Our neighbors across the street, the Wynn guys, have seen it and it looks extraordinary."
The building will be located just east of the Sands Expo and Convention Center and south of the Wynn Golf Club, which is being converted to the Wynn Paradise Park project.
Goldstein indicated the company remains bullish on the Las Vegas market, even though Las Vegas net revenue improved by only 2.4 percent for the quarter, primarily because of food and beverage sales increases. The revenue and earnings lag was attributed, in part, to the lingering effects of the mass shooting in Las Vegas on Oct. 1 — the first day of the quarter.
Casino revenue fell 4.6 percent to $124 million in Las Vegas. Room occupancy increased 1.4 percentage points to 91.7 percent, but room rates were off 3.9 percent to $244 a night.
"As far as more people building in Las Vegas, why not?" Goldstein said. "It's a great place to live and work, the growth is returning to Las Vegas. It's more of a lodging-based market than it has been in the past. The (Vegas Golden Knights) hockey is just terrific and pro football (the Raiders) is coming. So why not? Las Vegas has some great days ahead of it. We're very much in favor of the market growing and if competitors want to invest dollars, so be it."
Success in Macau, Singapore
But the company's biggest successes were in Macau, where net income leaped 49.1 percent to $519 million in the quarter. Singapore's Marina Bay Sands operation increased revenue 14.1 percent to $825 million. The property's fourth quarter capped a record year for the Singapore operation.
In Macau, results at The Venetian Macao, the Plaza and Four Seasons Macao hotels and Sands Cotai Central — which will be transformed by expansion and rebranding to the Londoner in the years ahead — all had double-digit percentage increases in revenue. Parisian Macao results were off, but that was attributed to a tough comparison with the 2016 quarter and the company's efforts to upgrade rooms to meet the expectations of the growing mass market.
Adelson said he expects the Londoner to follow in the footsteps of the Parisian and Venetian properties themed with iconic European landmarks that will appeal as must-see attractions. He said the Londoner would include replicas of Big Ben, Parliament, the Tower Bridge, double-deck buses and beefeater guards with representations of the city's iconic telephone booths to house automatic teller machines.
Adelson said he believes Macau is on a growth spurt much like pre-2014, and he expects that only to get better when the 34-mile Hong Kong-Zhuhai-Macau Bridge is completed later this year.
Sands stock shares closed down 22 cents, 0.28 percent, to $77.44 a share Wednesday on volume more than twice the usual average, but rebounded 30 cents, 0.39 percent, to $77.75 in after-hours trading.
The Review-Journal is owned by the family of Las Vegas Sands Corp. Chairman and CEO Sheldon Adelson.
Contact Richard N. Velotta at rvelotta@reviewjournal.com or 702-477-3893. Follow @RickVelotta on Twitter.
Las Vegas Sands
Fourth-quarter revenue and earnings for Las Vegas-based Las Vegas Sands Corp. (New York Stock Exchange: LVS).
4Q 2017 4Q 2016 Change
Revenue $3.44 billion $3.08 billion +11.7%
Earnings $700 million $491 million +42.6%
Earnings per share 88 cents 62 cents +41.9%