Scientific Games strikes deal to showcase slots featuring James Bond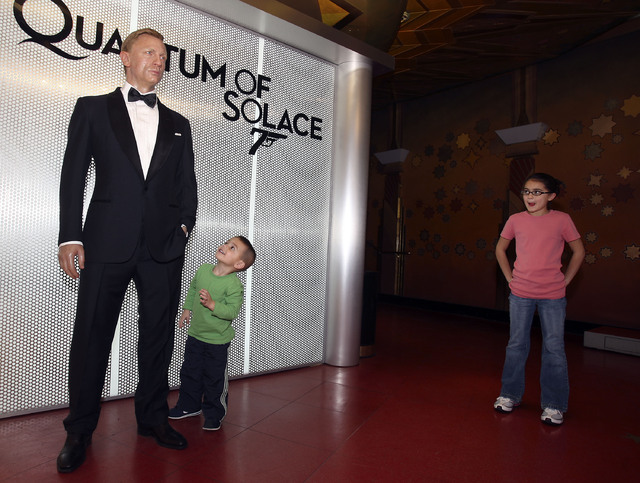 LOS ANGELES — The owners of the James Bond franchise have struck a multi-year licensing deal with gambling products specialist Scientific Games Corp., which will lead to the super-spy's image being used on casino slot machines.
The exclusive agreement was announced Wednesday between Las Vegas-based Scientific Games with Eon Productions Limited, Danjaq LLC and MGM Interactive, a subsidiary of Metro-Goldwyn-Mayer. The deal gives Scientific Games the rights to leverage all past and future James Bond films, as well as the film's talent portraying James Bond.
Scientific Games said it expects to showcase the first James Bond-themed slot games at the Global Gaming Expo on Oct. 3-5 in Las Vegas. That means the first machines could begin appearing in casinos next year.
Created in 1953 by novelist Ian Fleming, Bond was a frequent patron of high-end casinos in the books and two dozen films that followed — including two versions of "Casino Royale."
Seven actors have played Bond, starting with Sean Connery in 1962's "Doctor No," followed by David Niven in 1967's "Casino Royale," George Lazenby in 1969's "On Her Majesty's Secret Service," Roger Moore, Timothy Dalton, Pierce Brosnan and Daniel Craig. It's unclear whether Craig will sign on for another Bond film after starring in the last four.
Scientific Games Chief Executive Officer Kevin Sheehan said, "The Bond franchise is clearly a long sought-after and incredibly exciting brand for our industry. James Bond is synonymous with action, excitement, and next-generation technology. We look forward to harnessing the power of the Bond brand to drive innovation across the company in the years ahead."
Ronald Perelman, chairman of Scientific Games, said, "We have been excited about this license opportunity for a very long time and are thrilled that Kevin Sheehan and his team at Scientific Games were able to secure the exclusive licensing rights."
Variety reported in 2015 that another studio could supplant Sony as MGM's distribution partner for the franchise. Sony's has handled distribution on "Casino Royale," "Quantum of Solace," "Skyfall" and "Spectre." "Skyfall" was the highest-grossing 007 film in franchise history.
Danjaq LLC is the holding company responsible for the copyright and trademarks to the characters, elements, and other material related to James Bond on screen. It's currently owned and managed by the family of Albert R. Broccoli. Eon Productions is a sister company of Danjaq and the production company responsible for producing the James Bond films.