SEC filing: Perini to receive approximately $189.5 million on lien claims
December 17, 2014 - 9:25 pm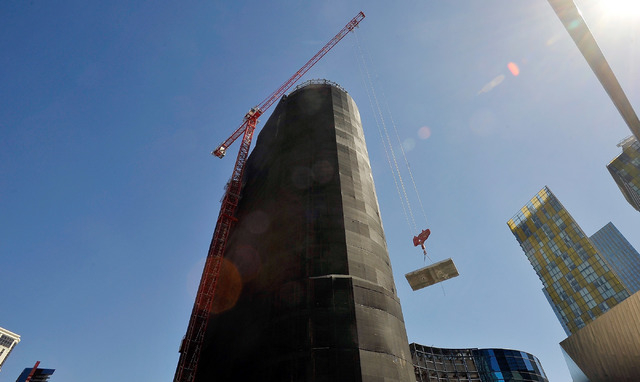 Tutor Perini Corp., the general contractor behind CityCenter and a party in a massive construction defect case involving the development's Harmon Hotel, said Wednesday it would receive "total net settlement proceeds" of approximately $189.5 million on its lien claims.
None of the lawsuit parties have commented on the settlement because of a nondisclosure agreement, but the contractor, in a filing with the U.S. Securities and Exchange Commission, all but claims victory over the CityCenter development and MGM Resorts International, which owns the 67-acre complex in a 50-50 joint venture with Dubai World.
In the filing, Perini said the settlement — reached after 15 months of negotiations that included two marathon sessions earlier this month — "resolves Tutor Perini's and the subcontractors' lien claims against CityCenter and MGM, and all of CityCenter's counter-claims against Tutor Perini and the related subcontractors."
A spokesman for the contractor did not return a phone call Wednesday.
On Tuesday, MGM Resorts, in its own filing with the SEC, said the company would pay $173 million to resolve the lawsuit, with $20 million going to CityCenter and $153 million to Perini.
An MGM Resorts spokesman said the company wouldn't comment beyond the SEC filing.
The Clark County District Court lawsuit began in 2010 and involved more than $400 million in damage claims. The trial was expected to last a year.
The planned 47-story Harmon hotel and condominium project was the only piece of the CityCenter complex not completed. Construction stopped at 26 floors after construction defects were found in 2008.
A structural engineer hired by MGM Resorts determined the building was unsafe and could topple if a 7.7-magnitude earthquake hit Las Vegas. Demolition is underway and should be completed by summer.
MGM Resorts blamed Perini for the Harmon's failure and refused to pay construction costs for the unfinished hotel. Perini counter-sued, saying MGM's designers were at fault for the Harmon, which was to have been the gateway to the CityCenter complex.
The building, never more than a shell behind a glass facade often wrapped with advertisements for CityCenter attractions, sat for years while the parties argued in court over its future, and whether it should remain standing as evidence or demolished.
In its filing, Perini said it would make cash contributions of approximately $11 million to CityCenter in addition to a waiver of a $2 million insurance bonus to resolve all CityCenter claims.
MGM Resorts said its SEC filing the company "prior Harmon-related insurance settlement proceeds of about $85 million" will result in total settlement proceeds to CityCenter of approximately $195 million on its Harmon construction defect claims.
Approximately $20 million will be a "contribution" from MGM Resorts.
Under the settlement agreement, "together with previous settlement agreements relating to the non-Harmon related lien claims," MGM Resorts "has made or will make" cash payments of approximately $153 million to Perini to resolve the non-Harmon-related lien claims.
The company said the condominium proceeds became available to fund construction lien claims after the Perini lawsuit was settled.
Parties involved in the settlement include Century Steel Inc., whose subcontract was assigned to Pacific Coast Steel during construction, and CECO Concrete Construction.
Only a small portion of the case involving Show Canada Industries Inc. remains unresolved.
That matter will be heard by District Judge Elizabeth Gonzalez, who has been presiding over the case, during a bench trial next year.
Contact reporter Howard Stutz at hstutz@reviewjournal.com or 702-477-3871. Follow @howardstutz on Twitter.