Settlement reached in 2016 may provide roadmap in Steve Wynn case
January 31, 2018 - 7:10 pm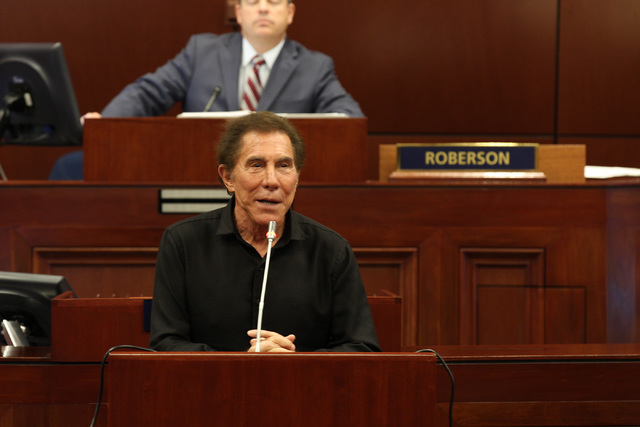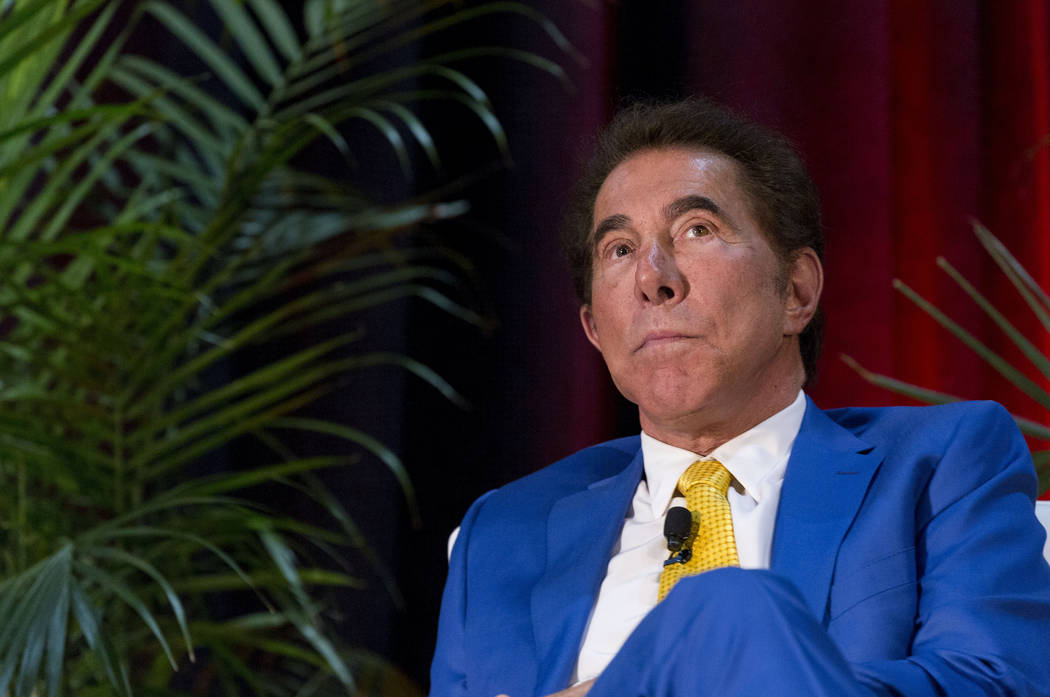 A settlement reached in a 2016 case involving sportsbook operator CG Technology could provide a roadmap for regulators as they work their way through investigating allegations that Wynn Resorts chairman and CEO Steve Wynn demanded sexual favors from and assaulted female hotel employees.
While regulators in Nevada, Massachusetts and Macau and a special committee comprised of independent members of the Wynn board of directors began work on separate investigations Wednesday, a women's advocacy group used a banner to amp up the pressure for Wynn to resign.
UltraViolet, an online community of more than 1 million women and men formed to expose and fight sexism in the public and private sector and the media, hired a plane to fly over the Wynn Las Vegas for two hours, and a spokeswoman demanded the Wynn board fire him. Airspace restrictions prevented the plane from flying over the property.
Fire Wynn
"The Wynn Resorts board must fire Steve Wynn immediately," said Karin Roland, chief campaigns officer at UltraViolet. "Wynn is a predator who used his position of power to sexually coerce his female employees. The board of Wynn Resorts must take an immediate stand and show that workplace sexual abuse will not be tolerated at any level of the company by firing Steve Wynn."
The organization did not return email messages inquiring about the cost of the campaign or whether they thought it was effective.
We just flew a plane over @WynnLasVegas to send a message to Wynn Resorts:

Steve Wynn is a sexual predator. It's time to #BelieveSurvivors and fire Steve Wynn. pic.twitter.com/hifcLBHPS4

— UltraViolet (@UltraViolet) January 31, 2018
A Wynn spokesman had no comment on the banner, which said, "Wynn is a sexual predator #FireWynn," adding that employees at the property said they never saw the plane.
"We called the FAA (Federal Aviation Administration) about it and they didn't know anything about it," a representative of the company said.
The company released a statement about the Massachusetts Gaming Commission meeting Wednesday that started that state's investigative effort.
"We respect the process outlined by the Massachusetts Gaming Commission and will cooperate fully with the investigation," the statement said. "Our construction is on schedule for a 2019 opening and continues to create more than 4,000 local union trade jobs."
On the job
The Wynn representative said Wynn was on the job at the Las Vegas property Wednesday and interacted with employees.
Attorneys with expertise in sexual misconduct and gaming law weighed in on the matter.
Las Vegas trial attorney Paola Armeni of Gentile Cristalli Miller Armeni Savarese, who has experience offering legal commentary on sexual misconduct allegations, said Wednesday that she's happy women have started to speak out about workplace sexual misconduct, but she's also concerned that Wynn be treated fairly in the investigatory process.
"It's really hard in these situations to determine credibility," she said. "It comes down to he said-she said."
Armeni said observers are asking a question that often comes up in similar cases: Why did the women take so long to come forward?
"Why are you bringing it up in this context when you have something to gain from it?" she said. "I think the flip side of it is if you tie this issue with Mr. Wynn or just in general the #MeToo movement and everything that is going on right now in this climate, it's not black and white. It's very gray. There are going to be people on both sides saying there truly are women affected, but there probably are going to be people who also think that those women are going to lose credibility because of the timing and because they didn't say something sooner."
Investigation must play out
Armeni said the investigation must play out, and observers need to be conscious that the accusations are just allegations.
"Unfortunately, sometimes people don't understand that an accusation is just an accusation, and that ruins lives because sometimes the accusation isn't true," she said. "I represent a lot of people that are accused of crimes. When somebody's accused of a sexual assault, it's a scarlet letter, and those people may have very well not done anything wrong. People just see that accusation alone. Right then and there, they have a really bad taste in their mouth before anyone has heard everything. Right now, we're only hearing one side of the story."
But gaming attorney A.G. Burnett of the McDonald Carano law firm, who in December stepped down as the chairman of the state Gaming Control Board to enter private practice said Tuesday that the Nevada investigation doesn't have to turn up many details for Wynn to be disciplined.
That's because Regulation 5 sets a standard that Wynn must only be found not to have exercised "discretion and sound judgment to prevent incidents which might reflect on the repute of the state of Nevada and act as a detriment to the development of the industry."
CG Technology precedent
Burnett said a disciplinary case involving CG Technology could be a guide in the Wynn case.
In July 2016, the Nevada Gaming Commission approved a settlement to resolve a complaint about CG Technology underpaying bettors on its computerized betting system.
The commission, which has broad discretion on disciplinary cases, ordered that a $25,000 escrow account be established to pay bettors. The company was fined $1.5 million, and Lee Amaitis was forced to resign as president and CEO.
"Statutes and regulations give the board broad authority to take up any investigation into allegations like this," Burnett said. "Anytime something arises that may implicate regulations, specifically Reg 5 in this case, the board has those powers in the statutes to conduct an investigation.
"The investigative powers of the board are really broad," Burnett said. "That can take multiple avenues and many forms, depending on the allegations that were raised. They'll do what they deem as best to get them the answers they want, and they have the authority to pretty much do that in virtually any case."
He said he does not have any details of the Wynn investigation.
Contact Richard N. Velotta at rvelotta@reviewjournal.com or 702-477-3893. Follow @RickVelotta on Twitter.