Sexual misconduct claims against Steve Wynn draw call for his ouster
Updated January 26, 2018 - 6:56 pm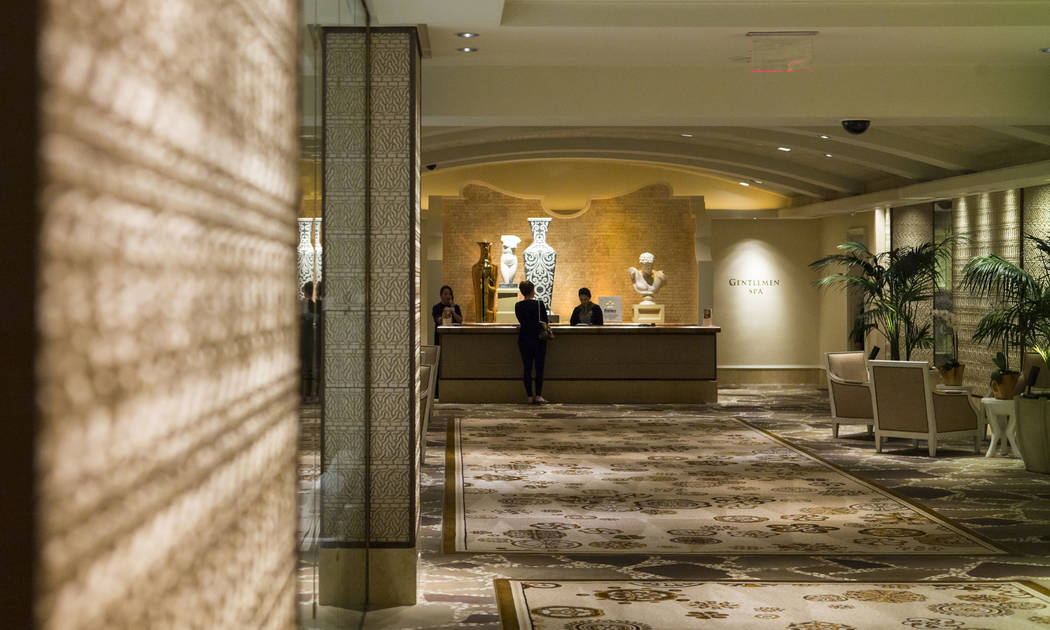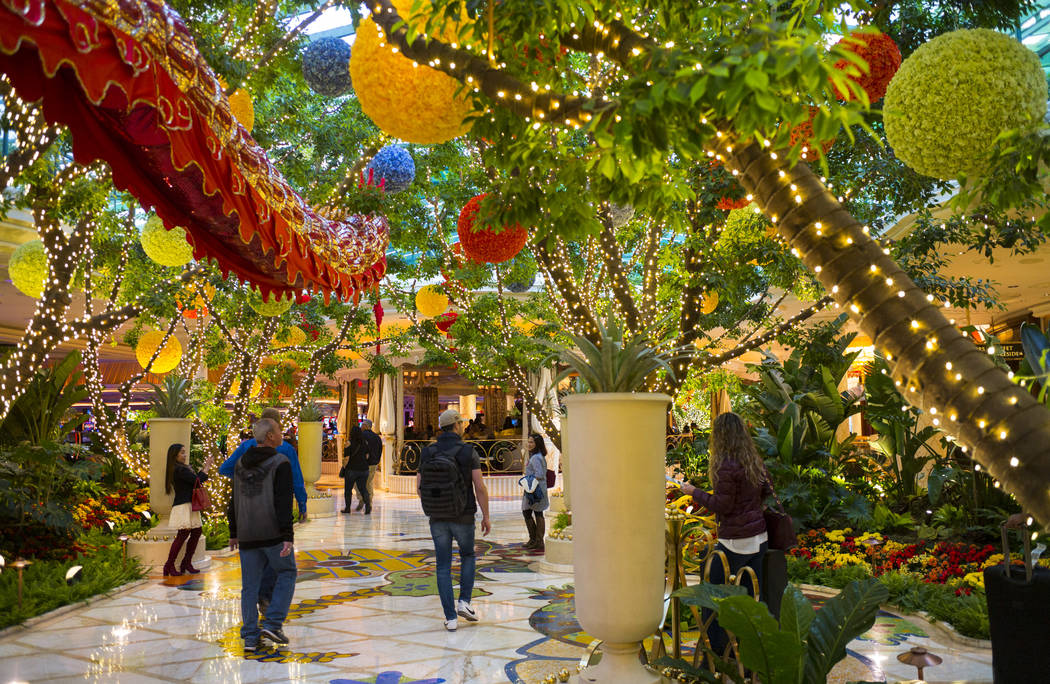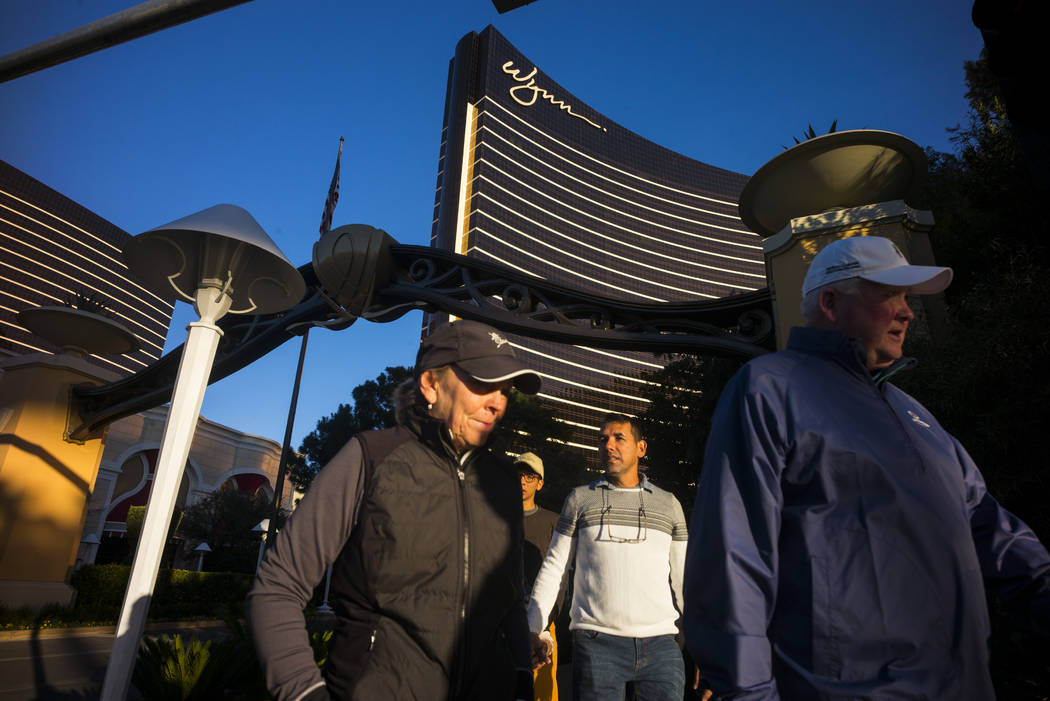 A national organization has called for Wynn Resorts Chairman and CEO Steve Wynn to be removed from the company, and Massachusetts gaming regulators said they would investigate allegations that he demanded sex from and assaulted several of his resort employees over three decades.
The company's stock plunged more than 10 percent Friday as shock waves reverberated through Southern Nevada and nationwide over the multiple allegations of sexual impropriety involving the man who built The Mirage, Bellagio and the international resort company that bears his name.
The allegations were first reported Friday by The Wall Street Journal, which said it contacted more than 150 people for the story. The story included several graphic accounts of alleged interactions between Wynn and employees, including one case that led to a $7.5 million settlement with a manicurist.
At the close of trading Friday, Wynn Resorts stock had dropped by 10.1 percent, or $20.31, to $180.29 per share, according to figures on Yahoo Finance. Volume was 20 times the normal average. By comparison, the Dow Jones Industrial Average was up 0.85 percent.
The drop equates to about a $2 billion loss in market value.
Wynn denies allegations
Through a spokesman, Wynn, who turns 76 on Saturday, said the allegations were false and a smear campaign orchestrated by his ex-wife, Elaine Wynn, with whom he's embroiled in a nasty divorce.
"The recent allegations about Mr. Wynn reflect allegations made in court hearings by Mr. Wynn's ex-wife, Elaine Wynn, in her legal battle with him and the company," the company said in an emailed release. "It is clear that Mr. Wynn's ex-wife has sought to use a negative public relations campaign to achieve what she has been unable to do in the courtroom: tarnish the reputation of Mr. Wynn in an attempt to pressure a revised divorce settlement from him."
Steve Wynn also issued a statement via email.
"The idea that I ever assaulted any woman is preposterous," he said. "We find ourselves in a world where people can make allegations, regardless of the truth, and a person is left with the choice of weathering insulting publicity or engaging in multiyear lawsuits. It is deplorable for anyone to find themselves in this situation.
"The instigation of these accusations is the continued work of my ex-wife, Elaine Wynn, with whom I am involved in a terrible and nasty lawsuit in which she is seeking a revised divorce settlement. Elaine has explicitly threatened to slander and destroy me and I am surprised that the media is allowing itself to be used to advance this agenda."
"The conduct of Elaine during the course of the pending lawsuits has been shocking and deeply disturbing to me personally and as the CEO of Wynn Resorts. Despite such conduct, I have repeatedly refused to capitulate to her demands. In response, I remain focused on Wynn Resorts, our employees and our shareholders and will not be distracted from those efforts."
Elaine Wynn declined to comment Friday through spokesperson Devon Spurgeon.
But in court documents filed with the Nevada Supreme Court, her lawyers said she learned of one incident of alleged sexual misconduct with an employee as she was preparing for divorce proceedings with her husband in 2009.
The high-powered couple divorced in 2010.
In the redacted document, her lawyers said Elaine Wynn discovered that her husband "had paid millions of dollars to settle a Wynn Resorts employee's allegations of personal misconduct by Mr. Wynn."
Elaine Wynn spoke with two company officials who had knowledge of the allegations and shared information about the conversations with her divorce lawyer, the court papers said.
The identity of the employee and the exact amount of the payment were not disclosed in the filing.
Multiple scandals
Wynn is the most recent high-profile figure from the business, government and entertainment worlds to be accused of sexual harassment. Hollywood producer Harvey Weinstein and actor Kevin Spacey are among those in the entertainment industry rocked by sexual harassment scandals.
Sen. Al Franken, D-Minn., and Rep. Trent Franks, R-Ariz., resigned amid sexual misconduct allegations, and Rep. John Conyers, D-Mich., retired from the House seat he held more than five decades over a scandal.
UltraViolet, an online advocacy group of more than 1 million women and men who want to expose sexism in the public sector, private sector and the media, was among the first to call for Wynn's ouster as company CEO and as finance chair of the Republican National Committee.
"Steve Wynn needs to go," said Nita Chaudhary, co-founder of UltraViolet. "He is a predator of the worst kind who used his position of power to sexually coerce his female employees."
Chaudhary called on the Wynn board of directors to remove Wynn immediately.
"The board of Wynn Resorts must prove that it stands against sexual assault and with survivors and take immediate action to remove Steve Wynn from the company," Chaudhary said. "The Republican National Committee, where Wynn serves as finance chair, must also immediately cut ties with Wynn."
The Wynn board of directors has 10 members, including Wynn. Board director J. Edward Virtue had no comment when contacted by the Review-Journal. Several other board members did not return calls.
Wynn was named RNC finance chairman last year and has been a major donor to GOP candidates and causes in past election cycles.
The RNC did not respond to a request for comment from the Review-Journal.
U.S. Rep. Jacky Rosen, D-Nev., who is challenging U.S. Sen. Dean Heller, R-Nev., also said the RNC should "remove Wynn as their lead fundraiser."
Rosen also said Heller, who has received Wynn's support and campaign contributions, "should do what's right by rejecting Mr. Wynn's support and calling on him to step down from his prominent RNC position."
The Heller campaign did not immediately respond to a request for a comment.
Massachusetts investigation
Friday's report could have implications for Wynn's $2.4 billion Wynn Boston Harbor casino project in Everett, Massachusetts, set to open in May or June 2019.
Elaine Driscoll, spokeswoman for the Massachusetts Gaming Commission, said in a statement that the regulatory agency "is now aware of and is taking very seriously the troubling allegations detailed in the Wall Street Journal article."
The "suitability and integrity of our gaming licensees is of the utmost importance," Driscoll said, adding that the commission's "Investigations and Enforcement Bureau will conduct a regulatory review of this matter to determine the appropriate next steps."
In Nevada, the state Gaming Control Board is empowered to investigate the suitability of licensees to conduct business in the gaming industry.
"We're aware of the situation and we're reviewing the information," said Becky Harris, the Control Board's newly appointed chairwoman.
High-profile figure
Professor A.J. Singh of Michigan State University's School of Hospitality Business said the Journal story is big news because Wynn is such a high-profile figure, but he is "not surprised that this kind of predatory behavior exists in the hospitality industry."
Hotel staff often earn low wages and rely heavily on tips. Singh said hotel workers are "very dependent on these jobs" and that staff members could be recent immigrants who "are afraid to speak out."
In an email later, Singh said that if Wynn Resorts handles the crisis communications well, its stock "should not have any long-term negative implications."
From "an employment perspective, this story has more of a problem." If the allegations are true and "the man whose name is on the building is involved, and a culture of not listening to employee problems prevails here, then Wynn will not be an attractive place to work," Singh wrote.
Still, he noted, these and other issues "could spin out of control if more and more women start to come out."
Wynn Resorts operates Wynn Las Vegas and Encore on the Strip, but nearly three-quarters of the company's annual revenue is generated in Macau, where the company has a 1,008-room resort that opened in 2006, and the 1,706-room Wynn Palace that opened in 2016.
In Las Vegas, Wynn is on the verge of expansion, announcing plans for a new tower, meetings facility and nongaming amenities on a lagoon east of the existing resort as well as a new resort across Las Vegas Boulevard west of the property.
The company on Monday reported fourth-quarter earnings that were more than four times higher than the same period in 2016.
Contact Richard N. Velotta at rvelotta@reviewjournal.com or 702-477-3893. Follow @RickVelotta on Twitter. Eli Segall, Jeff German, Gary Martin, Amelia Pak-Harvey, and Sandy Lopez contributed to this report.
Valentine's Day promotion
In the Wall Street Journal's report that casino developer Steve Wynn had a decades-long pattern of sexual misconduct, the paper said female employees hid in the bathroom or back rooms when they learned he was on his way to the salon.
Hours after the story was published, the Las Vegas Review-Journal received a news release that dealt with Wynn's local casinos, a few of their salons and a promise of romance. But it had nothing to do with Friday's bombshell report.
Claude Baruk Salons announced Friday that its Wynn Las Vegas and Encore locations would "set the mood for Valentine's Day with alluring hair and makeup."
The Journal story made no mention of Claude Baruk Salons.
A representative for the salons said a request for comment was forwarded to the resort public relations staff.