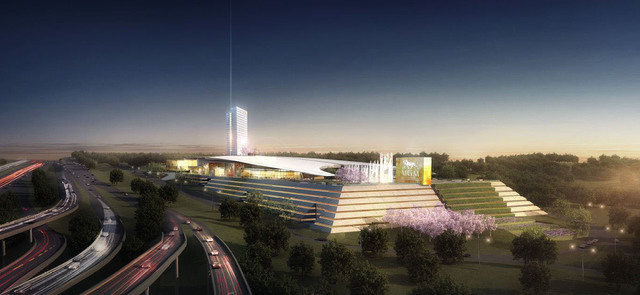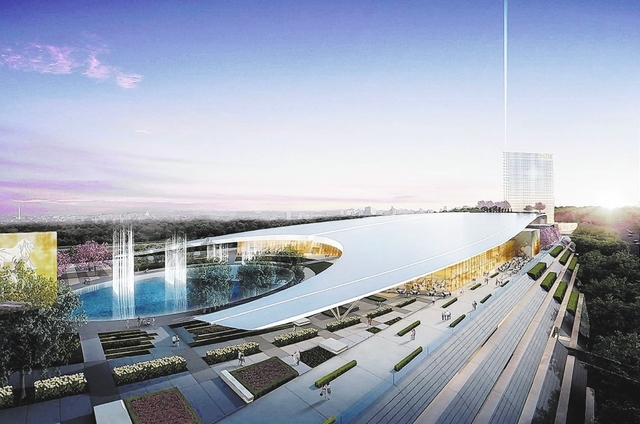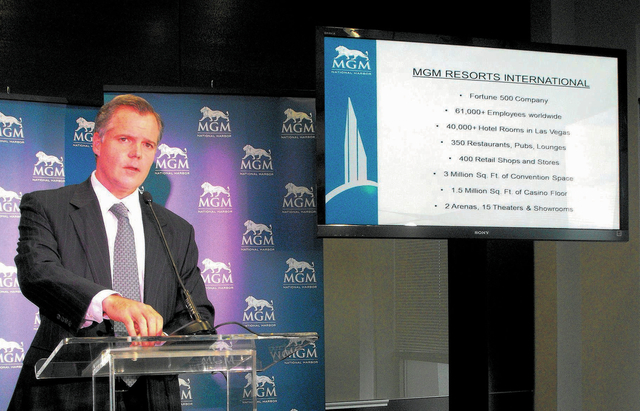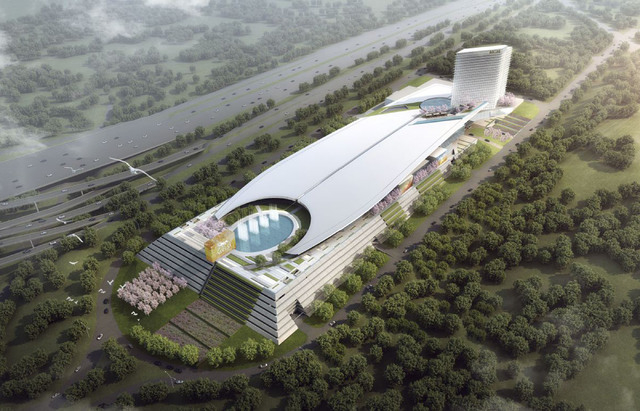 NATIONAL HARBOR, Md. — The top executive of MGM Resorts International on Wednesday unveiled the design of a planned Maryland hotel-casino that contains touches of the company's well-recognized Las Vegas properties.
Landscaping in the conservatory within MGM National Harbor might remind visitors of The Mirage or MGM Grand. Its fountains will probably be made to dance like the ones at Bellagio. Canopies of the 18-story hotel tower are similar those at Aria, as well as the planned style of exterior glass that can glow at night.
But MGM chairman Jim Murren emphasized the resort's nods to Nevada will be no more than hints, as its personality would be less glitz and more reflective of Maryland heritage, the nation's capital nearby and the topography of the sloped site overlooking the Potomac River.
"We do believe history is a guide, and we believe we need to be as respectful as possible and have a nod to history," Murren said at a media presentation. Designs that might play in Las Vegas "would be highly inappropriate" for the mid-Atlantic region, he said.
Accompanied by architect Edward Abeyta, Murren presented the first architectural renderings of MGM National Harbor, part of a waterfront community that enjoys a view of the Washington Monument 10 miles away.
Evoking the steps of nearby federal landmarks, the resort would incorporate a terraced design that would conceal a seven-story parking garage and would be topped by the main structure of casino floor, meeting areas, shopping, restaurants and theaters.
A skylight would run along the top of the 1,500-foot-long structure, where the casino would have 4,000 slot machines and 250 game tables, according to plans presented earlier this year.
At 1.7 million square feet, MGM National Harbor would be about half the size of Bellagio, while its 400 rooms would be about 10 percent of the number found at the company's megaresorts in Las Vegas. Company officials have said the Maryland property's closest cousin might be the MGM Grand Detroit.
The project price has increased above $800 million, Murren said. MGM still is keeping many details up its sleeves as it is competing with two other companies for a gaming license that Maryland voters approved last November for Prince George's County adjoining Washington.
"When you are in a poker game, you don't show all your cards," he said.
A state board has scheduled to hear formal presentations in October from MGM and fellow bidders Penn National Gaming and Greenwood Racing. A decision is expected by the end of the year, and a new resort could open as soon as mid-2016.
The MGM is touting the project as a major economic engine for Prince George's County. As part of the sales pitch, Murren said he planned to keep a promise to create 2,000 jobs during construction and 4,000 jobs when the resort opens, as well as provide opportunities for a slew of local businesses.
Contact Stephens Washington Bureau Chief Steve Tetreault at stetreault@stephensmedia.com or 202-783-1760. Follow @STetreaultDC on Twitter.