Shareholder advisers side with Elaine Wynn on director vote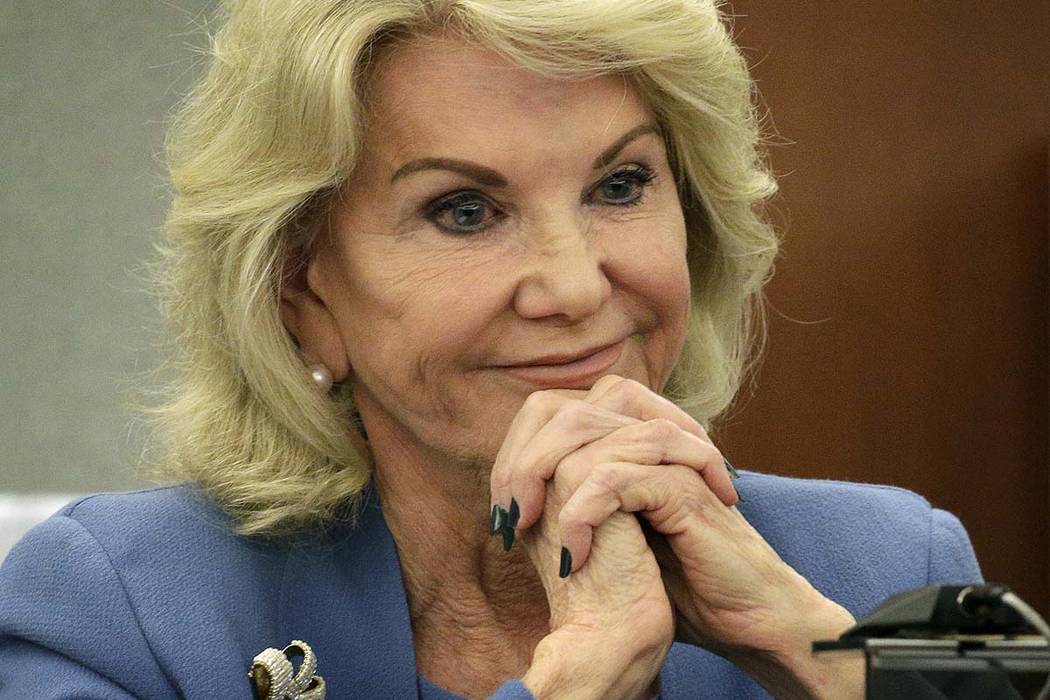 In a blow to the Wynn Resorts Ltd. board, a prominent shareholder advisory firm recommended investors withhold their vote from re-electing director John J. Hagenbuch at this month's annual meeting.
Wynn Resorts had called on shareholders Wednesday to re-elect Hagenbuch, in response to an attempt by the company's largest shareholder, Elaine Wynn, to push him out.
Advisory firm Glass Lewis sided with Elaine Wynn Thursday night.
"We are ultimately inclined to conclude there may be greater value in effectively objecting to Mr. Hagenbuch's nomination, which should be considered against his questionable role on the special committee reviewing accusations against Mr. Wynn and his shared culpability for years of misaligned compensation practices that Glass Lewis continues to believe are problematic," the advisory firm said.
'Tone deaf'
The Wynn board has come under intense scrutiny following allegations that company founder and former board chairman Steve Wynn sexually harassed female employees over decades. Steve Wynn has denied all accusations, but he stepped down from his corporate role in February and sold all his shares of company stock in March.
In a shareholder lawsuit filed in February, the Norfolk County Retirement System said Wynn directors were too beholden to Steve Wynn due to their long-term personal or business relations with him. The lawsuit said directors may have known about possible misconduct and "failed to investigate the credible allegations and continued to support Mr. Wynn's positions of leadership, compensation and suitability as a gaming operator."
Glass Lewis said the board's statement immediately following Steve Wynn's departure did nothing to dispel the notion of subservient directors. The board "reluctantly" announced it had accepted the resignation of a "beloved leader and visionary," the Wynn board said in the Feb. 6 statement.
"Given the gravity of the allegations in question, the possibly adverse impact on portions of Wynn's business and the decidedly nascent phase of the special committee's process at that point in time, we consider the issuance of such a statement is fairly tone deaf in terms of timing and cultural context," Glass Lewis said.
Wynn response
The casino operator said Friday morning it was disappointed with Glass Lewis' recommendation and reiterated its call to shareholders to vote for Hagenbuch. Wynn Resorts said Hagenbuch has helped drive value for the company over the years.
"As a fully independent member of the Board who is committed to acting in the best interests of our shareholders, [Hagenbuch's] knowledge of the company, our financial operations and industry environment contribute meaningfully to the Special Committee's work," Wynn Resorts said in a filing.
Hagenbuch has served on the board for more than five years and is one of three members of the special board committee investigating the sexual harassment allegations against Steve Wynn. Hagenbuch is also on the audit and compensation committee.
Steve's friend
Elaine Wynn said in a letter to investors that Hagenbuch should not be on the special committee due to his friendship with Steve Wynn.
Glass Lewis agreed and cited Hagenbuch's role in approving high executive compensation as another reason to withhold a vote against him.
Steve Wynn was paid $28 million in 2016, significantly more than his peers at MGM Resorts International and Las Vegas Sands.
A withhold vote would "send a more pronounced message that investors seek a clearer break from the status quo,'' Glass Lewis said.
However, the firm also said Elaine Wynn, a former director, bears part of the blame for what they called a "regressive" Wynn board. Elaine Wynn served on the board from 2002 until 2015.
May 16 vote
Shareholders, including index and mutual funds, often follow the recommendation of advisory firms like Glass Lewis and Institutional Shareholder Services. The latter has not yet issued its opinion on the Wynn board vote.
Wynn Resorts will hold its annual shareholders' meeting on May 16 to re-elect three board members. The Wynn board has 11 members, with three to four elected each year to three-year terms.
Hagenbuch needs 50 percent plus one share of the votes cast for director to remain on the board. A quorum is reached if investors representing at least 50 percent plus one share of all outstanding stock send in their ballot.
Elaine Wynn will vote her roughly 9 percent stake against Hagenbuch. Steve Wynn sold his nearly 12 percent stake in late March after the cutoff date for the board vote. Wynn Resorts has said Steve Wynn will not vote his shares.
Wynn Resorts and Elaine Wynn will be contacting investors directly in the run up to the vote in an attempt to sway their opinion.
Contact Todd Prince at 702-383-0386 or tprince@reviewjournal.com. Follow @toddprincetv on Twitter.