Shuffle Master names Bally executive new CEO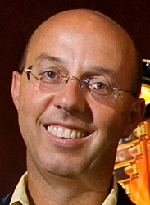 The announcement Thursday that table game provider Shuffle Master Gaming had hired Gavin Isaacs away from slot machine maker Bally Technologies to be the company's new chief executive was met with surprise.
The move filled a leadership position that had been vacant for more about a year for Shuffle Master, but also eliminated concerns Wall Street had with the Las Vegas-based company.
"There has been a significant overhang on Shuffle Master stock with the lack of a permanent CEO, which should now be removed," said Morgan Joseph gaming analyst Justin Sebastiano. "We believe the investment community grew tired of the lengthy CEO search. As a result, there was a weight on the stock despite quarter after quarter of strong results."
Many analysts didn't know Isaacs, a native of Australia, had been looking to leave Bally. He had been with the company since 2006 after working for Australian slot machine maker Aristocrat.
Several analysts told investors Thursday that Isaacs played a key role in Bally's financial turnaround and he also had a positive impact on Aristocrat. Isaacs had been one of Bally's top executives, overseeing the company's gaming equipment division.
"We like Mr. Isaacs' experience both domestically and internationally," JP Morgan gaming analyst Joe Greff said. "(The) decision to hire a person with deep knowledge of the equipment business makes sense."
Shuffle Master, which distributes automated card shufflers and table games such as Three Card Poker and Let It Ride, has been without a permanent CEO since the death last year of Tim Parrott. David Lopez had been the company's most-recent interim CEO but will return to his role as chief operating officer.
"We believe that Gavin will be able to drive both innovation and efficient execution of our strategies in order to deliver increased value to our shareholders," Shuffle Master Chairman Garry Saunders said in a statement.
Bally quickly responded to the Isaac's departure, announcing Thursday that Ramesh Srinivasan, who had overseen the company's systems division, had been promoted to president and COO. Srinivasan has been with Bally since 2005.
Roth Capital Partners gaming analyst Todd Eilers said Srinivasan's promotion was a good move.
"Under his tenure, Bally has made dramatic improvements to its systems offering and the company has become the clear leader in gaming systems technology," Eilers said.
Shares of Bally, traded on the New York Stock Exchange, closed at $34.74, up 16 cents, or 0.46 percent. Shuffle Master shares, traded on the Nasdaq, closed at $10.47, up 97 cents, or 10.21 percent.
Contact reporter Howard Stutz at hstutz@reviewjournal.com or 702-477-3871.