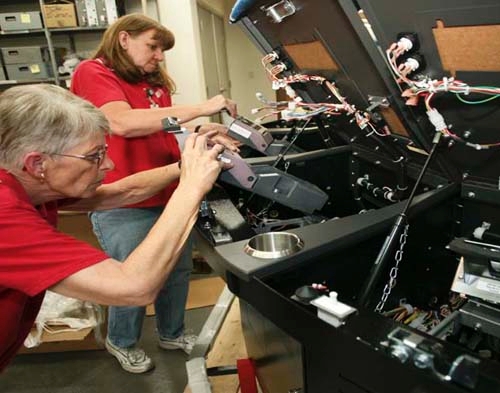 Shuffle Master said Monday it grew company profits by 23 percent, despite expenses incurred through the purchase of a European online gaming company.
Shuffle Master, which is based in Las Vegas and distributes table games and casino management products, said its net income was $9.7 million for the second quarter, which ended April 30, compared with $7.9 million in the same quarter last year.
The company said its earnings per share in the quarter was 17 cents, a 21 percent increase over 14 cents per share in the same quarter of 2011.
Companywide revenues were $66.1 million, up 10 percent compared with $59.9 million in the second quarter of 2011.
Shuffle Master CEO Gavin Isaacs said revenues from the company's unique table game titles leased to casinos saw revenues jump 13 percent in the quarter.
Isaacs said Shuffle Master's electronic table game segment was in transition and remains a focus.
In March, Shuffle Master agreed to spend $28.5 million for Ongame Network Ltd., a European provider of online poker products, and subsidiary of bwin.party Services of Austria, one of the world's largest poker providers to online gaming operators.
Shuffle Master said the transaction would allow the company to expand its online offerings in regulated gaming markets.
"We are confident that our continued strong momentum across our core businesses and the rollout of our interactive initiatives are key drivers of our future earnings potential and will write the next chapter of our profitable growth story," Isaacs said.
In a note to investors published prior to the company's earnings report, Roth Capital Partners gaming analyst Todd Eilers said expectations on any growth opportunities had already been priced into Shuffle Master's stock. He said any material earnings from interactive gaming, through the company's purchase of Ongame, are further out than most investors realize.
"We believe investor expectations and estimates have become more difficult to exceed given several very strong quarters in a row resulting in several upward estimate revisions," Eilers said.
On Friday, in a filing with Securities and Exchange Commission, Shuffle Master said longtime company executive and board member David Lopez had resigned. No explanation was given. Lopez, the company's chief operating officer, was Shuffle Master's interim CEO in 2010, before Isaacs was hired away from Bally Technologies.
Lopez replaced interim Shuffle Master CEO Phillip Peckman, who took over in early 2010 following the death of CEO Tim Parrott.
Several analysts said at the time that Lopez, a 12-year Shuffle Master employee, should have been given the job permanently.
Contact reporter Howard Stutz at hstutz@reviewjournal.com or 702-477-3871. Follow @howardstutz on Twitter.