Skill-based slot machines won't take over the casino floor
October 11, 2015 - 8:51 am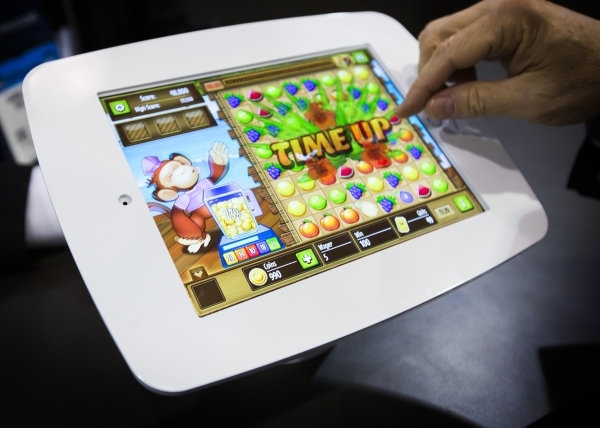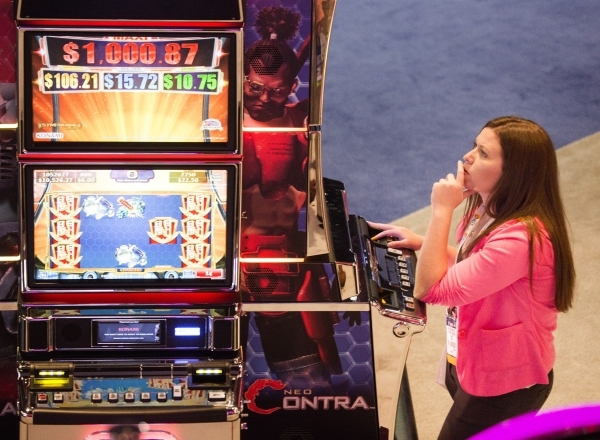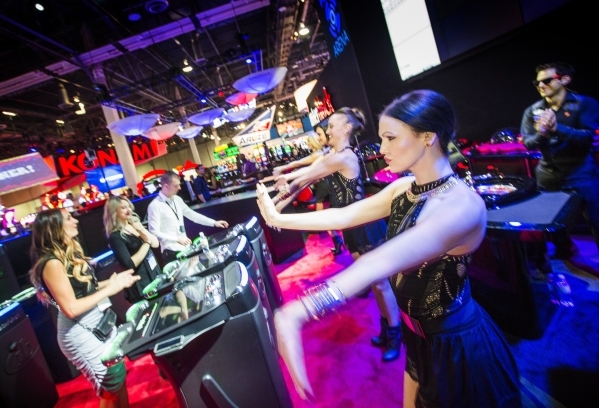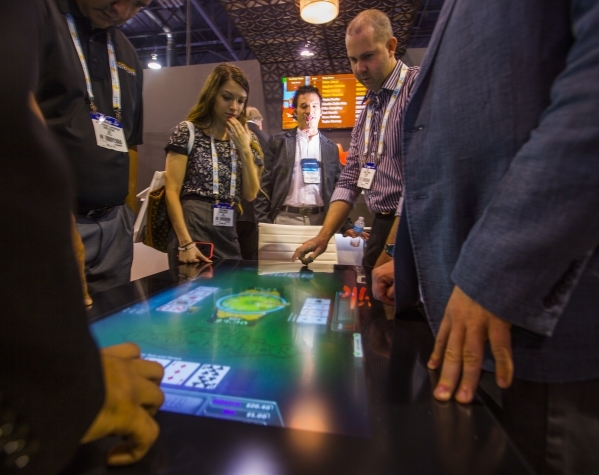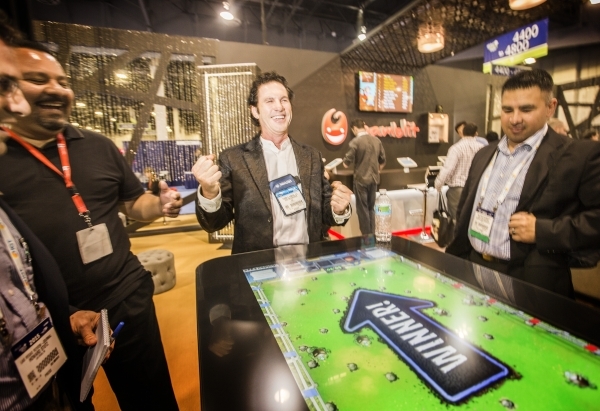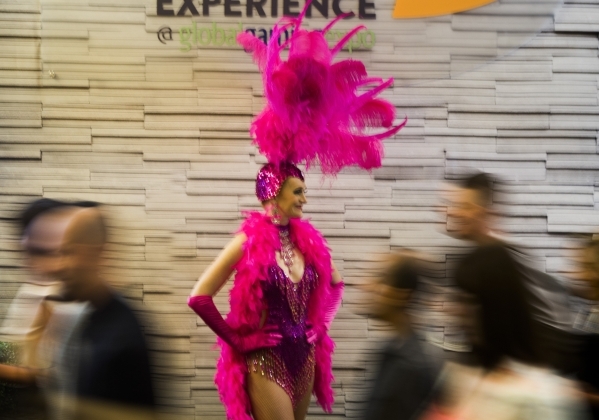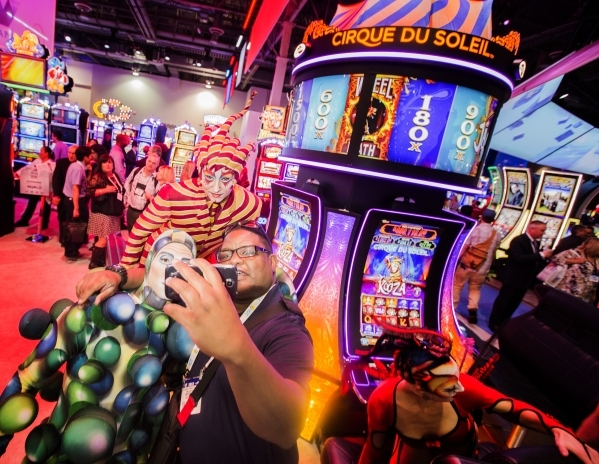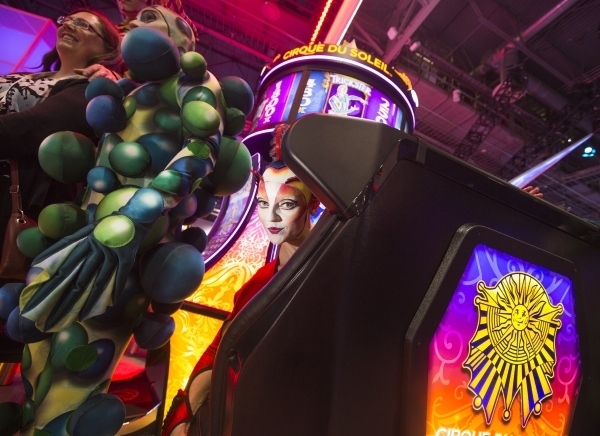 Let's be clear from the outset: The Strip casino of the future isn't going to look like your child's Xbox or PlayStation.
But gaming industry leaders seemed unified in an opinion expressed over the four-day Global Gaming Expo in Las Vegas — changes have to be made in the slot machine floor over the next few years if casinos are going to attract a younger customer base.
It's not going to be a wholesale change.
"We're just looking for a small space, not the whole floor," said Eric Meyerhofer, CEO of Gamblit Gaming, whose Glendale, Calif.-based company has been at the center of bringing a new type of slot machine to casinos.
Customers who love the core slot machines, such as Blazing 7s, Buffalo and Wheel of Fortune, will still find those time-tested games.
At the G2E trade show inside the Sands Expo and Convention Center, the old standards were displayed. But the games were updated with flashy graphics, including 3-D symbols and images, and high-tech features, such as capturing player's photo and inserting it into the game. The slots will come in streamlined, modern cabinets with surround-sound speakers built into custom-designed chairs.
Slot machine developers continue to produce games based on popular pop culture themes, television shows and movies, hoping to attract fans of the products, such "House of Cards," "TMZ," "Orange is the New Black," "Ted 2," "Game of Thrones," "The Simpsons" and "The Big Bang Theory."
However, don't be surprised in the next few years if slot machines resemble giant smartphones and tablet PCs, or are the sit-down video games that Baby Boomers played a generation ago.
G2E attendees found themselves sampling potential gambling devices with themes similar to "Guitar Hero," "Space Invaders," "Angry Birds" and "Candy Crush." International Game Technology offered an electronic video version of the classic pinball game as a bonus round feature on its long-standing "Texas Tea" spinning reel slot machine.
In some ways, the G2E was a sign of the casino industry's destiny — sort of Bellagio meets Dave and Buster's.
"The slot machine needs a face-lift if it stands a chance to appeal to the next generation of players," Deutsche Bank gaming analyst Andrew Zarnett said. "Younger players dislike them, as they seem primitive to the exciting games that millennials play on their cellphones."
Defining a game of skill
Regulations covering skill-based slot machines were approved by Nevada gaming regulators in September. Technical standards for the games are still being written. New Jersey also has skill-based gaming laws in place.
Slot machines in the United States are now based on chance. The new regulations define a game of skill, a game of chance and a hybrid game that incorporates both elements. Most of the skill-based technology is found in common video games — "Space Invaders" and other arcade-style products — and social games, such as "Angry Birds" and "Words With Friends." There may soon be slot machines that award points for movie trivia.
Analysts, after walking the G2E floor, said skill-based games are in the early stages of development. Actual testing and approval of the games may take to six to eight months as rules and technical standards are clarified.
"While the time will eventually come for a skill-based product, the industry is not there yet," J.P. Morgan gaming analyst Joe Greff said. "We saw several new technologies aimed at creating a more engaging player experience, including hand motion sensors, (and) eye-tracking technology. Companies also highlighted a slate of new titles, brand extensions and a host of new cabinets."
The major manufacturers worked to have some type of skill-based product in their G2E booths. Scientific Games Corp. displayed "Space Invaders Evolution," a video reel slot machine where the bonus round offered an option to play a traditional game of space invaders. Players use their skill at shooting down aliens and avoiding missiles to earn jackpot points.
"This is our first product, but it gives our customers an idea of what we're looking to do with this type of slot machine design," said Greg Colella, senior director of product management for Scientific Games.
IGT's "Texas Tea Pinball" took a time-tested video spinning reel game and added traditional pinball as the bonus challenge. Skilled pinball players can cause an oil gusher and earn large rewards.
Jacob Lanning, IGT's vice president of strategic research and development, said the company has used skill-based elements in some of its older slot machines, including video poker games based on Texas hold 'em. Pinball plays on the nostalgia of older customers.
"It was an easy game to create, and it's a game that's has a well-established base," Lanning said, adding that the company is working on other skill-based games.
Meanwhile, Lanning said slot machines based on popular culture themes, such as the celebrity news website and television show "TMZ" could market to a younger casino customer. The TMZ game allows the player to snap their image and be part of the TMZ celebrity-search bus. Also, IGT added 3-D technology to 10 different slot machine titles.
Wells Fargo Securities gaming analyst Cameron McKnight said Scientific Games and IGT were taking "a measured approach" toward investment in skill-based technology.
"Manufacturers and operators are trying to determine the optimal mix of skill and randomness in game payouts," McKnight said. "Skill-based slot machines will take several years to develop."
Glimpse of the future
Gamblit and G2 Game Design aren't waiting around.
The companies are developing skill-based games that are more arcade-video-social than slots.
Gamblit had a booth at the 2014 G2E, which Meyerhofer viewed as a preview. The year, he described the company's 2,500-square-foot booth as a "pop-up casino" that could be inserted into casino's floor area. The space includes some 30 to 40 multi-player games situated around lounges with plushy chairs and sofas, high-top tables and a bar area. Energetic music was pumped into the site.
"We wanted to show the casinos exactly what they would get with our products," Meyerhofer said. "We have no intentions in taking over the whole the casino. We think this can add to what is already offered and bring in a different mix of customers."
The bar-top games weren't video poker. Instead, Gamblit created a tablet PC-style game titled "Smoothie Blast," which is similar to "Candy Crush." Players match fruit that ends up in a blender. Payouts off the initial wager are determined by the smoothie's contents.
Other games displayed have origins from popular social games. But the company is also creating its own products.
In "Grab Poker," up to four players pay an entry fee and try and create the best poker hand by grabbing cards as they rapidly appear in the center on the table. The winner collects the pot.
Meyerhofer said other states are considering copying the Nevada regulations, which would open new markets for Gamblit. He just wants to get the games on the floor and prove their value.
"We're right there," Meyerhofer said. "It's an exciting time."
G2 Game Design CEO Gregg Giuffria previously made his name in another field: He was the keyboardist for album-oriented rock bands Angel, House of Lords, and Giuffria in the 1970s and 1980s. He then went into slot machine design, creating games based on the magic of David Copperfield and the Las Vegas-located cable channel show "Pawn Stars."
Now, he's looking to bring skill-based gambling games to casinos that feature popular arcade games, including tank battles and airplane dogfights. Naturally, music is another product.
Working in partnership with Next Gaming, the companies want to launch a gambling version of "Guitar Hero," where players win bonus points and jackpots as they successfully hit notes on a guitar as a song plays. Players can chose from a menu of popular songs, including a few Giuffria wrote during his long-haired musical days.
"These are the first games where the winner is not determined by a random generator," Giuffria said. "It's a change that the gaming industry needs to see happen."
Numbers show a need
How quickly those changes take place is a mystery.
The numbers show the need for a change in Nevada. Slot machine wagering of $105.4 billion in 2014 was down 23 percent from the all-time high of $138 billion in 2006. Slot machine revenue, or win, in Nevada declined 5 percent in the past 10 years, from $7.09 billion in 2004 to $6.74 billion in 2014. Nevada slot machine revenue hit an all-time high of $8.4 billion in 2007, a year before the economy dipped.
Eiler Research founder Todd Eilers, after touring the G2E floor, said he doesn't see skill-based slots having that big of an impact in 2016.
"Almost all of the major vendors had a couple games focused on the skill-based category given recent regulatory approvals in Nevada and New Jersey," Eilers said. "However, nothing really jumped out, and we suspect next year there will be more focus on this category."
Contact reporter Howard Stutz at hstutz@reviewjournal.com or 702-477-3871. Find @howardstutz on Twitter.