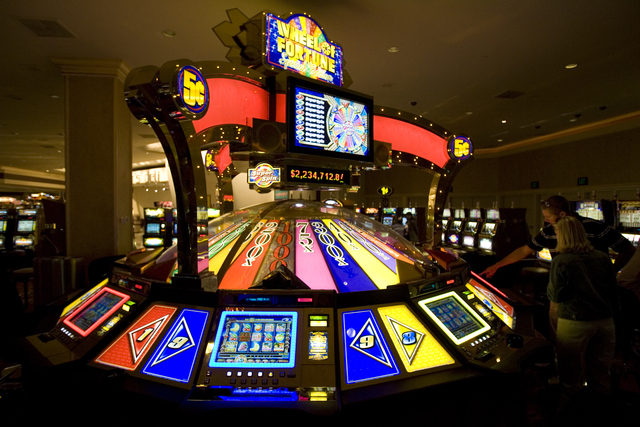 A decline in gaming revenues in U.S. regional gaming markets and a challenging business environment in foreign destinations forced slot machine manufacturer International Game Technology to reduce its workforce worldwide by 7 percent, the company said Tuesday.
The slot machine giant, considered the market leader in providing games to casinos in multiple countries, also trimmed its expected earnings reported to investors as guidance.
IGT said the cost-cutting measures will translate into savings of $30 million in the current fiscal year and $50 million annually in coming years.
The company, which has headquarters in Las Vegas and Reno, announced the moves after markets closed Tuesday. Shares of IGT, which closed at $14.85 on the New York Stock Exchange, up 5 cents or 0.34 percent, were off as much as 9 percent in after-hours trading.
IGT CEO Patti Hart said in an interview the reduction in workforce will be 350 to 375 positions company-wide.
"Every office, across the world, contributed," Hart said, adding that executive-level positions were also trimmed. She didn't say how many jobs were lost in Nevada.
Hart said declines in gaming revenues in regional markets were sharper than expected, as well as "further degradation in the international currency, compliance, and importation environment."
Last year IGT shipped 2,200 slot machines to casinos in Argentina and recorded large slot machine-like video lottery terminal sales into Canada and Illinois.
"We knew at the beginning of the year it would be a challenge to repeat that performance," Hart said.
The company has also experienced regulatory delays in getting games approved in several foreign markets, often waiting 200 to 300 days for regulators to act.
Meanwhile, bad weather has kept customers away from domestic casinos.
"We started seeing the ebb and flow of the business change in December," Hart said. "We felt it was important to react to the situation."
Hart viewed the current business climate "as a speed bump." IGT announced several business moves in recent weeks that have been praised by investors.
IGT has a new multi-year licensing agreement with Sony Pictures that allows the company to use the "Wheel of Fortune" brand on its product lines through 2024. The deal covers traditional slot machines, online games, mobile devices and free-play social games.
IGT is launching a new interstate progressive jackpot by the end of the year in Nevada, New Jersey, South Dakota, and Canada. The company also reached a new agreement with Action Gaming to solidify its more than 90 percent market share in video poker.
IGT told the investment community it was lowering the company's fiscal 2014 guidance for adjusted earnings per share from a range of $1.28 to $1.38 to a range of $1 to $1.10.
"As we reach the halfway point in our fiscal year, you can see this is a challenging time for the industry and IGT," Hart said.
IGT will discuss the moves with analysts on a conference call Wednesday morning before the markets open.
Stifel Nicolaus Capital Markets gaming analyst Steven Wieczynski said Tuesday he expects the announcement would "further erode any remaining near-term support behind IGT shares."
Two other analysts in recent weeks raised concerns that IGT's competition could be bleeding off slot machine market share.
Wieczynski said IGT faces trouble in regional markets due to lack of play on machines in which IGT shares in gaming revenue with the casinos.
"The challenges posed by further weakness in regional gaming trends on the industry's leading participation installed base have finally come home to roost," Wieczynski said.
Contact reporter Howard Stutz at hstutz@reviewjournal.com or 702-477-3871. Follow @howardstutz on Twitter.