Station Casinos emerges from bankruptcy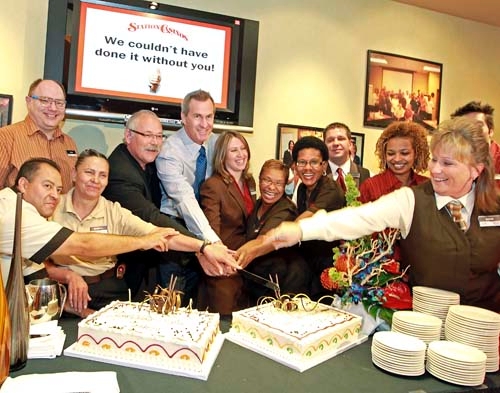 Las Vegas locals gaming leader Station Casinos LLC exited Chapter 11 bankruptcy protection Friday, nearly two years after seeking court protection.
"It's been a long battle, but it's finally done. We are very excited," Kevin Kelly, chief operating officer of Station Casinos, said in an interview. "Being done means Station Casinos can get back to the things it does best … without the distractions."
Under a sign that read "We couldn't have done it without you," Kelly celebrated with employees Friday at Red Rock Resort as they cut a cake to officially announce completion of restructuring.
The company owns or operates 18 casinos in the Las Vegas market and has about 13,000 employees. It was reassembled by members of its founding family, led by Chairman and CEO Frank Fertitta III and his brother, Vice Chairman Lorenzo Fertitta.
"We are pleased to have completed the restructuring process, and we look forward to this exciting new chapter in the Station Casinos story," said Frank Fertitta III in a statement. "Lorenzo and I believe in the future of Las Vegas, which is why we remain committed to the company and the community."
The Fertitta family now owns 45 percent of the restructured company, having invested $200 million to raise their stake from 25 percent before the bankruptcy.
Other owners of the restructured company include Deutsche Bank AG, with a 25 percent stake, while JP Morgan Chase & Co. and former bondholders each hold 15 percent.
David Schwartz, director of the Center for Gaming Research at the University of Nevada, Las Vegas, said the company's emergence from bankruptcy wouldn't have much effect on the Las Vegas locals market in the near-term.
"It's still a very competitive market, even with Strip casinos trying to compete for the locals' dollar, which due to the nonrecovery isn't exactly growing right now," he said. "Station Casinos (has) been ramping up things this year with increased staffing and the 'We Love Locals' campaign as a way of enticing regulars who where put off by the cost-cutting of the past few years."
With bankruptcy behind Station Casinos , Kelly expects it to continue to improve its properties. He stressed that what the company does best is provide a great product to the local community.
"We were a growth company from the beginning," he said. "We have a bullish perspective on the long-term viability of the Las Vegas economy."
That bullish outlook led Station Casinos in January to start hiring 1,000 employees in an initiative to improve customer service and to invest heavily in re-establishing its Grand Cafe restaurants at several casinos, including Palace Station.
The company owns more than 400 acres in multiple locations earmarked for future casino development in Las Vegas and Reno and has four tribal development or management agreements in California and Michigan.
Started with a single casino called The Casino opened by the late Frank Fertitta Jr., Station Casinos will mark its 35th anniversary on July 1.
The company emerges from bankruptcy owning 17 properties, including Green Valley Ranch Resort, Red Rock Resort and Palace Station. Station Casinos now only manages Aliante Station after it passed the property to a group of lenders, including TPG Capital and Apollo Global Management LLC.
Station Casinos filed for bankruptcy protection in July 2009 after the company had difficulty serving its debt load of $5.9 billion. The company shed almost
$4 billion of that debt. Full financial details have yet to be released.
Company officials blamed the economic collapse for the bankruptcy, but Schwartz also cited over development and high debt load.
"It's a combination of all three," Schwartz said. "Station (Casinos) got ambitious with projects like Aliante, which had Strip-level standards and weren't really well-positioned for a market that started struggling. Taking on too much debt certainly didn't help, but the sustained downturn in the locals market is primarily to blame."
Kelly said the company would continue to focus on improvements but also could consider new growth opportunities.
"It's our mission to continue to improve and grow," he said. "Everybody is very happy. The (end-of-bankruptcy) announcement has created a positive spirit among our employees."
Contact reporter Chris Sieroty at csieroty@reviewjournal.com or 702-477-3893.