Station Casinos makes the effort to help schools
October 26, 2014 - 7:35 pm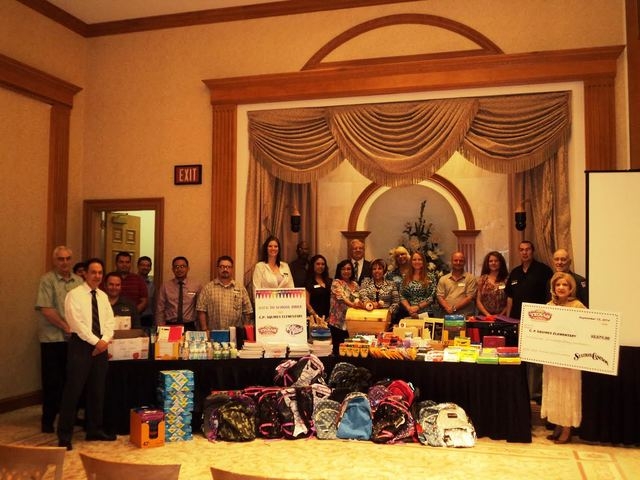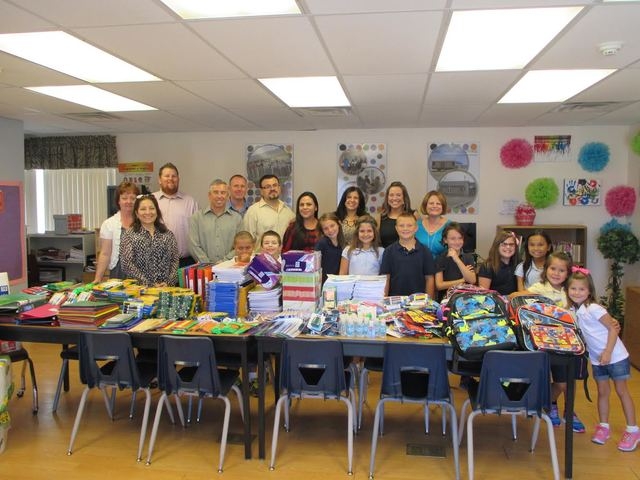 What began as a way to financially help area schools in need has become a year-round effort for Station Casinos.
The company hosted its annual Smart Start breakfast this month at Red Rock Resort's T-bones Chophouse and awarded $50,000 — $5,000 each — to 10 elementary schools designated by the Clark County School District as needing the greatest assistance for students.
The donation brought the total to more $2.5 million that Station Casinos has given in the 14 years since the Smart Start program was launched by Frank Fertitta III and Lorenzo Fertitta, the casino company's majority owners.
The 2014 donation included $2,500 to Communities in Schools to assist Rex Bell Elementary and Ollie Detwiler Elementary with purchasing students uniforms. Also, $2,500 was awarded to the Delta Academy.
Station Casinos recently donated $5,000 to Teach For America.
"The funds were awarded to charities that target low-income schools where students face the biggest hurdles," Station Casinos spokeswoman Lori Nelson said.
She said the Fertitta brothers spent time with Clark County School District officials to understand where to best target the charitable contributions.
"The school district wanted to focus on elementary schools," Nelson said. "That's where the biggest impact can be made inside the classroom."
Station Casinos operates 19 large and small properties in Southern Nevada. Each school in the Smart Start program was designated with partner casinos.
The donations have gone beyond money to be used to enhance the classroom experience. Properties have embraced a year-round involvement in the schools.
Last year, Sunset Station General Manager Bryan Lindsey hosted a team-building exercise for his top executives in which they built bicycles. The bikes were then awarded to students who had perfect attendance records at Howard E. Hollingsworth Elementary School. Lindsey also awards bikes to students for good grades as well.
Santa Fe Station hosted fourth- and fifth-grade students from H.P. Fitzgerald Elementary School for luncheons where they were taught etiquette.
"The properties have gotten creative in how they work with the partner schools," Nelson said.
Clark County School District Superintendent Pat Skorkowsky said many students have benefited from the program.
"Not only does it provide our schools in low-income neighborhoods with much-needed donations, but Station Casino employees also generously donate their time to mentor and volunteer with our students," Skorkowsky said. "Partnerships like these and the help they provide to us is invaluable, and we are very grateful."
Smart Start is a community partnership among Station Casinos, Clark County School District and the Public Education Foundation. The 10 high-need elementary schools were deemed by the district to require the greatest assistance.
This year, the casino company hosted back-to-school supply drives in which employees donated 750 backpacks, 1,300 erasers, 1,600 boxes of crayons, 2,150 notebooks, 4,000 glue sticks, 6,000 pencils, and other items.
The casinos also host teacher appreciation events and employees volunteer to serve as homework helpers to students.
As an additional thank-you to the schools' staff, Station Casinos gave each principal from the 10 schools 800 appreciation discount cards for their entire staff to receive 25 percent off any Station Casinos-owned restaurant for the remainder of the school year.
"We know the principals and teachers can make a big difference," Nelson said. "It's a small way of saying thanks."
Station Casinos attracts business primarily from the locals market, a business segment still in recovery following the recession.
On the company's second quarter earnings conference call in August, Station Casinos Chief Financial Officer Marc Falcone said customers are still reluctant to spend money on entertainment and gambling activities.
"The big picture is that the economic indicators are better, but customers are hesitant to spend," Falcone said.
"We're still not seeing the levels of discretionary income we saw in the past."
Station Casinos is hoping to see a boost in business at Red Rock Resortfrom the opening this month of Downtown Summerlin. A connection between the casino and the retail district features an additional parking area and walkway between the two.
A $55 million renovation at Red Rock Resort and Green Valley Ranch Resort is underway.