Station Casinos to unveil enhanced loyalty card program
October 29, 2016 - 6:44 pm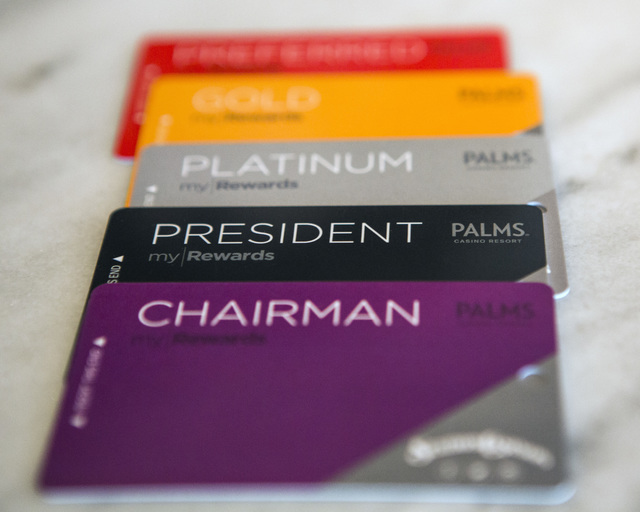 Station Casinos' Boarding Pass loyalty card is evolving again.
When card-carrying customers of the city's largest locals casino chain make their way to any of the company's 20 properties — including the Palms — on Tuesday, they will be able to earn points and spend them on most nongaming amenities under the new My Rewards program.
"We felt it was time to recognize all of the locations and all the things that our guests do when they come to any Station property," said Staci Alonso, executive vice president of innovation and administration for Station. "What makes it special is that it recognizes all of the choices that you have every time you come to a Station Casinos property."
Alonso said the My Rewards concept has been under review for several years, but with technological advancements and the acquisition of the Palms, now seemed to be the right time to make the switch.
She said many of the features incorporated into the new program came from interactions with guests over the years and listening to some of the ideas of what they wanted to see in a loyalty card.
Loyalty card programs are helpful to casinos because they can help target-market certain groups of customers and offer them special offers by mail or email that they're sure to use and bring them to the property.
The My Rewards evolution is the latest change in Station's loyalty program, first introduced in 1999.
Under Station's Boarding Pass, players could earn points from slot machine play and receive discounts at properties' buffets.
Over the years, the company has made enhancements to the program, launching its Senior 50+ program in 2009 and a military program dubbed Operation Thank You/Military Monday in 2014.
The company crossed the brand barrier, allowing one card to be used at Station, Fiesta and Wildfire properties in 2011, adding cash-back rewards and offering three-times points for every dollar played on slot machines.
And, in 2014, the company partnered with Princess Cruises to offer special rates or complimentary staterooms on cruises.
Now, under My Rewards, players will be able to collect points on:
Table games: Awards are based on the type of game, the average bet and the amount of time played.
Buffet purchases: Card-holders will receive a credit for every dollar spent.
Restaurant purchases: Card-holders will receive 10 credits for every dollar spent. There are more than 60 restaurants in the properties.
Specialty restaurant purchases: They will get 20 credits for every dollar spent.
Beverage purchases: They're worth 30 credits for every dollar spent.
Hotel stays: They're worth 50 credits for every dollar spent. Eleven of the properties have hotels.
Spa and salon treatments: They're worth 10 credits for every dollar spent. Three of the properties have spas.
Bowling: At properties that have bowling centers, players will receive 10 credits for every dollar spent. Five of the properties have bowling centers.
Ice skating: At properties that have ice rinks, skaters will receive 10 credits for every dollar spent.
Patrons who go to movie theaters at Station properties won't be able to earn points there because they are franchised operations leasing space from the casino company. But points can be redeemed at the properties' eight movie theaters.
Cards can be used at any of the company's Fiesta- or Wildfire-branded casinos. They're also useable at Station-managed tribal properties in Michigan and California and are expected to be accepted when the company expands to Reno. There is no construction timetable for the planned 84,000-square-foot property on 8 acres near the Reno-Sparks Convention Center, first announced in July.
Under My Rewards, the loyalty program will continue to have five tiers: Preferred, Gold, Platinum, President and Chairman levels. Levels are determined by the number of credits earned over a six-month period.
At 1,000 points accumulated in six months — the earning periods run from Jan. 1 to June 30 and July 1 to Dec. 31 — Preferred players can move up to Gold. The other thresholds are 40,000 points for Platinum, 100,000 points for President and 300,000 points for Chairman.
For customers, the higher the tier level, the greater the benefits. The top two levels have the most benefits, including priority restaurant seating, access to casino hosts, VIP lines for buffets or hotel check-ins and private gated parking in garages.
The Chairman level offers discounts on cabana rentals, VIP movie booths and bowling lanes, discounts on catering and access to limousines.
Customers who don't maintain those level of point accumulations can slide down to a lower level at the end of any six-month earning period.
Card holders can cash in points — $1 for every 1,000 points — or for free slot play at all 20 properties.
Customers won't have to get a new card when the transition occurs, but new cards will have a new look.
The company won't say how many cards have been issued.
What's next for the program? Alonso won't say, but it's already in the pipeline.
"We already have what we're going to do next," Alonso said.
"That roadmap already has been designed so that we're very regularly introducing a new benefit that makes our Boarding Pass guests always feel like there's a great reason to continue to use their cards at Station Casinos."
Contact Richard N. Velotta at rvelotta@reviewjournal.com or 702-477-3893. Follow @RickVelotta on Twitter.