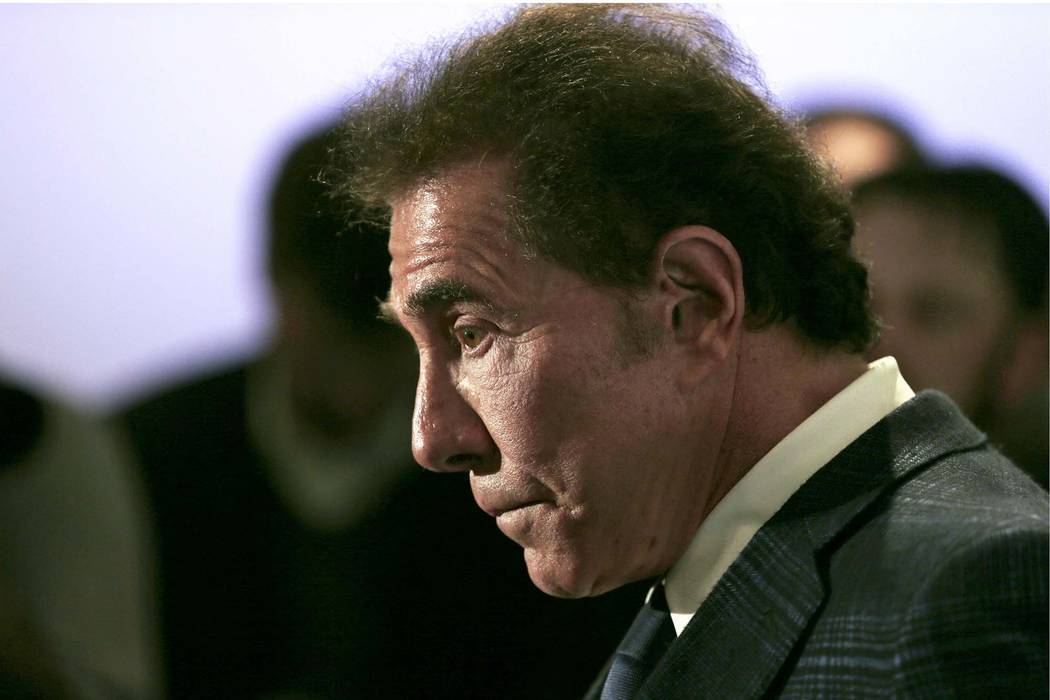 Steve Wynn has agreed to terminate an eight-year-old shareholder agreement with his ex-wife, opening the door for both of them to sell their stock in Wynn Resorts.
Wynn said his departure as chairman and chief executive officer of the company has made their bitter fight over the validity of the shareholder's agreement moot. Wynn owns nearly 12 percent of the company while his ex-wife owns 9.4 percent.
"While Mr. Wynn does not agree with Ms. Wynn's basis for claiming the 2010 Stockholders Agreement is invalid and unenforceable, he does agree that it no longer binds either party," Wynn's counsel said in a letter published Friday in a Securities and Exchange Commission filing.
The 2010 shareholder agreement prevented one party from selling shares without the permission of the other. That gave Wynn control over Elaine Wynn's stock.
The agreement was drafted to ensure Steve Wynn had "significant control over the affairs of the company" compared with Japanese billionaire Kazuo Okada, who held a 20 percent stake, she said in a 2015 interview.
Wynn's previous company Mirage Resorts was taken over in 2000 by MGM Grand because Wynn only owned about 12 percent, not enough to derail the unsolicited offer. Now that Wynn has lost management control of Wynn Resorts, he has no position to protect.
Elaine Wynn initially sued her ex-husband to break the agreement and sell some of her shares after Okada was removed from the board and his stake seized in 2012. The case has since meandered through the courts.
The Nevada judge hearing the lawsuit will still have to make the final decision to invalidate the agreement. Elaine Wynn, though, could change her mind in light of Wynn's departure and seek to keep the agreement in place, Deutsche Bank said.
''The ball is now in Ms. Wynn's court as it is up to her to decide if she would like to abolish the agreement. It is possible that she changes her position with the court, in which case, the two parties would essentially swap sides of the same argument."
The company's stock price has fallen 17 percent since Jan. 26, when the Wall Street Journal reported the sex allegations that led to Wynn's departure.
Before the harassment allegations, Wynn Resorts was a top gaming pick at many Wall Street firms. The casino operator's net income is expected to surge 80 percent to $1 billion next year compared with 2017 as Macau revenue surges and the company opens a new resort in Boston, according to Jefferies analyst David Katz.
His departure this week raised concern about what he would do with his large stock position. His stake is worth about $2 billion. Wynn said he would not rush to sell his shares.
"Mr. Wynn has informed the Company that he has no immediate plans to sell shares that he owns and that if he elects to sell any such shares over time, he will seek to conduct such sales in an orderly fashion," the company said in the Securities and Exchange Commission filing.
Separately, the board has stopped an investigation by an independent law firm looking into the sexual harassment allegations now that Wynn has stepped down. The board's special committee will continue its investigation with the help of consultants, the special committee said in a statement Friday.
On Friday, Wynn shares fell $3.06, or 1.81 percent, to close at $166.22. They were up slightly in after-hours trading.
Contact Todd Prince at tprince@reviewjournal.com or 702-383-0386. Follow @toddprincetv on Twitter.