Steve Wynn's deals, properties leave big impression on gaming
February 6, 2018 - 10:24 pm
Updated February 7, 2018 - 1:18 am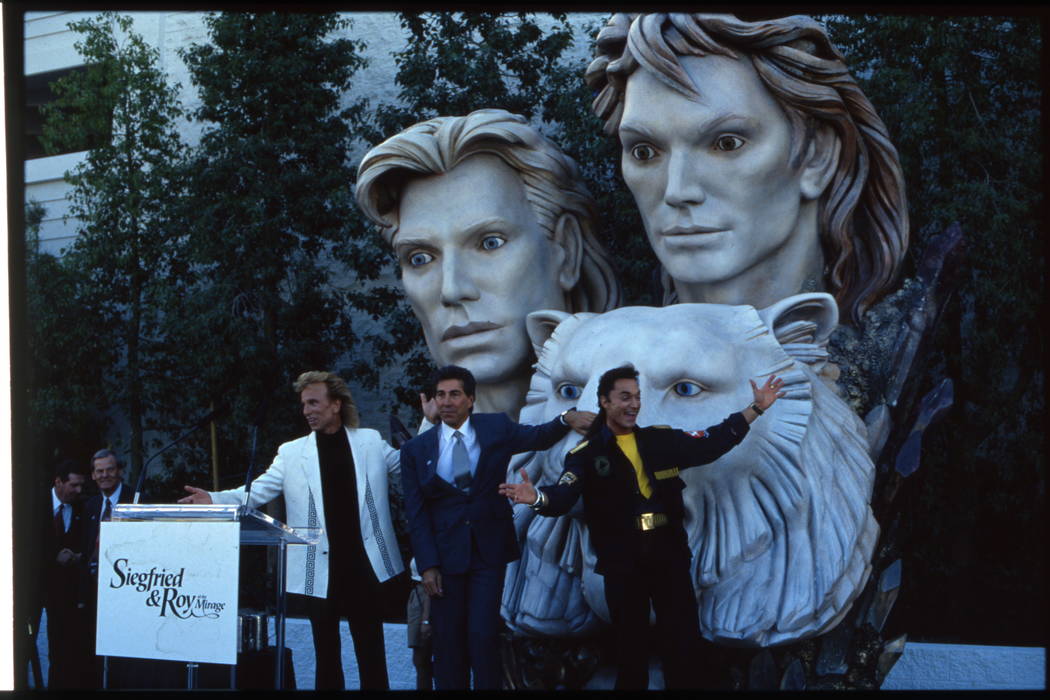 Through deals, acquisitions, buyouts and the dramatic launch of new resorts, Steve Wynn has left an oversized impression on the gaming industry in Las Vegas, the U.S. and as far away as Macau.
He gained a stake in the Frontier early in his Las Vegas career.
He boldly threatened Caesars with plans for a nearby casino and walked away with an impressive profit.
He gained control of the Golden Nugget in downtown Las Vegas.
He bought a hotel in Atlantic City, upgraded it and reinvested the profits.
He opened The Mirage on the Strip to dramatic fanfare, impressing analysts, wowing guests and opening the way to a Strip building boom in the 1990s.
He led Mirage Resorts, which was later bought out by MGM. But about 2½ years after the buyout, he broke ground on the Wynn Las Vegas — then called Le Reve.
"People tell me this was not the right time to build a new casino," Wynn said at the groundbreaking, a little more than a year after the 9/11 terror attacks.
But Wynn told the gathering of political leaders and dignitaries he could make the new property work. It opened in 2005.
He opened resorts in Macau, including the $4.2 billion Wynn Palace, which opened in 2016. Profits from Macau were so great that in 2010, Wynn talked publicly about moving the headquarters of his company there. The move never happened.
Formative years
Wynn was born in New Haven, Connecticut, grew up in Utica, New York, and started coming to Las Vegas at age 10. Wynn's father opened a bingo parlor in Las Vegas but failed to obtain a gaming license and was forced to close.
He met Elaine Pascal, daughter of one of his father's gambling friends. They first married in 1963.
The Wynns moved to Las Vegas in 1967, and Wynn invested in the Frontier. Controversy flared when several hotel associates were outed as mob-connected and involved in a hidden ownership and skimming scheme. But Wynn was never accused of wrongdoing.
State authorities persuaded billionaire Howard Hughes to buy the Frontier, hoping his corporate security people could clean up the problems. But Wynn was out of work as keno and slot manager.
In 1971, Wynn made headlines when he arranged a swap with Hughes for a narrow strip of land on the Strip by Caesars Palace along Flamingo Road.
Wynn vowed he'd build the world's narrowest casino on the parcel, forcing Caesars to buy it for $2.25 million. Wynn and a partner had invested only $1.2 million in the deal, borrowing the funds from banker E. Parry Thomas. They split a profit of more than $1 million.
He and Thomas partnered to plow the profits into the Golden Nugget in downtown Las Vegas. Wynn and a group of investors purchased enough stock to win seats on the board of directors. They then documented mismanagement, including employee thefts from the casino, and threatened to sue Golden Nugget President Buck Blaine if he didn't resign.
Blaine bailed. By August 1973, Wynn was running the company.
He used Golden Nugget profits to buy an aging hotel in Atlantic City, where gambling had just become legal. He tore it down and by 1980 had built another Golden Nugget.
Wynn sold the Nugget's Atlantic City property for $440 million, reinvesting part of the money into upgrading the Golden Nugget in downtown Las Vegas and part into a new resort, The Mirage, on the Strip.
Boom times
The Mirage opened Nov. 22, 1989. It carried a $630 million price, $565 million of it raised by the sale of junk bonds — high-interest bonds rated risky by investment analysts. The new hotel, with its fiery volcano and white tiger exhibits, would have to generate $1 million a day to service the debt.
But the investment paid off. And the Strip followed, with the Luxor, Treasure Island (now TI) and the new MGM Grand opening in 1993.
In 1998, Wynn opened the 3,000-room Bellagio, a $1.6 billion project, then the most expensive resort ever built, on the site of the former Dunes. He had planned to call the hotel the Beau Rivage but changed it to Bellagio. He would later use the Beau Rivage name when he opened a resort in Biloxi, Mississippi.
The sale of Mirage Resorts to Kirk Kerkorian's MGM Grand occurred in February 2000. The purchase price was $6.4 billion.
Wynn married Elaine Wynn twice. Court papers show the Wynns married in 1963, divorced in 1986, remarried in 1991 and divorced again in 2010. Wynn married Andrea Hissom in 2011.
As she was preparing for the 2010 divorce, Elaine Wynn said she and her attorneys learned of an incident of alleged sexual misconduct involving Steve Wynn and a manicurist. In a redacted document, Elaine Wynn and her lawyers said she discovered her husband "had paid millions of dollars to settle a Wynn Resorts employee's allegations of personal misconduct by Mr. Wynn."
News of the $7.5 million settlement reverberated from Nevada to Massachusetts, where Wynn Resorts plans to open the $2.4 billion Wynn Boston Harbor in 2019.
"The people of Massachusetts have a right to know what the hell happened here," Massachusetts Gaming Commission Chairman Stephen Crosby said at a Jan. 31 hearing.
Contact Daniel Behringer at dbehringer@reviewjournal.com or 702-383-0296. Follow @DanBehringer221 on Twitter.
Steve Wynn Investigation
Read complete coverage about Wynn and the accusations of sexual misconduct