Stick with Las Vegas, MGM CEO says in public appearance
October 10, 2017 - 4:13 pm
Updated October 10, 2017 - 6:00 pm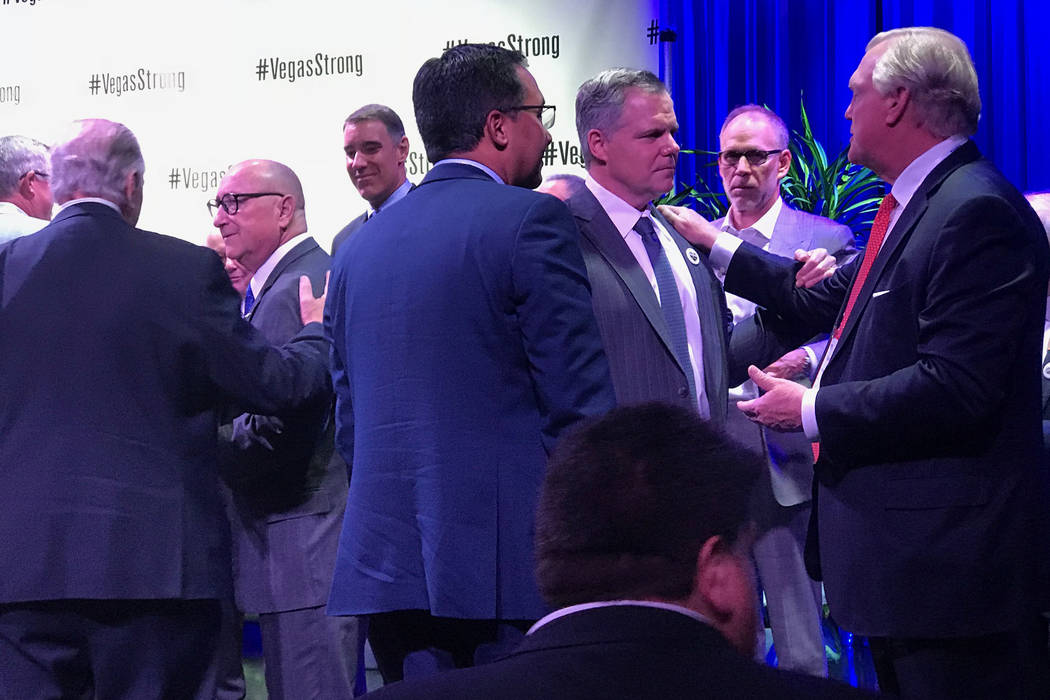 MGM Resorts Chief Executive Officer Jim Murren used a public appearance after last week's massacre at one of his properties to ask convention organizers to stick with Las Vegas.
Murren, dressed in a gray-striped suit and white shirt, spoke on Tuesday to attendees of IMEX America, the world's largest gathering of professionals in the meeting and convention industry. He was flanked by U.S. Travel Association President Roger Dow, LVCVA President Rossi Ralenkotter and IMEX Group Chairman Ray Bloom.
The executive reminded the several hundred people huddled in a theater at The Venetian that hundreds of thousands of Las Vegas families depend on the meetings and convention industry to support their families.
"They have a job because of you. And without you, they don't have a job,'' Murren told the audience in a somber voice. "You are doing what you can do. You are coming here supporting this destination and helping those families take care of themselves.''
A shooter opened fire on a crowd of concertgoers on Oct. 1 from Mandalay Bay, one of MGM Resorts' premier Strip properties, killing 58 people.
The shooting raised concern that some convention organizers might cancel upcoming events in Las Vegas, and at Mandalay Bay in particular, or not renew expiring contracts.
"The meetings and convention business, that is the backbone of this entire business model. Without that, everything else falls away,'' Murren told the audience.
He didn't take any questions from reporters after his speech, exiting the room through a side entrance guarded by security.
$350 Million of Investments
Murren has a lot — hundreds of millions of dollars — riding on that industry. He is currently investing $130 million to expand MGM Grand's convention space.
His company last year completed a $70 million upgrade of the Mandalay Bay Convention Center and will soon finish a $150 million expansion of the meeting space at Aria Resort and Casino.
By 2019, MGM Resorts will have roughly 4 million square feet of meeting and convention space on the Strip, enough to hold 70 football fields.
Michael Dominguez, MGM Resorts senior vice president and chief sales officer, said that there were "minor cancellations'' after the shooting but that 126 groups still met last week. Dominguez was seated in the audience as Murren spoke.
Tableau, International Spa and the American Health Care Association all announced last week that they plan to move ahead with their conventions at Mandalay Bay this month. International Spa said they had only one cancellation.
MGM and Las Vegas are fortunate that IMEX America is taking place just one week after the shooting, giving both a chance to show decision-makers that life has returned to normal in the city, members of the panel said.
"We think it is very fitting that we should have come to Vegas this week and also extremely fitting that the entire global meeting and events industry are sharing Vegas with us all this week," said IMEX's Bloom, adding that there were no cancellations.
About 12,000 people are expected to attend IMEX America, including 3,000 exhibitors from 150 countries. The show runs through Thursday at the Sands Expo and Convention Center.
IMEX announced two weeks before the shooting that it plans to move its annual show to the Mandalay Bay Convention Center starting in 2021.
Contact Todd Prince at 702 383-0386 or tprince@reviewjournal.com. Follow @toddprincetv on Twitter.