Strip, downtown hospitality workers vote to authorize strike
Updated September 27, 2023 - 5:17 pm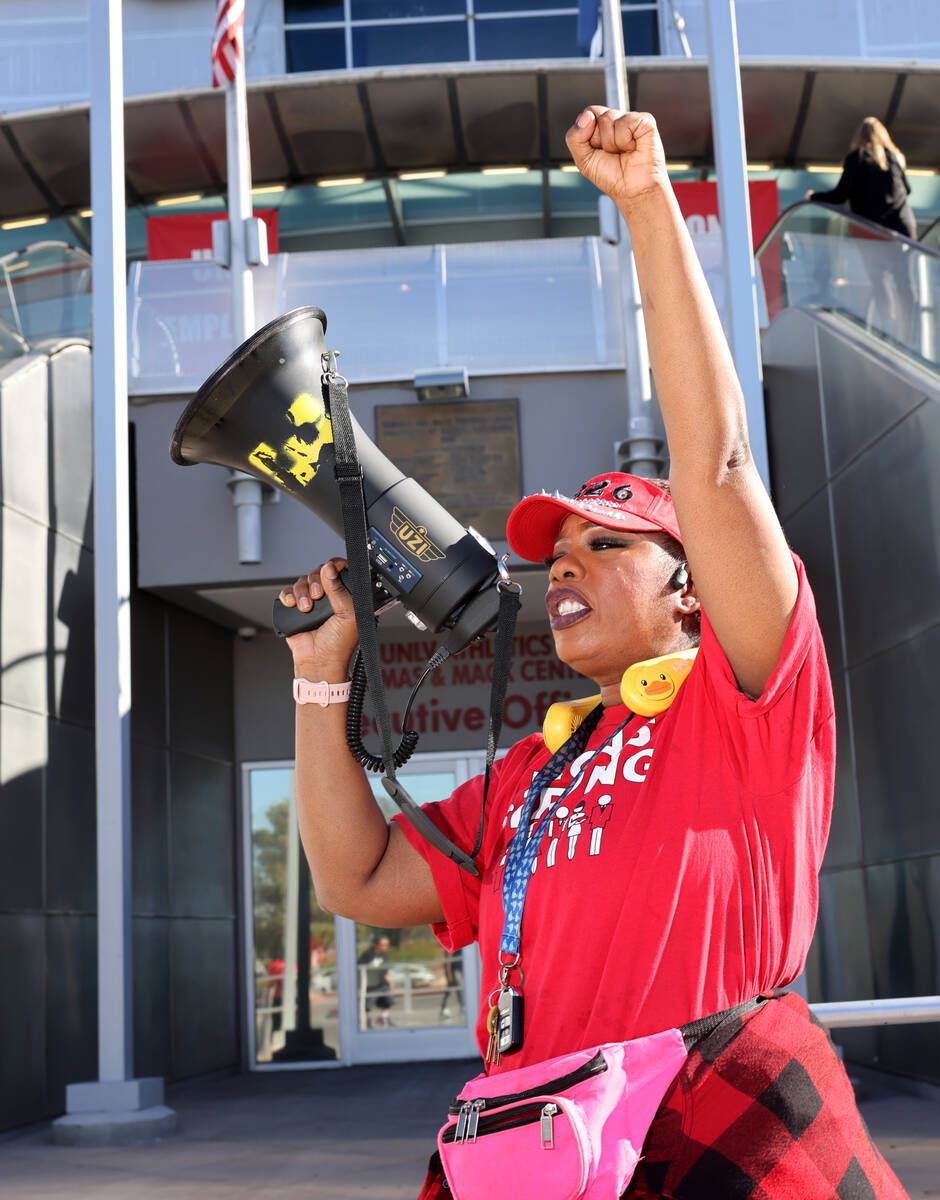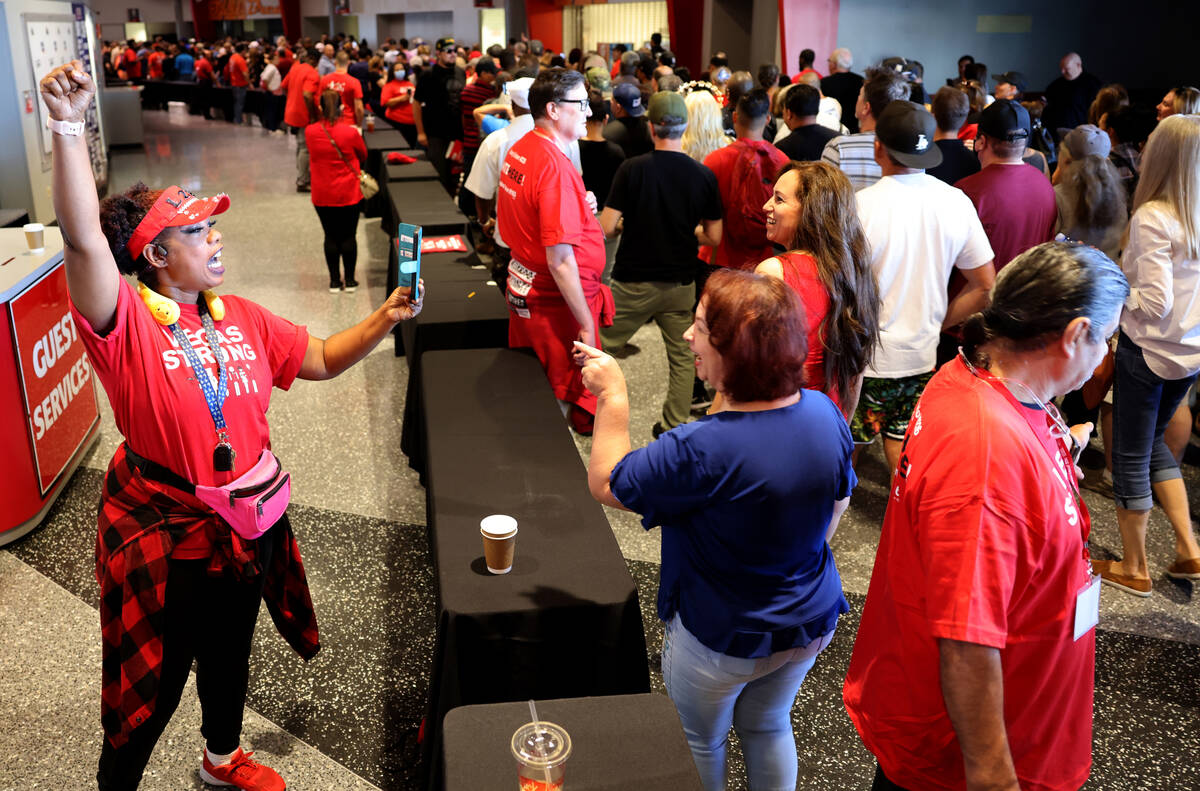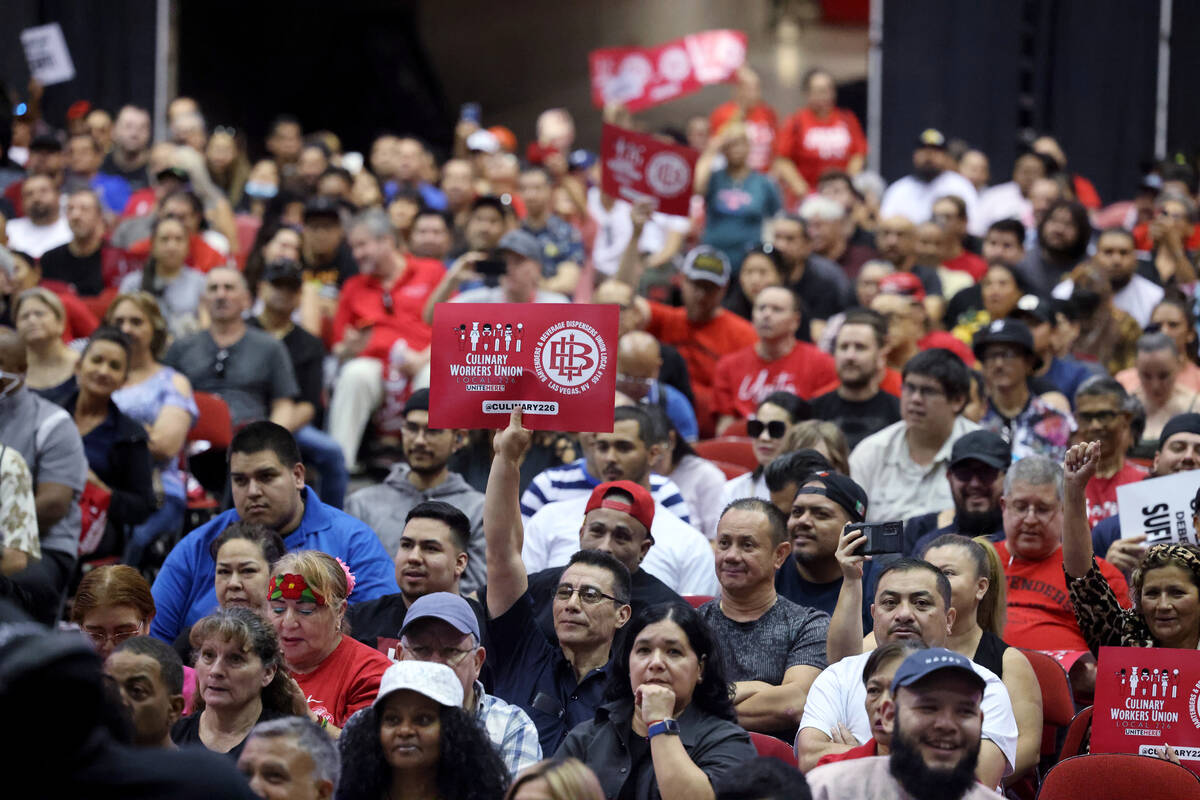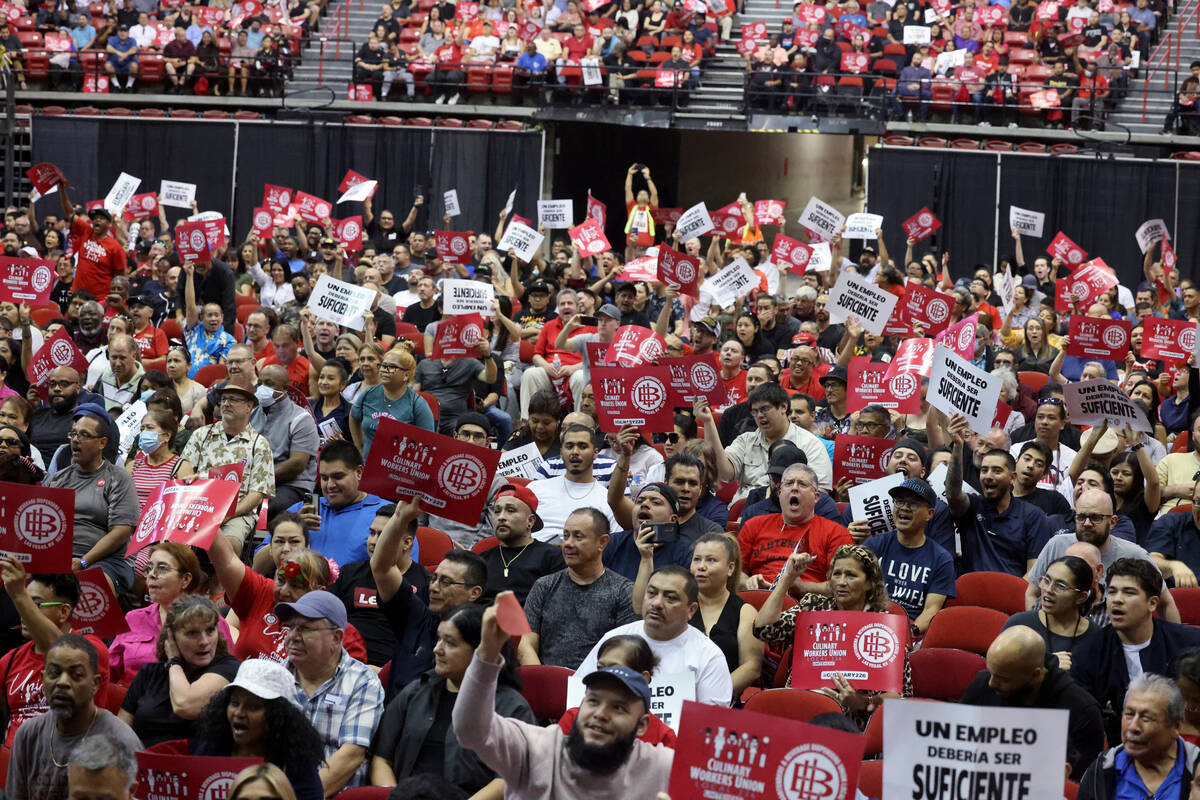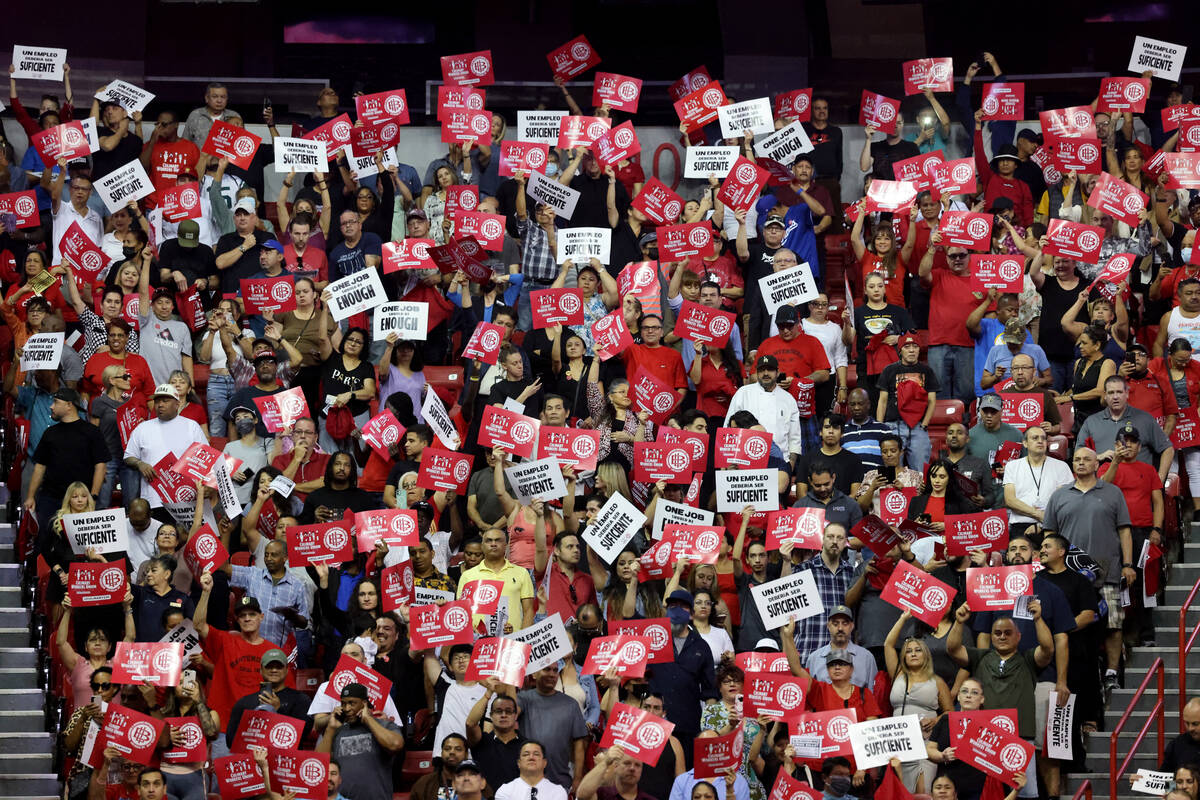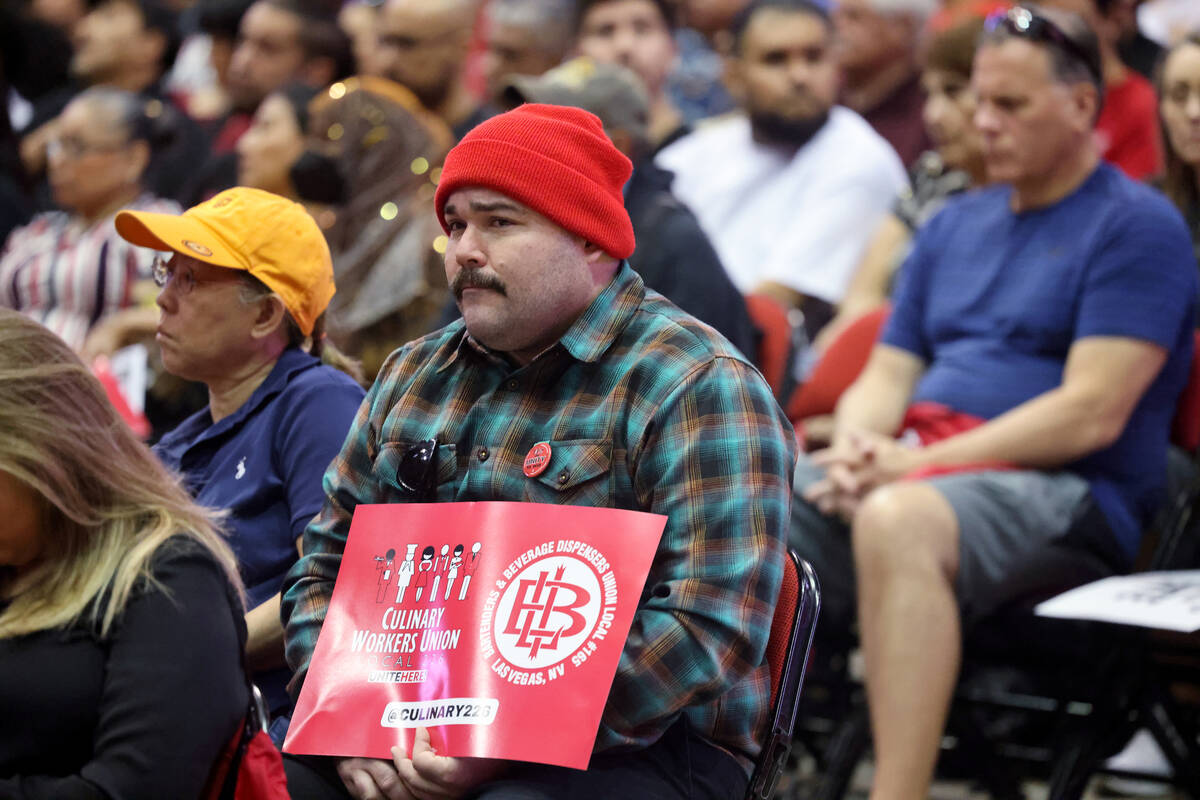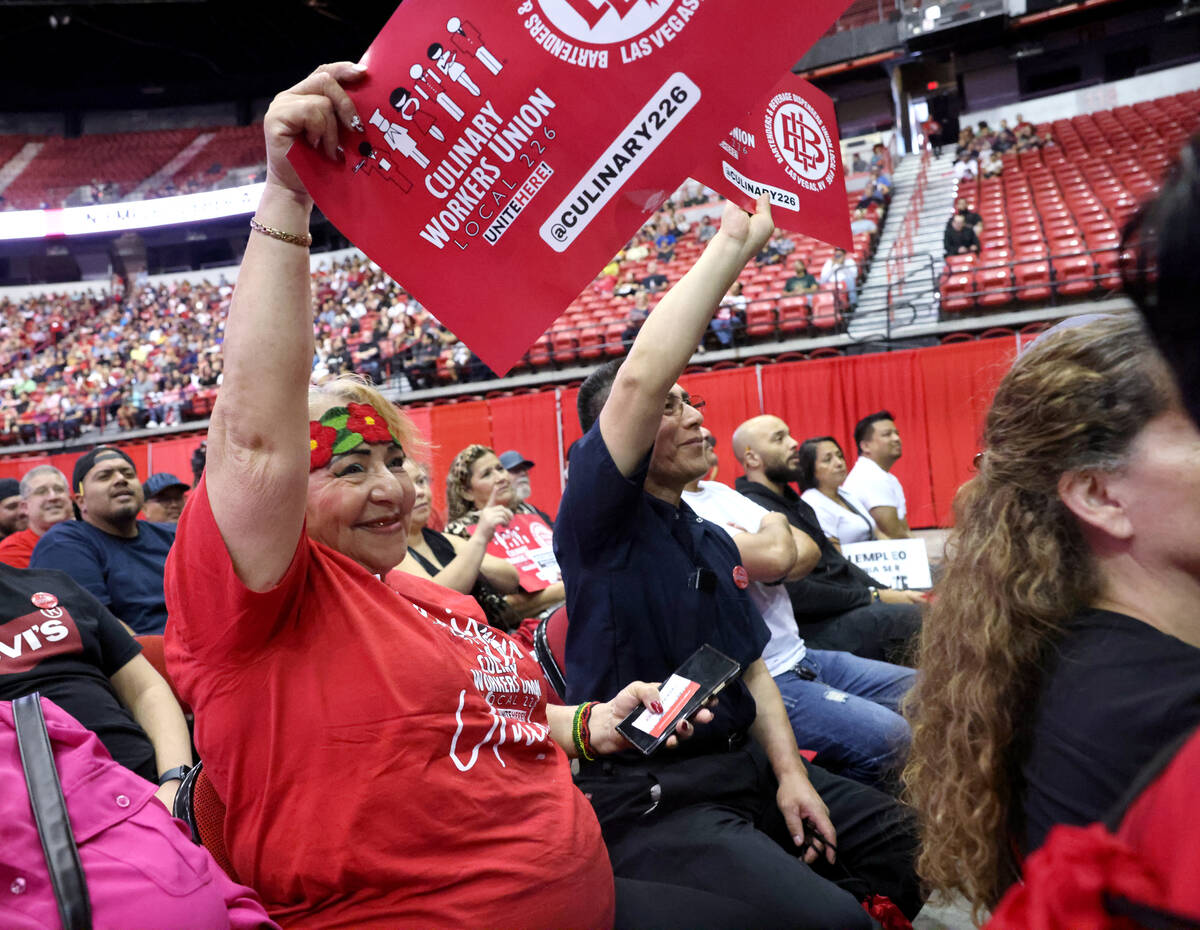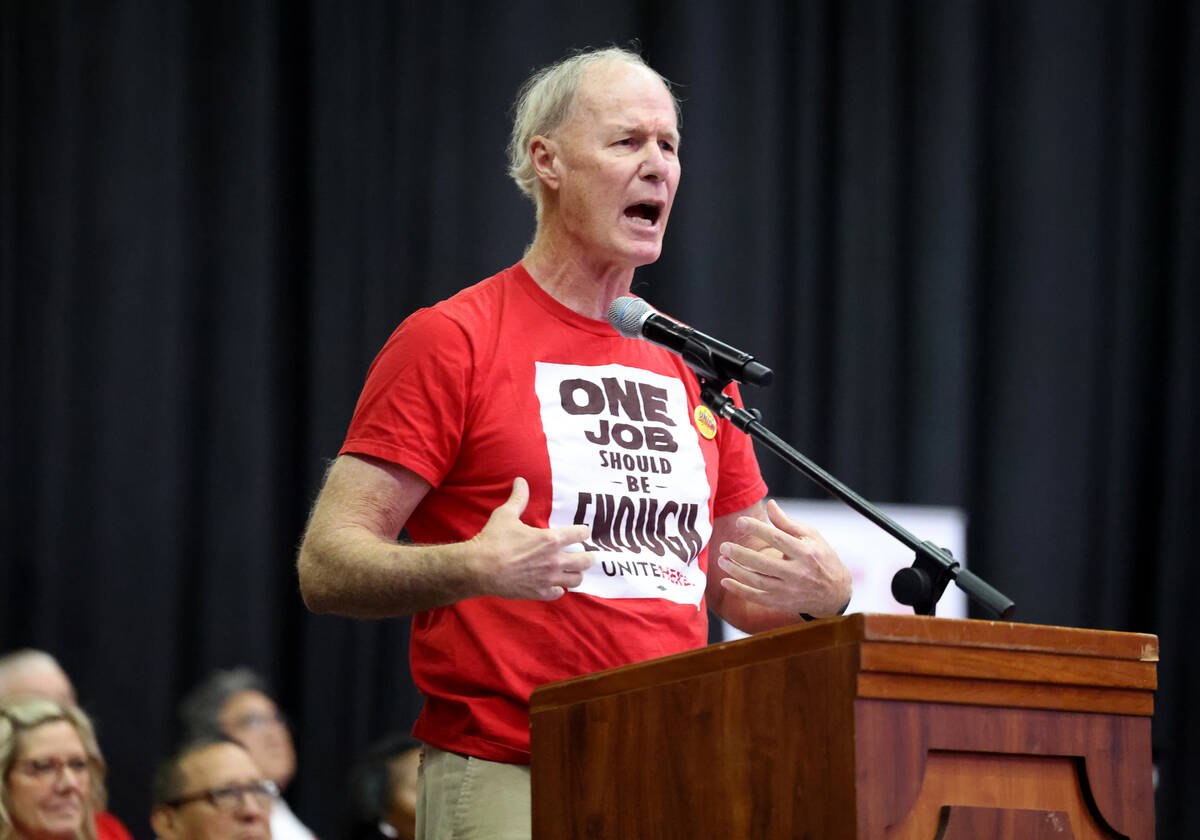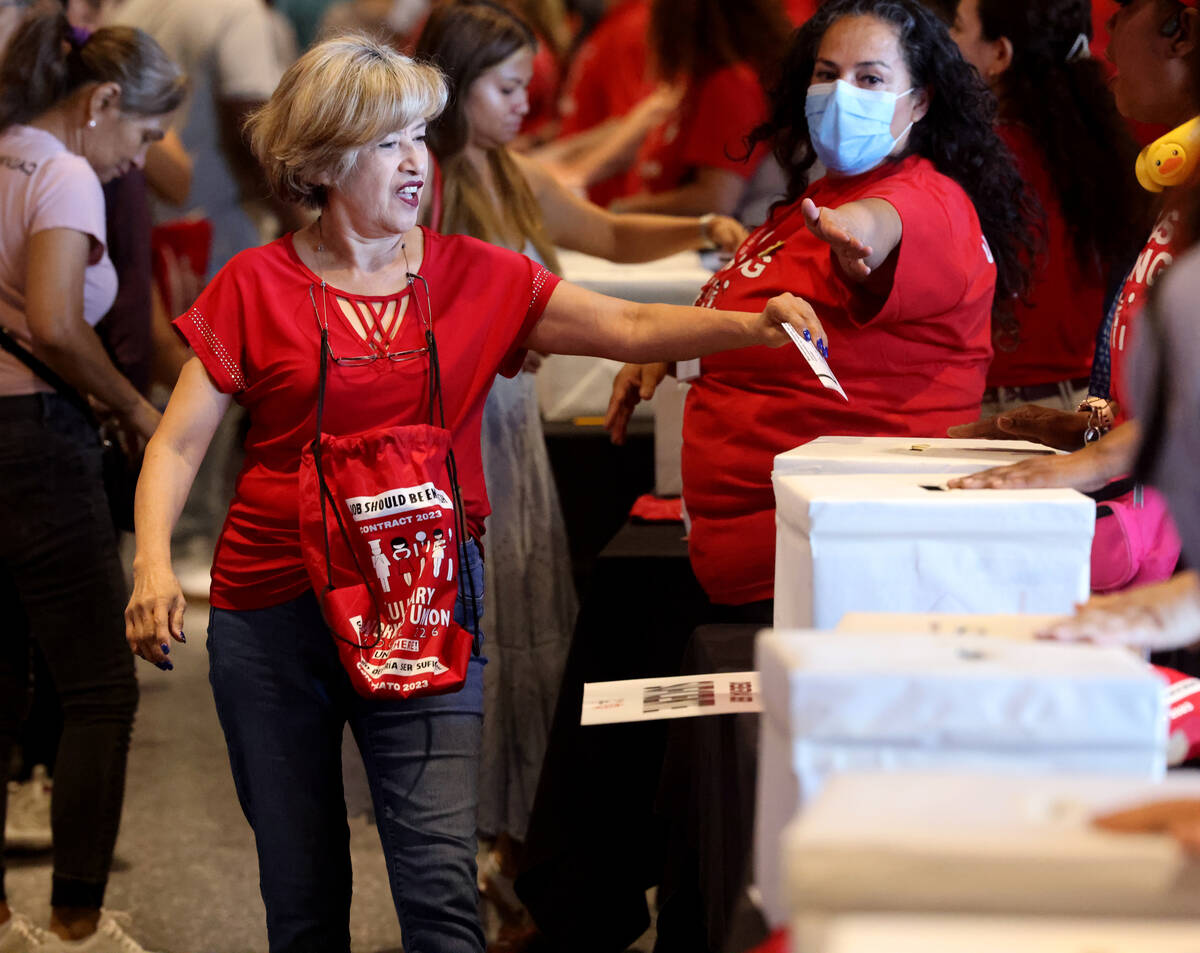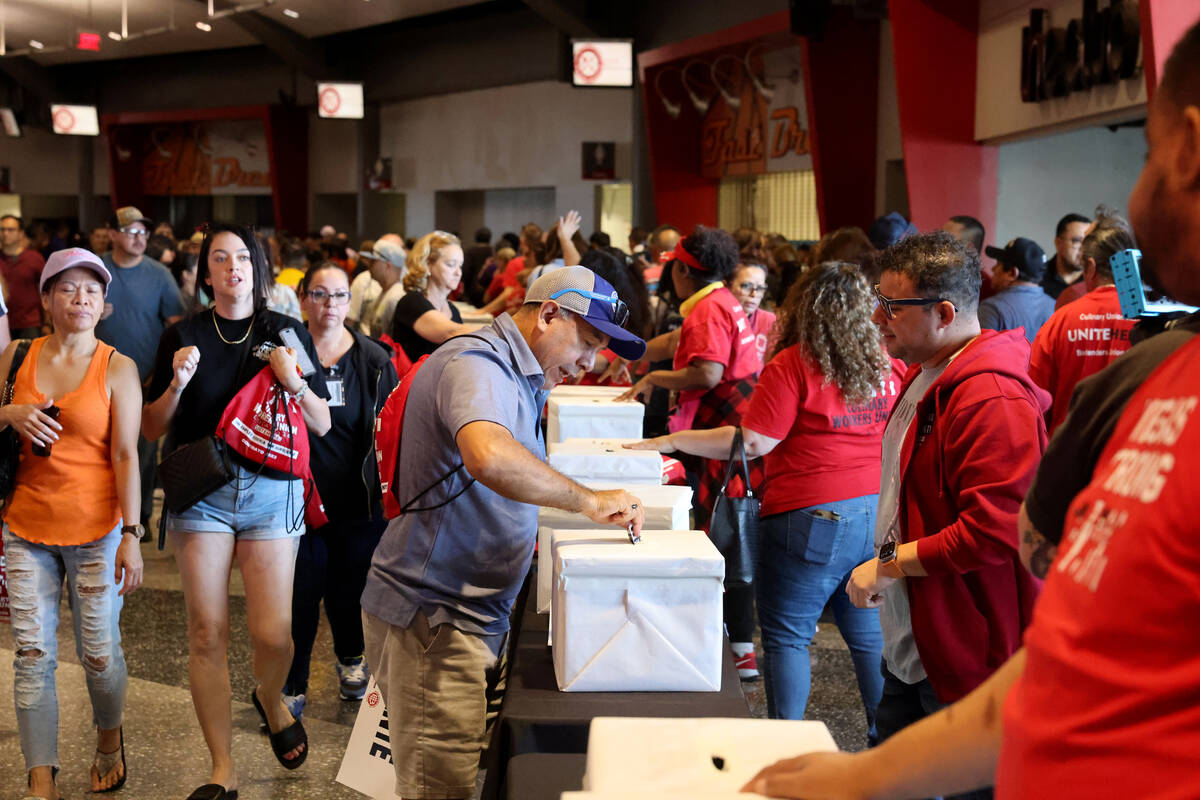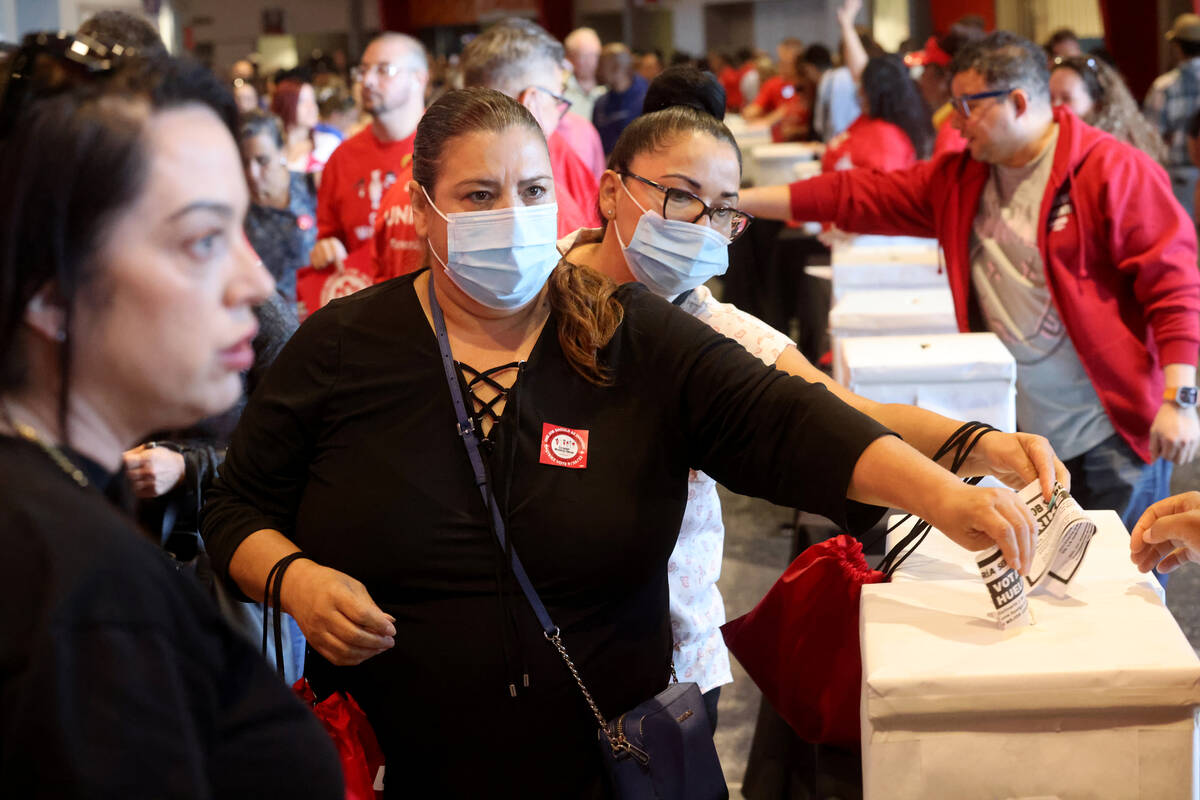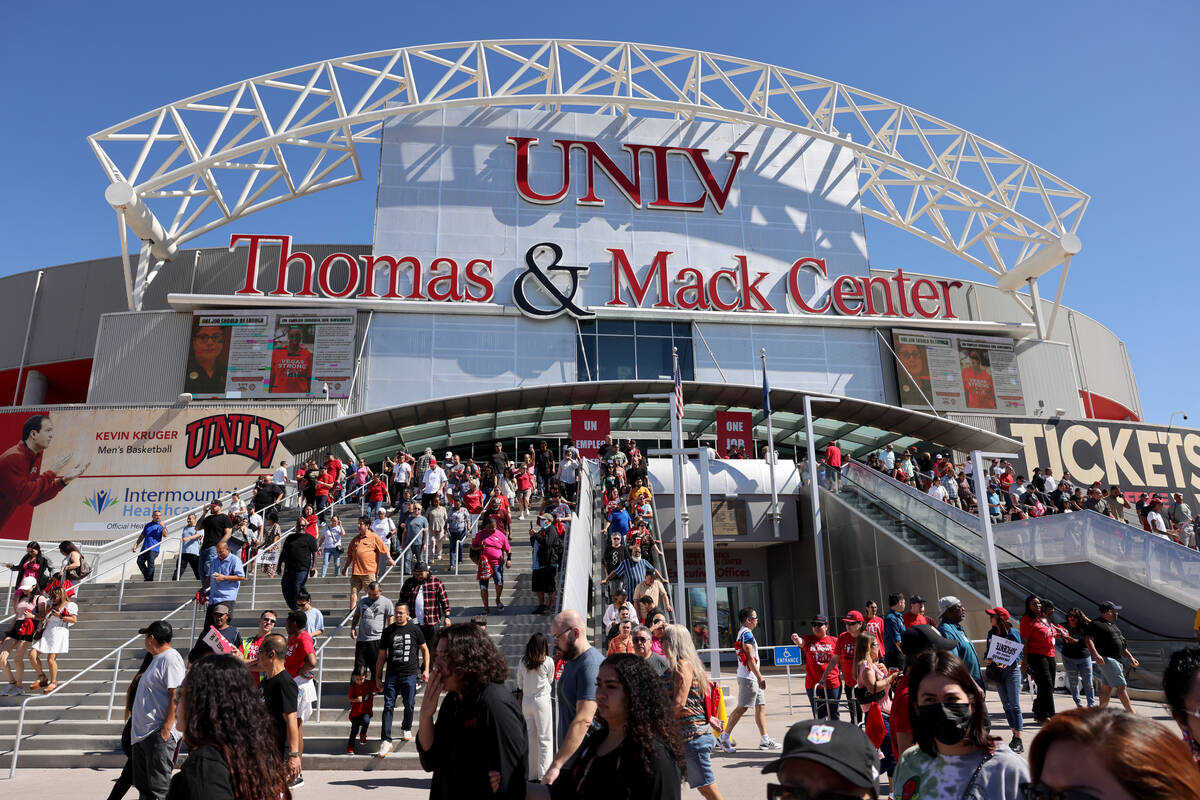 Culinary Local 226 and Bartenders Local 165 members overwhelming voted to authorize a citywide strike, the union announced, ramping up the pressure on Las Vegas hotel-casino companies to reach contract agreements.
Thousands of workers turned out to the Thomas & Mack Center on the UNLV campus, and 95 percent voted yes, union officials said late Tuesday after two rounds of voting.
Speaking to reporters after the first round of voting, union Secretary-Treasurer Ted Pappageorge said another round of negotiations will be held next week. If no contract is achieved then, "all bets are off" on setting a strike deadline.
"We'd love to be able to say we have a deal," Pappageorge, the union's chief negotiator, said. "We're not expecting it at this point."
If a strike occurs, it would not have an end date, Pappageorge said. Walkouts would start at MGM Resorts International, Caesars Entertainment and Wynn Resorts, where contracts for about 40,000 union members have already expired.
"I'll say that we're optimistic but after five months, we're not getting anywhere with any of the major companies," Pappageorge said. "This is going to send a strong message to these companies."
On Wednesday, Wynn Resorts took a positive outlook to negotiations.
"Wynn Las Vegas has historically had a positive and cordial working relationship with labor unions and has always reached satisfactory agreements with each," a statement read. "Our employees are the heart and soul of Wynn, and we will continue to work with Local 226 and Local 165 to reach an agreement that provides our employees with competitive wages and benefits, in a work environment that matches our high standards."
Caesars did not immediately respond to requests for comment.
"MGM Resorts has a decades-long history of bargaining successfully with the Las Vegas Culinary & Bartenders Unions," the company said in a statement. "We continue to have productive meetings with the union and believe both parties are committed to negotiating a contract that is good for everyone."
Workers who showed up for Tuesday morning's vote said they were ready to strike for fair wages, workplace safety improvements and job protections from advancing technology. Workers had another chance to vote Tuesday evening.
Maria Espino, a casino porter at Caesars Palace for 10 years, said she wants a significant raise to deal with increased costs since the pandemic. She said her energy bill pre-pandemic was roughly $90 a month and has since increased to about $470.
"I need the raise for the high (increasing costs) of the city," Espino said. "With my wage right now, I cannot make it. If I pay the car, I cannot pay the mortgage."
Glen Wilson, a room service waiter at Caesars Palace of 23 years, said he and others wanted "a fair share of the pie." He said he hopes the strike authorization vote puts pressure on employers to reach a deal, especially considering the challenges of hosting a strike during the busy event calendar in the fall.
"They wouldn't want 50,000 people on strike, blocking up Tropicana and blocking up Spring Mountain (during Formula One Grand Prix)," Wilson said. "We're just trying to show them that this isn't about stopping a race or preventing anybody coming to Las Vegas. This is like, just pay us our fair share. One job should be enough."
Culinary officials say they are negotiating for wage increases; lowered housekeeping quotas and mandated daily room cleanings; stronger on-the-job safety programs; extended recall rights and more.
The union contracts cover nongaming employees, including guest room attendants, servers, porters, bellmen, cooks, bartenders, laundry workers and kitchen workers at about 50 Strip and downtown properties.
During the last contract negotiations in 2018, an overwhelming majority of the 25,000 union members voted at the time to go on strike if a deal wasn't reached in time, but a walkout was ultimately averted.
McKenna Ross is a corps member with Report for America, a national service program that places journalists into local newsrooms. Contact her at mross@reviewjournal.com. Follow @mckenna_ross_ on X.