Strong results in Macau, Singapore carry Las Vegas Sands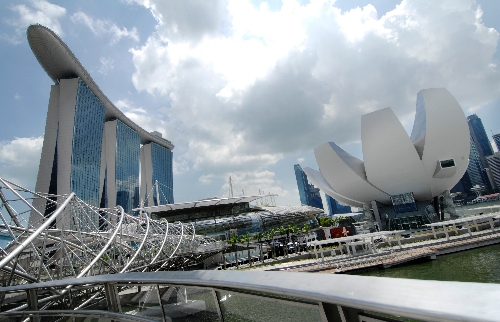 Las Vegas Sands Corp. is headquartered in Las Vegas, but the company's base is squarely in Asia.
The casino operator said Tuesday that its properties in Macau and Singapore lifted second-quarter earnings to levels far beyond what the analyst community predicted.
At the conclusion of the company's hourlong earnings conference call, Las Vegas Sands Chairman and Chief Executive Officer Sheldon Adelson joked that he would be sending towels to analysts so they could "wipe the egg off their faces" for underestimating the company's prospects.
The Marina Bay Sands in Singapore, which accounted for
$737.6 million of the company's $2.35 billion in revenues for the quarter that ended June 30, was the focus of Adelson's praise.
"I will leave you with one simple, conservative statement," Adelson said during his opening remarks. "Now that we have entered our second year of operations, it is increasingly clear that Marina Bay Sands is becoming the most successful integrated resort in the history of the hospitality, gaming, and entertainment industry."
The company, which operates The Venetian and Palazzo on the Strip, said its net income in the quarter was $367.6 million, compared with a net loss of $4.7 million in same quarter a year ago.
The net income translated into 45 cents per share earnings in the quarter, compared with a net loss of 1 cents in the same quarter of 2010.
The total net revenue of $2.35 billion was an increase of 47.7 percent compared with $1.59 billion in the second quarter of 2010.
Adelson called the quarter "historic," saying that cash flow, which is described as earnings before interest, taxes, depreciation and amortization, had grown for eight straight quarters, and he thinks it can continue.
"As the only operator with a presence in the world's two most lucrative gaming markets — Macau and Singapore — we see absolutely no reason, no catalyst at hand which would change this upward trend," Adelson said.
Macau was the company's largest market, where total revenues from the Sands Macau, The Venetian Macau, and Four Seasons Macau increased 16.3 percent in the quarter to $1.21 billion. Net income grew 100.1 percent to $267.4 million.
Stifel Nicolaus Capital Markets gaming analyst Steven Wieczynski said Macau as a whole continued to show "impressive growth" patterns during the second quarter, with gaming revenues increasing 46 percent. Las Vegas Sands' three resorts reflected the boost.
"While we feared the May opening of Galaxy Macau could negatively impact gaming volumes on the peninsula, particularly at Sands Macau, recent checks suggest that Las Vegas Sands was able to maintain its share of the Macau market," Wieczynski said.
Adelson also told analysts and investors that the company's share of the VIP market was improving. He blamed for Sands China CEO Steven Jacobs, who was fired last year, with having "hurt the (company's) relationship with junket reps. Jacobs has since filed a lawsuit against Las Vegas Sands in Clark County District Court for wrongful termination.
"We're getting (the junket reps) back now," Adelson said.
The Marina Bay Sands in Singapore, which opened in April 2010 at a cost
$5.5 billion, continues to surpass all expectations. The resort produced
$405.4 million of adjusted cash flow during the quarter.
Adelson said the Marina Bay Sands, along with Singapore's other casino, Genting's Resorts World Sentosa, have helped changed the destination from "a stuffy place" to a growing tourism location.
"Nobody can convince me that we've touched the area of saturation in the market," Adelson said. "Singapore is going to continue to grow and grow."
Adelson said its results improved because the company is seeing stronger hotel revenues. The Venetian and Palazzo are focused on attracting conventions, group business and other travelers. Las Vegas Sands has cut spending on complimentaries that often used to attract gamblers.
Gaming revenue in the quarter rose 2.1 percent to $105.1 million while promotional allowances declined by nearly 60 percent.
Overall revenues in Las Vegas rose 18.2 percent to $332.5 million.
"Stronger cash hotel revenues reflect the improving Las Vegas environment," Adelson said.
Contact reporter Howard Stutz at hstutz@reviewjournal.com or 702-477-3871. Follow @howardstutz on Twitter.