There's some tension surrounding the new plans for Moulin Rouge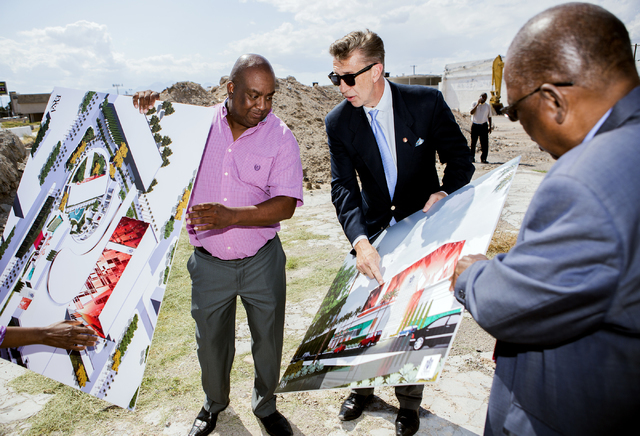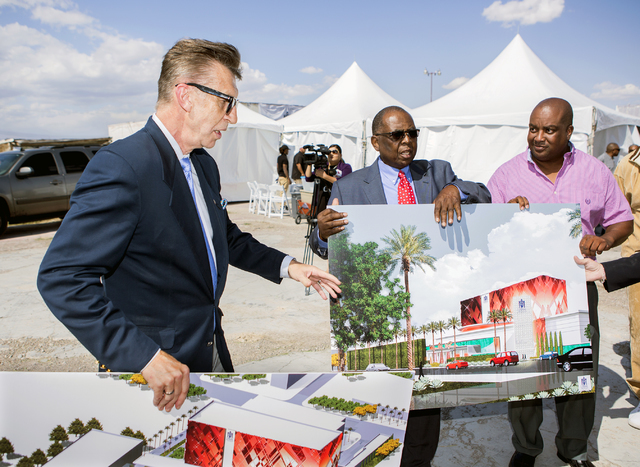 This time, it will be different.
That's the mantra for those hoping to successfully revitalize the Moulin Rouge in historic west Las Vegas after more than 60 years of failed development attempts.
"I've done some research on the other groups that tried to develop this site, and a lot of them have this sense of grandeur," said Scott Johnson, a member of Moulin Rouge Holdings LLC.
Johnson plans to build the Moulin Rouge, set to open in 2019, in phases, starting with demolition of the remaining walls May 31, he said.
"And I want to use materials that are recycled on-site," Johnson said. "I know what I'm doing. I've been here almost 30 years, and I've never not completed a project. I'm not looking to start now."
That same determination is shared by Katherine Duncan, president of the Ward 5 Chamber of Commerce. The license plate on the back of her Honda Crosstour reads "M ROUGE."
"We believe that the project will move forward without anymore glitches — this is the first the community's ever been part of the development," Duncan said, adding that the Ward 5 community has its own vibe.
A FAMILY-FRIENDLY CASINO
"What makes us (west Las Vegas) different is we're not Sin City. We're the exact opposite of Sin City," Duncan said. "We've got more churches per capita here than any place else in the world."
Several surveys, although none is recent, have listed Las Vegas among the cities in the U.S. with the most churches per capita.
"Because we have such a strong vibrant church community, we thought we would market ourselves as, maybe, Soul City," she said. "So over here, we wouldn't expect pornography and all that adult stuff. It would be a family-friendly destination."
The Moulin Rouge will serve as an economic engine for the area, bringing with its tourists much-needed funding for neighborhood revitalization.
"That's why the community has to be part of the development, so we can make sure whatever happens in our neighborhood is culturally appropriate," Duncan said. "I want to know what's going to stop us. People these days don't even think about black and whites being together."
The original Moulin Rouge, Las Vegas' first integrated casino, was closed by police action, Duncan said. "If that happened today, it would be considered a hate crime."
At this rate, it won't be the economy that stops the project.
"The tourism industry is at an all-time high, and that has contributed to increased demand for hotels and other tourism venues in Southern Nevada," said Brian Gordon, who is a principal in local economic research firm Applied Analysis.
ROAD BUMPS
But there is some tension between Duncan and Johnson. Duncan describes their relationship as "divisive," and personal relationships in business tend to dictate project outcomes.
"This is the first time the community's ever done it; all the other times it's been one private developer trying to be a billionaire. Everybody wants to be a Donald Trump or a Steve Wynn, but I think the time is over to make one guy a billionaire," Duncan said. "That's what is happening with (vice president of Moulin Rouge Holdings) Gene Collins and Scott Johnson: They want to be billionaires all by themselves."
"Frankly, I'm not sure what Ms. Duncan is doing (with the property), because their contract expired back in January. They couldn't come up with the funding to close it, and we had the option to purchase," Johnson said. "We're in contract with the receiver. I have the contract."
Duncan acknowledged Moulin Rouge Holdings is doing everything it can to be the sole owner of the property.
"I just told them yesterday that 'I'm sorry to bust your balls, but the Moulin Rouge is bigger than Scott Johnson, it's bigger than Gene Collins, it's bigger than Katherine Duncan. It's a community project and we have to work together to bring it forward, because it's too big, it's too important, and there's so much support for the project. So, please don't screw it up.'"
Both Duncan and Johnson said, though, that they are willing to work together.
Johnson said he shares Duncan's vision of having the property be family-friendly and community-oriented.
If Johnson and Duncan decide to not work together, District Judge Elizabeth Gonzalez will decide who will have main control over the project.
A previous version of this story referred to Scott Johnson as president of Moulin Rouge Holdings LLC. Boris London is the managing member, or president, of Moulin Rouge Holdings LLC.
Contact Nicole Raz at nraz@reviewjournal.com or 702-380-4512. Find @JournalistNikki on Twitter.
RELATED
Hope flickers anew at old Moulin Rouge site in downtown Las Vegas
Groundbreaking held for new Moulin Rouge Las Vegas