Tight Vegas labor market could lead to job shuffling as casinos gear to open
Updated August 8, 2023 - 10:28 am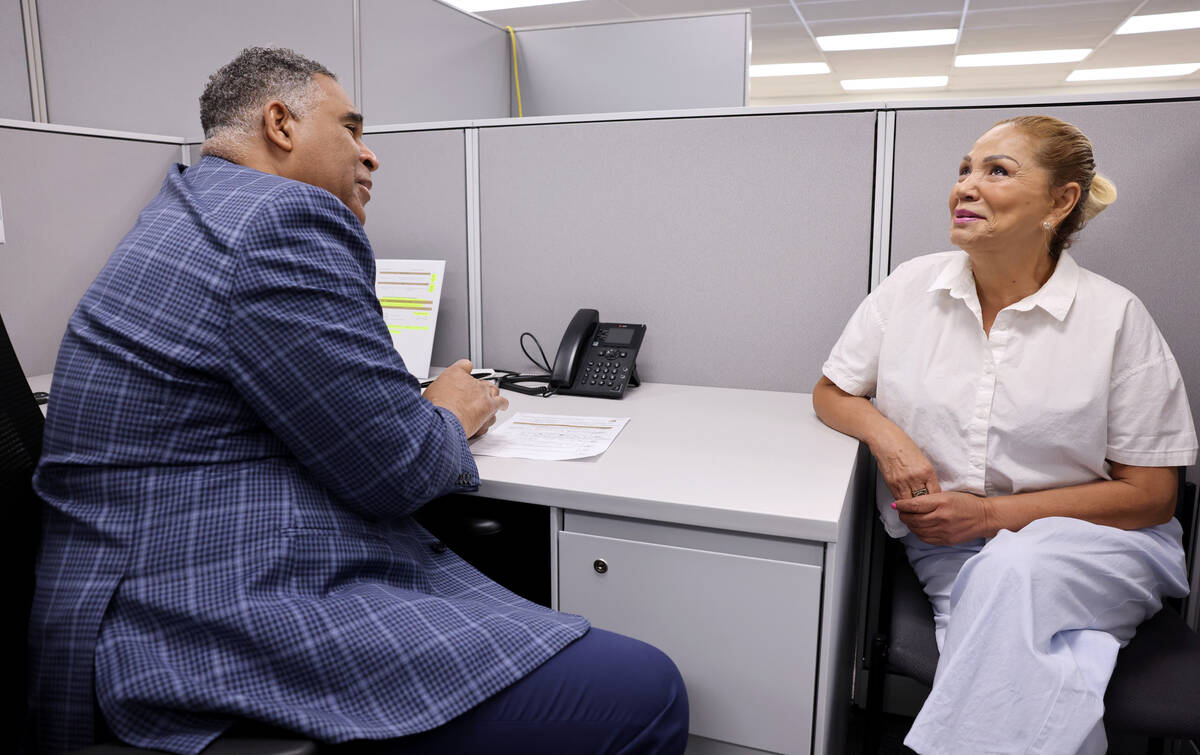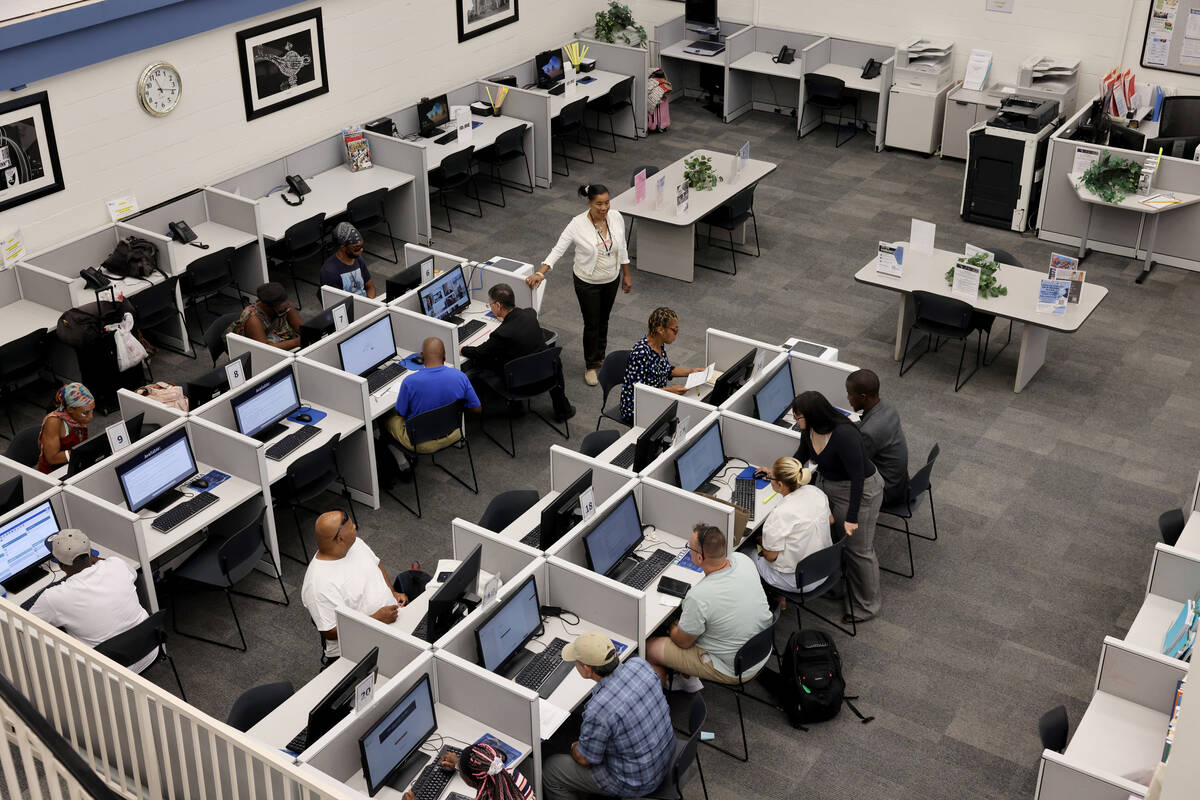 Lisette Loesch got her first hospitality job on the Strip in May, leaving call centers behind in hopes of earning better wages from tipped work in resort-casinos. But after about a month of limited hours for her on-call job in a Paris Las Vegas restaurant, she said she was ready to look elsewhere for something that promised to be more steady.
She didn't have to look for long. On a recent Thursday in July, she visited an MGM Resorts International housekeeping hiring event at the EmployNV Career Hub and was able to walk away with a new job.
"I wasn't used to (on-call/temp). It's not fun. Some weeks you get hours, other week's you're like, ugh," Loesch said. "I just want consistency and a good enough pay."
Labor specialists and hiring managers in Las Vegas say that hospitality sector jobs have grown in the past year, pushing past some of the worst of the so-called Great Resignation of 2022 when employees were leaving jobs and finding new ones at record rates across the country.
But the effect of that zeitgeist is still being felt. Loesch is one of thousands of Nevadans who have been empowered to move between jobs until they find the right fit, leaving hospitality companies on a perpetual search for employees — all while new competitors in the market prepare to try to hire thousands more.
Expect 'resort hopping'
Nevada's unemployment rate in June, the latest available data, was 5.4 percent for the third consecutive month, according to the Bureau of Labor Statistics. The Silver State has consistently led the nation in job growth rate, most recently at 4 percent growth year over year.
The data show gains in jobs and people rejoining the workforce, according to the Department of Employment, Training and Rehabilitation. Most sectors have recovered, in part by tapping into former hospitality workers who left the industry and received new training or skill certifications, Marchele Sneed, the employment security division manager at DETR, said.
While the state's leisure and hospitality sector has recovered the jobs lost during the pandemic, some subsectors still face challenges in hiring and retention, Sneed said. People are more likely to accept a job offer, viewing it as a temporary stop while they wait for another offer.
Such a problem may continue to happen through the rest of the year as several resorts and venues across the valley begin hiring thousands. The MSG Sphere at The Venetian has previously said it will hire up to 3,000 people for its entertainment venue opening in late September. At the north end of the Strip, the Fontainebleau expects to start hiring in September for about 5,000 non-management roles before its December opening. And in the southwest valley, Station Casinos' parent company Red Rock Resorts anticipates 1,500 full-time jobs will be available when it expects to open the Durango hotel-casino on Nov. 20.
"We'll see a lot of people do what we call 'resort hop,'" Sneed said. "They'll leave their current positions and go to the new, better, more luxurious resort. We'll also see a lot of people doing part-time work, where they're actually trying to supplement their income, like if they have their own job or their own company."
More hiring events
Some resort operators say the intense labor market already changed their hiring strategies. At MGM Resorts International, talent acquisition was strategized every one to two years, pre-pandemic, Vice President of Talent Acquisition Becky Smith said. That has changed dramatically since the Great Resignation.
"We're watching the market literally on a quarter-by-quarter basis, and we're really agile right now," Smith said. "We're pivoting and flexing our strategy based off of what we're seeing two to three months out at a time, and that's been working for us."
The company now focuses its efforts on three to five weekly hiring events — compared with two or three per year before 2020. The job fairs mostly focus on high-volume positions such as housekeeping, security officers and baristas, where turnover is common.
The events were established from feedback from applicants that showed they wanted on-the-spot offers. MGM can hire, drug screen and on-board a new employee all before they leave an event, Smith said.
"Hiring events have been huge for us because what we hear from candidates is they want a job today," Smith said.
The efforts appear to be paying off for the company. Smith said MGM is averaging about 2,500 open positions, or less than 5 percent of its workforce. This time last year it had about 5,000 open positions, she said.
The strategies are especially important going into the last quarter of the year and first of 2024, when the Formula One Grand Prix in November and Super Bowl LVIII in February take place. Smith said the remainder of this year will be focused on filling the remaining spots, accounting for turnover, so that the company is fully staffed during the busy season.
Capitalizing on 'the hype'
As current employers focus on keeping staff, new market competitors must figure out how to entice them away. The Fontainebleau began hiring managerial positions this summer and expects to reach 500 employees by the end of August, Senior Vice President of People Kimberly Virtuoso said.
In September, the heavy lifting will begin as the new resort will try to fill bars, restaurants, hotel operations, technical teams and more with front-line workers. Curiosity around the resort — and its storied presence on the Strip for nearly 20 years before its official opening — has helped generate candidate interest, she said.
"It's not lost on us that it's a tight labor market, especially in Las Vegas and in the hospitality industry, especially coming out of a post-pandemic world where we lost a lot of skilled, talented hospitality workers to other industries," Virtuoso said. "But the hype and the tremendous amount of constant candidate interest is significant."
Virtuoso said Fontainebleau's talent acquisition will focus on grassroots efforts and PR campaigns to get the company's name in the community. She said they will highlight the company's philosophy of "humanized hospitality" and unique benefits, like a weekly pay schedule, that may entice someone to lose union seniority when leaving another resort.
"For the majority of our members being hourly employees, that's really important from a financial standpoint and a big selling point when we talk about our hiring strategy," Virtuoso said. "I think it'll entice many individuals who want to look for that."
Executives with Red Rock Resorts echoed that sentiment in its second-quarter earnings call on Thursday. President Scott Kreeger told investors that the company began strategizing for its talent acquistion plans more than a year ago and has launched an internal recruitment campaign. An external hiring push is expected to launch on Aug. 14, though the company has already received "unsolicited interest."
"We had competitive wages and benefits," Kreeger said. "They're not to be completely immune to other factors. We do have Fontainebleau coming online, we do have the Sphere coming online, so there is a competitive market out there, but we think we're going to compete really well."
McKenna Ross is a corps member with Report for America, a national service program that places journalists into local newsrooms. Contact her at mross@reviewjournal.com. Follow @mckenna_ross_ on Twitter.