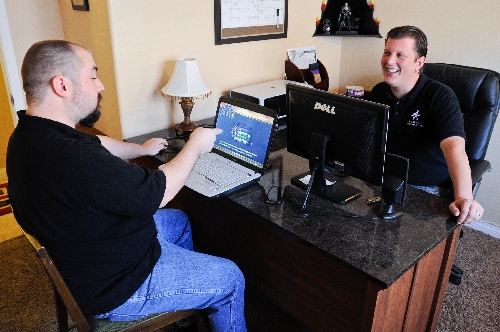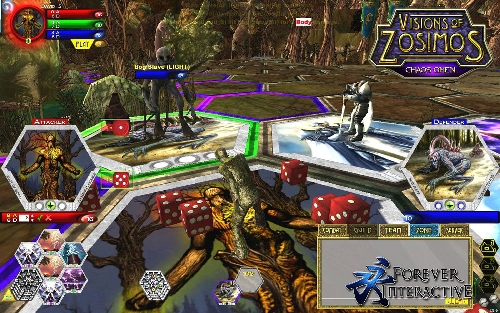 "Visions of Zosimos," a video game based on a third-century A.D. book of the same name, is about to make gaming history, and you could play a part.
Two Southern Nevada game developers are part of a national team trying to kick-start what they have dubbed "the world's first true massively multiplayer online collectible card game."
Via the 60-man mobile collective studio Forever Interactive, David Staats of North Las Vegas and Edward Kaczynski of Henderson have spent about three years creating a virtual universe and new genre in gaming.
"We're as independent as you get," Kaczynski said.
"Visions of Zosimos" is based on ancient folklore from the first known text to speak of alchemy as it pertains to the afterlife. The video game contains elements of dice, cards and board games.
But before its slated February debut, Forever Interactive, Staats and Kaczynski need support to polish off its flagship title.
The company launched a kickstarter.com fundraising campaign to collect $30,000 in 30 days to back "Visions of Zosimos."
Kickstarter is a crowd-funding model, and those who pledge donations receive various incentives. Pledges begin at $1, and participants can donate any amount. Pledge incentives include in-game rewards such as the participants' name in credits, their visage added to the game, revealed game secrets or their name added to the lore of the game.
Forever Interactive has until July 8 to reach its goal.
Kaczynski, a movie theater manager, and Staats, a full-time art student, volunteer their time and talent to the project. Forever Interactive is a mobile, virtual development studio, with programmers and developers based around the United States. Staats is project director, and Kaczynski is content director.
The men are among the few Forever Interactive developers to hail from the same area.
Once finished, "Visions of Zosimos" is to be a free online game but will include an integrated store to augment play.
The Kickstarter funding is needed to cover the game engine, HeroEngine, and server platform costs as well as licensing.
"If we could afford to do this ourselves, we would," Kaczynski said.
Donations will be accepted until about 7 a.m. July 8.
"I'm fairly confident we'll make it," Staats said.
"Visions of Zosimos" could create a new genre of video gaming, the men said, because of its built-in customizable card game.
The process, akin to collecting Pokémon cards for strategized play, blends card play with role-playing games such as World of Warcraft.
"The market for that is very thick," Staats said. "We are looking at what gamers love and adding to it."
In "Visions of Zosimos," the players direct an alchemist through the afterlife, and their goal is to compromise their opponent's homunculus, an artificially formed miniature human, while protecting their own.
The strategy therein is resource management via the player's library of cards and dice. The cards include spells, soldiers, traps, abilities and directives.
"It's not just card over card; it's a world to play the cards," according to the game's demo video.
Players are to receive a standard set of cards and supplement their collection via the online store and trading with other players.
The game is currently in alpha stage testing and expected for beta release in October. Players are scheduled to be able to fully access "Visions of Zosimos" in February.
For more information, visit foreverinteractive.com. To pledge, visit tinyurl.com/MMOCCG.
Contact Centennial and North Las Vegas View reporter Maggie Lillis at mlillis@viewnews.com or 477-3839.
To help:
For more information, visit foreverinteractive.com. To pledge, visit tinyurl.com/MMOCCG.