U.S. casino billionaires place bets in Japan's tale of two cities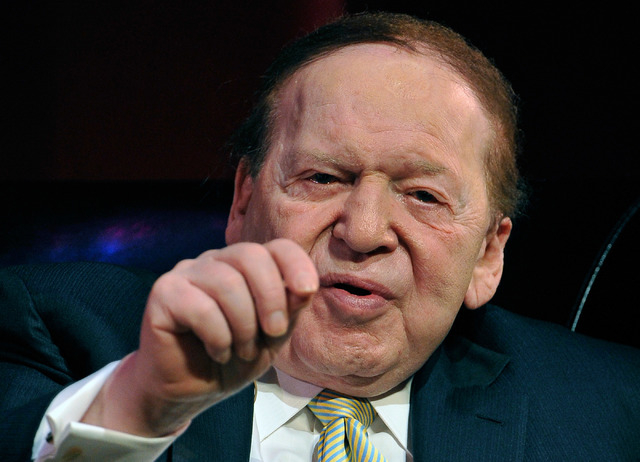 TOKYO — Two U.S. billionaires are betting on rival cities, Tokyo and Osaka, to be the first in Japan to open resorts — once the government gives the go-ahead to legalize gambling.
Japan is one of the world's last untapped gaming markets and could become the third largest gambling destination after Macau and the United States, with annual revenue of more than $40 billion, according to broker CLSA.
Lawmakers who support legalizing casino gambling hope to see initial draft legislation this year, with the first resort opening by 2020, when Tokyo hosts the Olympic Games.
In a race for first-mover advantage, 76-year-old Chicago real estate mogul Neil Bluhm has set his sights on the southern commercial hub of Osaka, while Las Vegas gaming tycoon Sheldon Adelson, four years his senior, is putting his weight behind a Tokyo flagship resort.
Bluhm, who owns casinos in Pennsylvania, Chicago and Niagara Falls on the U.S.-Canadian border has a net worth of $2.6 billion, according to Forbes. The former lawyer and head of Rush Gaming believes Osaka has the kind of flexible local government that will help drive this project, and, crucially, has "shovel ready" casino sites.
He says the whole process — from approval to construction — in Tokyo will be more complex, more time-consuming, and more expensive.
Although Adelson hasn't ruled out pitching for Osaka, too, he sees Tokyo as the main prize, given its highly affluent 13.2 million population. The CEO of Las Vegas Sands Corp., who Forbes says is worth close to $39 billion, has pledged to spend $10 billion as Japan opens up to legal gambling — an offer he says his rivals can't match.
In a recent report, Morgan Stanley predicted that a Japanese casino resort costing more than $5 billion would offer a return on investment of below 20 percent because of rising costs and a struggle to attract enough high-rolling Chinese VIP customers.
Sands, which has casinos in Macau, Singapore and Las Vegas, remains bullish on its Japan plans, given the country's wealthy population and proximity to China.
"We are very confident in our ability to generate a return that would be satisfactory to our shareholders," George Tanasijevich, managing director for global development, said in a phone interview. He did not elaborate.
Bluhm shrugs off rivals' talk of big money spending.
"Sometimes people like to throw big numbers around in order to get picked. … We have been more for Osaka in the $4 (billion) to $5 billion range," he told Reuters.
Bluhm also reckons he may have an edge over the big operators in Macau — who he thinks likely prefer Tokyo — by working alongside local partners.
"In reality, they are going to want to totally run the project. They are probably not used to having partnership relationships like we are," he said.
Fifty-six percent of Osaka residents polled in April said they were positive about the city of 2.8 million people having a casino. The city, located on Honshu Island at the mouth of the Yodo River has a reputation for being more extroverted than Tokyo, and local authorities have designated a 170-acre plot of reclaimed land as the preferred resort site.
Osaka Gov. Ichiro Matsui told Reuters last month that casino operators would invest around $5 billion for a full-scale resort and bear some of the infrastructure costs such as a potential rail link.
In comparison, officials in Tokyo, already setting about preparing for the 2020 Olympics, appear more tortoise than hare.
Industry executives worry privately that Tokyo is so focused on getting the Olympics right that there's little momentum driving the casino issue.
Tokyo Gov. Yoichi Masuzoe, a former health minister, has yet to say whether he will seek a casino license for the capital or not.
In Osaka, officials say a casino would help spur Japan's tourism beyond heavily populated Tokyo.