Union sets strike vote date for Las Vegas hospitality workers
Updated September 7, 2023 - 7:12 pm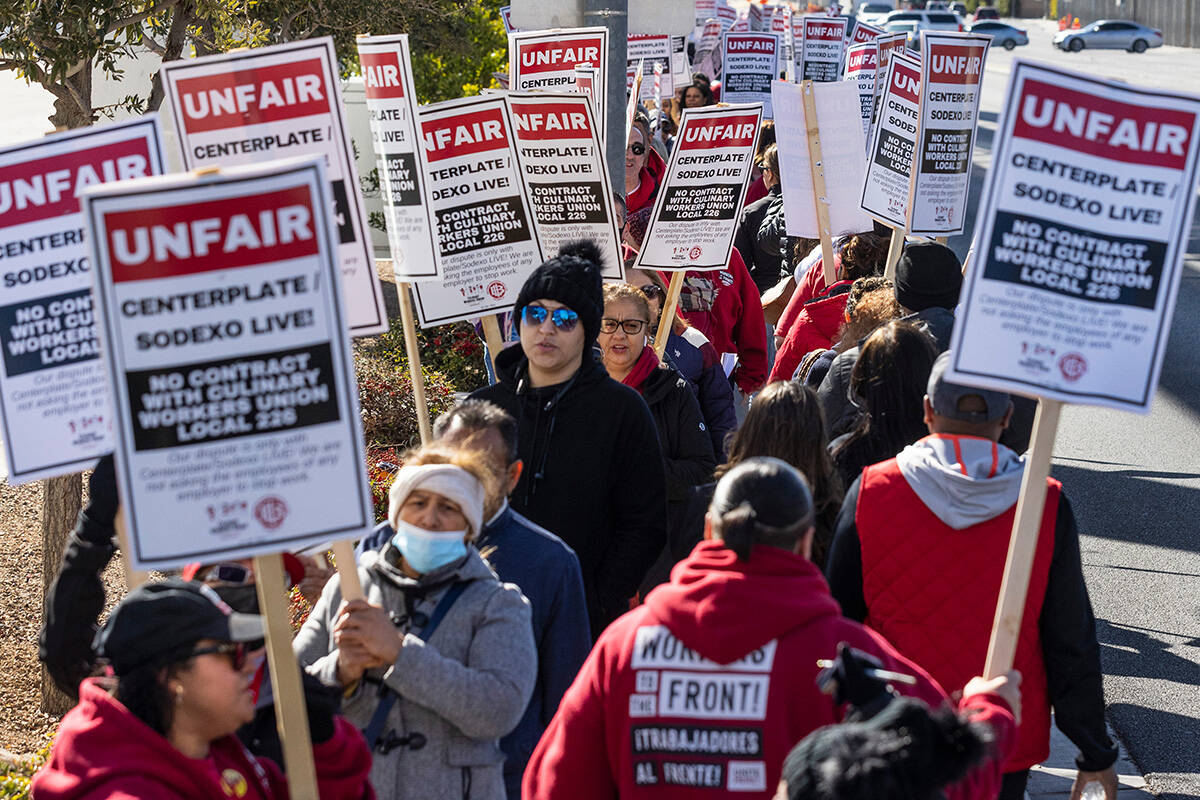 Hospitality workers and the resort industry in Las Vegas have until late September to finish contract negotiations or else their union will hold a strike vote, Culinary Local 226 announced Thursday.
The union said it will hold a strike vote on Sept. 26 at Thomas and Mack Center for more than 53,000 hospitality workers at Strip and Downtown Las Vegas properties. If a majority of the workers vote yes, the negotiating committee for Culinary and the associated Bartenders Local 165 will be authorized to call for a strike, according to a Thursday news release.
The union said it hasn't set a strike deadline and continues good faith negotiations with the gaming companies. There have been multiple rounds of negotiations with the top three employers on the Strip — MGM Resorts International, Caesars Entertainment and Wynn Resorts — but still have not reached tentative agreement for a new five-year contract. Properties have been operating under extensions since the last city-wide contract ended on June 1.
"We are negotiating for the best contract ever in the Culinary union's history to ensure that one job is enough. Companies are generating record profits and we demand that workers aren't left behind and have a fair share of that success," Ted Pappageorge, secretary-treasurer for the Culinary union, said in a statement. "As companies reduce labor, there are less workers who have even more responsibilities and are doing more work instead of spending quality time with their families, and that has to change. Workers have built this industry and made it successful and that's why we are demanding that workers share in that prosperity. It's disappointing that we are still so far apart from the casinos after months of negotiations with the largest three gaming companies in Las Vegas."
Culinary officials say they are negotiating for wage increases; lowered housekeeping quotas and mandated daily room cleanings; stronger on-the-job safety programs; extended recall rights and more.
The contracts cover non-gaming employees, including guest room attendants, servers, porters, bellmen, cooks, bartenders, laundry workers and kitchen workers at about 50 Strip and downtown properties.
"It's important to me to win the best contract ever because the cost of living and expenses have really gone up. I want to be able to send my son to college soon, so I need better wage increases to be able to plan and save for that day," Francisco Parra, a cook at Paris Las Vegas, said in the news release. "I believe one job should be enough for a person to support their family and having higher wages would help me pay mortgage, put food on the table, and gas in my car."
The last city-wide strike vote was in 2018, when a majority of the 25,000 workers voted to authorize a strike — but a deal was struck before any walkouts occurred. The last citywide strike was held in 1984, when 17,000 Culinary members walked off the job for 67 days, according to the union.
McKenna Ross is a corps member with Report for America, a national service program that places journalists into local newsrooms. Contact her at mross@reviewjournal.com. Follow @mckenna_ross_ on X.