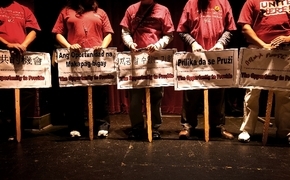 Having worked for a year with unsettle contracts, the Culinary and Bartenders unions on Wednesday called for a June 1 strike against nine downtown Las Vegas casinos.
Upward of 2,000 restaurant workers, hotel housekeepers, cocktail servers, bartenders, and other members of the unions plan to walk off their jobs and picket outside the D, Four Queens, Binion's, Fremont, Main Street Station, Plaza, Las Vegas Club, El Cortez and Golden Gate.
But union leaders still have meetings with El Cortez and Boyd Gaming Corp., which owns Fremont and Main Street Station casinos, scheduled before the strike date, Culinary Local 226 spokeswoman Bethany Khan said.
"Our members downtown deserve to earn a decent living by working hard under a fair contract," Geoconda Arguello-Kline, leader of the Culinary Union, said in a statement. "They should not be left behind as hundreds of millions of new investments pour in for downtown revitalization."
Boyd Gaming spokesman David Strow said the casino company has had several "productive negotiating sessions with union representatives. Those talks are continuing, and we are making good progress. In the past, we've always been able to resolve our issues and reach an agreement with the union. There's no reason to believe this time will be any different."
Khan said union leaders are "leaving calendars open" to meet other casino executives.
"A strike is a last resort, and we would prefer a settlement, we would prefer a contract," Khan said.
In April, the unions agreed to a five-year deal with the Gold Nugget. Earlier this year, the unions made similar agreements with Strip casinos.
Those settlements have followed a typical procedure, and the latest union announcement could be interpreted as little more than "saber rattling," or a bargaining tactic to encourage a settlement, said Bill Werner, an associate professor of labor relations and employment law at the University of Nevada, Las Vegas.
"There have been very few times when downtown casinos have taken on a strike that didn't start on the Strip," Werner said. "There's no reason to believe there is some issue downtown that has got them at absolute impasse that doesn't exist anywhere else on the Strip. That issue would have shown itself by now."
Should no deal be reached, however, a downtown strike could be a strong show of force, as workers from Strip hotels have also signed up for strike shifts.
"We are the backbone of downtown Las Vegas, and we ask that the community support us by not crossing strike lines," Patricia Montes, a housekeeper at Four Queens, said in the union statement.
Union members formed an informational picket downtown last month and have signed up for strike benefits and strike picket shifts since a strike authorization vote in March.
The unions represent more than 55,000 workers in Las Vegas and Reno.
The group in contract disputes includes another 1,000 workers from Brady Linen Service, which cleans the sheets at roughly 60,000 hotel rooms, but there are no plans for a strike against the laundry company.
Werner said he expected Boyd to agree to a deal with the union soon, which could lead to smaller casino companies following suit.
He said he has monitored news of the negotiations, but has no insight into the closed-door discussions.
"They're down to the last few things," Werner said. "But every contract negotiation comes down to the last few things, and then they typically get settled."
Contact David Ferrara at dferrara@reviewjournal.com or 702-387-5290. Find @randompoker on Twitter.