Veteran horticulturist oversees big blooms at Wynn Las Vegas
Updated May 13, 2017 - 3:38 pm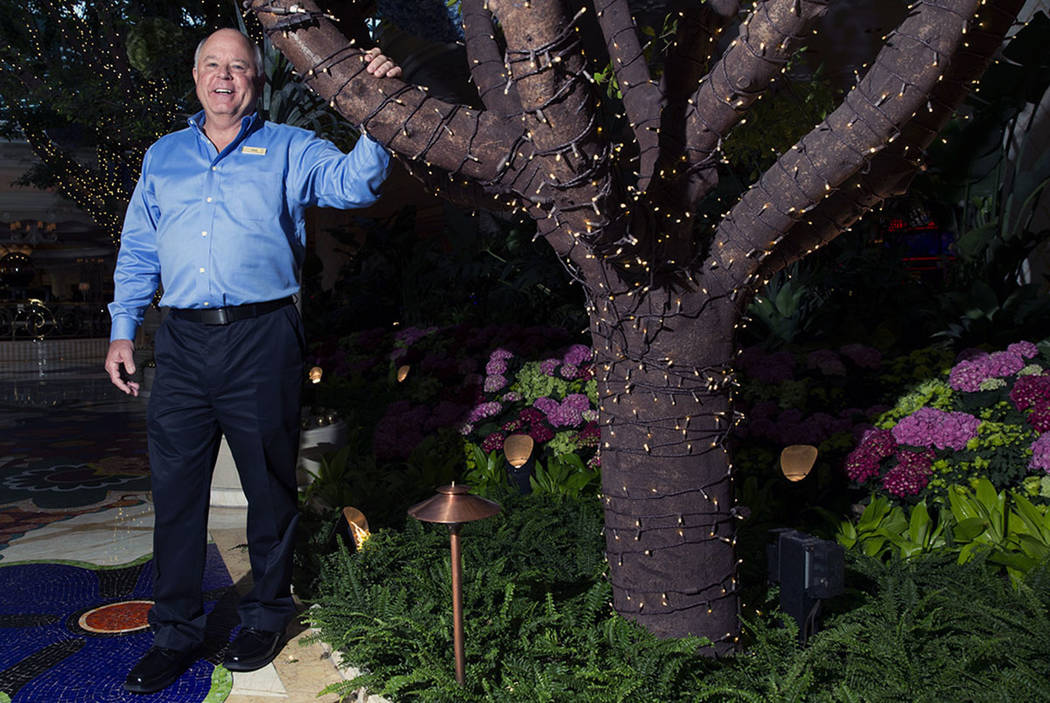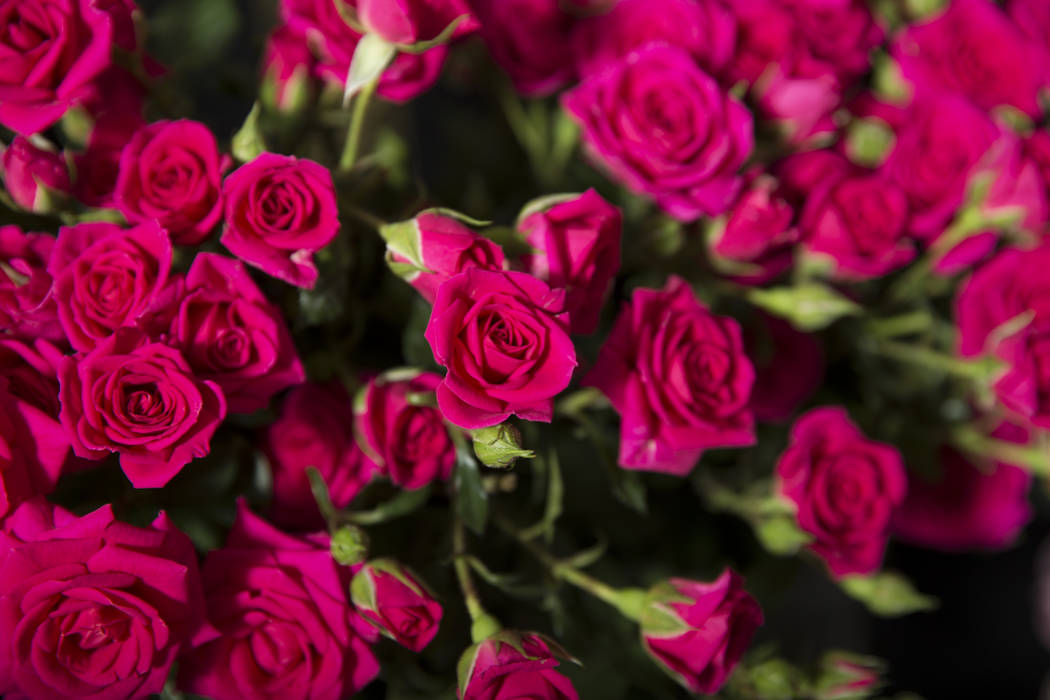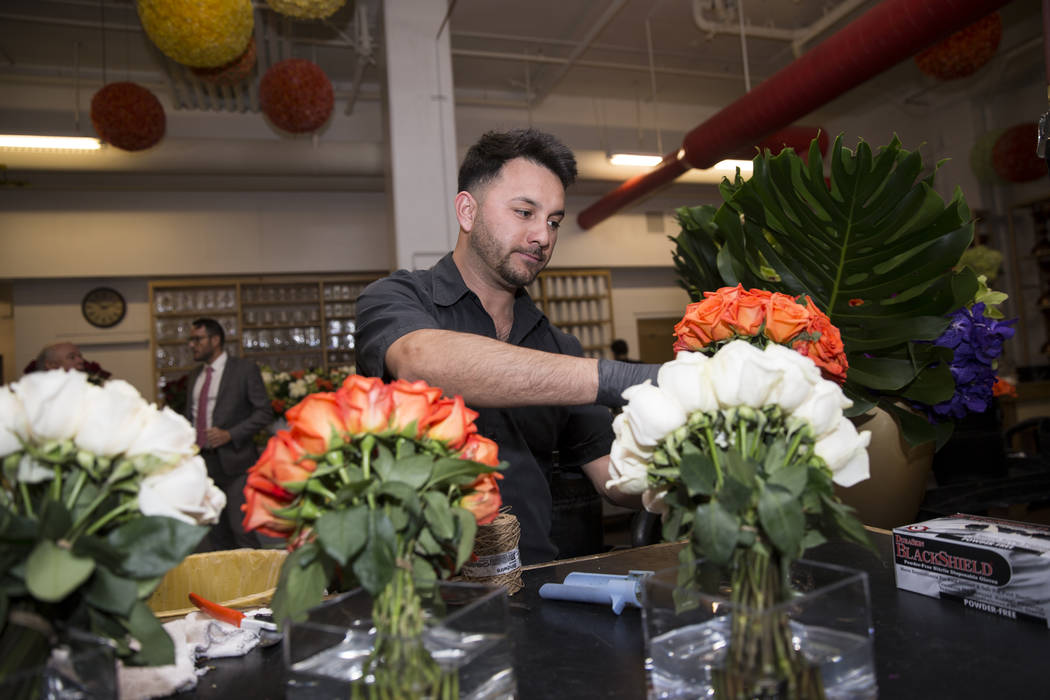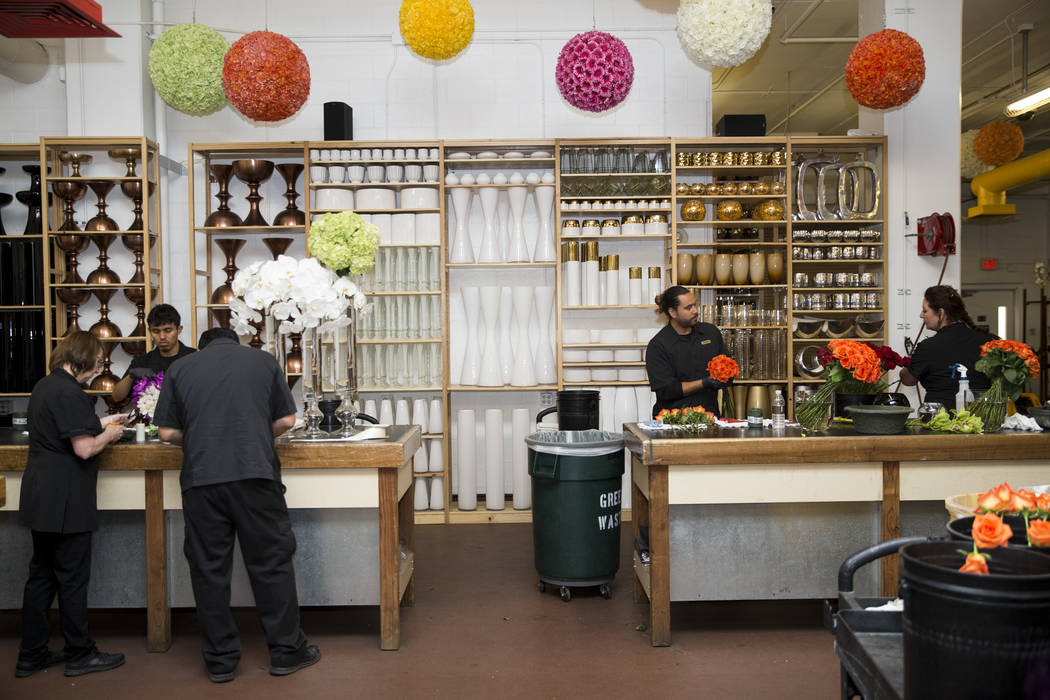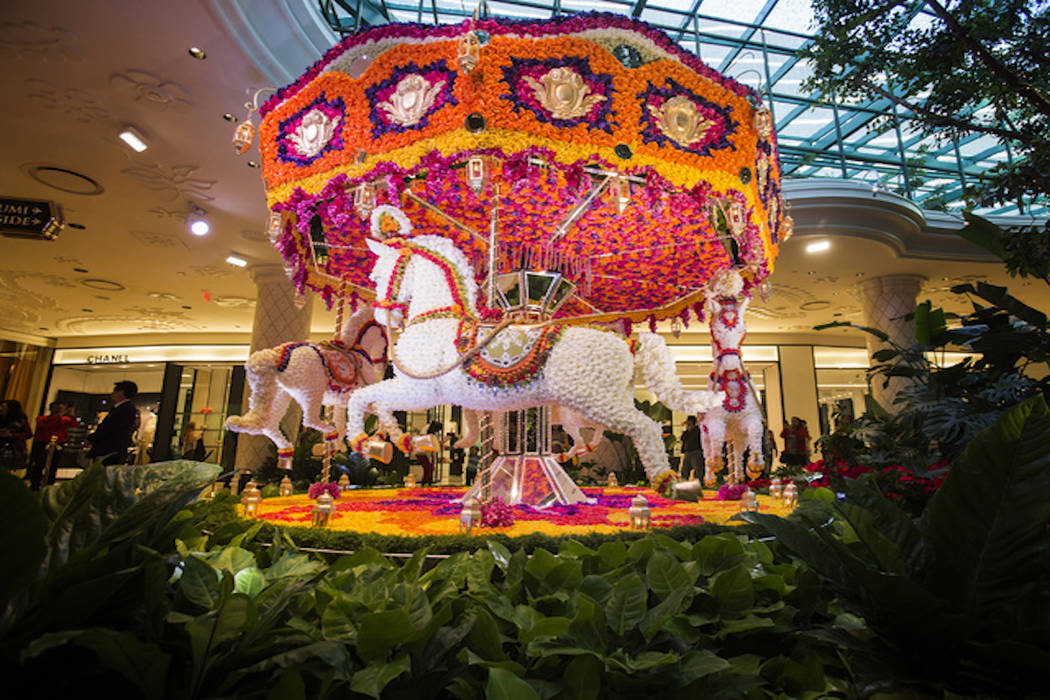 As tourists snap their portraits in front of Wynn Las Vegas' ornate atrium, they often ask themselves aloud if the flower sculptures and trees are real.
They scratch the bark of the dozen 50-year old ficus trees with their fingernails. They stare long at the flower-coated spheres above.
Whether they can decipher reality from fiction, they are generally in awe, filling up the Wynn hashtag on Instagram with photos.
Gary Cramer, a soft-spoken, avuncular man with blue eyes and white hair, observes the tourists in the atrium five days a week as he makes his daily 8:30 am walk through the Wynn and Encore hotels to check on 12,000 pots of floral and 5,500 fresh stems in the public spaces, covering six to eight miles in the process.
"To stand back and watch them in the atrium say, 'Oh my god' — that is the best feedback,'' says Cramer, 60, director of horticulture at Wynn and Encore.
Cramer's team — including 24 florists, 35 outdoor gardeners, 25 indoor gardeners and 17 managers and supervisors — can go by unnoticed in the resort.
And that is the aim.
Early start
The 24 florists work under Evelyn Herrera in a 5,000-square-foot room below the main casino floor, cleaning and cutting the fresh stems brought weekly from Asia, Holland or California, including 350 Phalaenopsis orchids from Taiwan and Vietnam.
Delivery trucks back right up to a far wall near the horticulture room's 1,500-square-foot refrigerator.
The first shift starts at 3 a.m. with watering of each floral arrangement in the public areas, including the hotel and elevator lobbies, restaurants and retail stores.
The workers cut out damaged flowers and replace them with fresh ones. Each floral arrangement is replaced with a new piece twice a week.
The 7,000 potted seasonal color in the atrium are replaced every three weeks over the course of three days.
To get that work finished by the time guests start rising for breakfast at 7 a.m., the team begins at 2 a.m.
1,000,000 stems
Cramer's team also handles the flower arrangements for many private events, such as weddings and corporate meetings, and guest requests on holidays such as Mother's Day and Valentine's Day.
A white calendar board on the wall of the horticulture department shows at least 11 events, mainly weddings, in the coming days.
It hangs opposite the department computer, which is checked every 10 minutes to see if there are any urgent requests from the concierge. There are five to 10 on a typical work day, rising to 15 to 20 on the weekends.
One elaborate wedding required Cramer's team to arrange 20,000 flowers, including 4,000 orchids. The flowers were shipped in from California, Hawaii and Holland. Production, set up and take down took a total of 2,000 man-hours.
Overall, between hotel and guest needs, Cramer's department handled, cut or arranged more than 1,000,000 stems in 2016, an average of 2,740 a day.
Special displays
Wynn and Encore, like some other Las Vegas resorts, create special displays for events such as Chinese New Year, Valentine's Day, Mother's Day and the domestic New Year.
Roger Thomas, who runs Wynn's design team, oversees such projects. Cramer works with Thomas to ensure the flower arrangements are in sync with the master plan.
"Whether it is carpet, drapes, pots, vases, plant material or flowers, our job is to maintain the integrity of design vision created by Mr. Wynn and Roger Thomas throughout the property. Inside and out,'' Cramer said.
Thomas and Cramer finalized plans this past week for the 2018 Chinese New Year showcase, which will feature three 9-foot-high, gold-leafed dogs surrounded by flowering chrysanthemums, begonias and calandivas.
Today, the Wynn and Encore will feature peonies, garden roses, tea roses, sweet peas, cataleya orchids and calla lilies in public spaces for Mother's Day. Cramer and Herrera expect to receive guest orders for another 3,000 stems for the Mother's Day holiday.
In early June, Cramer will start replacing the much-adored 120-round-flower sculpture that hangs from the Wynn. The new ones will include 24 with a different shape.
Wynn Las Vegas doesn't disclose how much the hotel spends on its flower needs, but with roughly 286,000 stems and 121,000 potted plants — some exotic — delivered yearly just for inside use, the bill probably runs in well into the millions. Cramer also oversees the 13 acres of greenery outside the Wynn and Encore.
"We are given all the resources to create the things we need,'' Cramer said. That echos a statement made by Steve Wynn during a hospitality conference May 2 that he attended with Thomas to discuss their collaboration.
"We don't design to budget, we don't design to material, we design to emotion. We don't care if it costs 100 or 1,'' Wynn told the Design Hospitality Expo with Thomas at his side.
"Our buildings exploit sunshine, plants and water,'' Wynn said. "They are what we all believe to be beautiful.''
California roots
Cramer's career path that would take him to the top of Wynn's horticulture department began at an early age and included an element of good timing.
At the age of 4, Cramer recalls helping his grandmother plant stock flowers in her backyard in Southern California. By 12, he was revamping his parent's garden in San Diego, planting American sweetgum trees as well as gazanias, marigolds and stock flowers.
He went on to study ornamental horticulture at California Polytechnic State University and work in a nursery for 17 years.
He might still be at the nursery today were it not for a visit to Las Vegas in 1997. During a stroll along the Strip, he passed the Bellagio, then under construction. The $1.6 billion project would be the most-expensive hotel in history when its doors opened in 1998.
"I thought this would be a cool place to work, and I applied for a job,'' he said. "I was looking for a challenge.''
After a decade at Bellagio, which switched hands to MGM Resorts International in 2002, Cramer joined Wynn in 2008, becoming director of horticulture.
Despite all the exotic flowers that have passed through his hands over his nearly 20 years in Las Vegas, stock is still his favorite, perhaps as much for the memory it brings back of childhood as for the beauty and scent.
"The fragrance is powerful, and I always think of my grandmother on that day when I smell them.''
Contact Todd Prince at tprince@reviewjournal.com or 702-383-0386. Follow @toddprincetv on Twitter.
GARY CRAMER
Wynn and Encore Horticulture Department director
— Manages more than 100 people.
— His staff replaces 5,500 stems weekly and 7,000 potted seasonal color every three weeks.
— Including guests requests for weddings and events, more than 1 million stems passed through the horticulture department last year.
Related
Carolyn Goodman is mom before mayor for adopted children
Here's where to take Mom for Mother's Day in Las Vegas