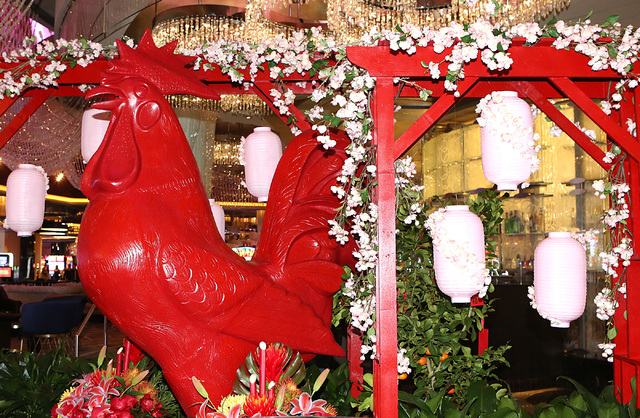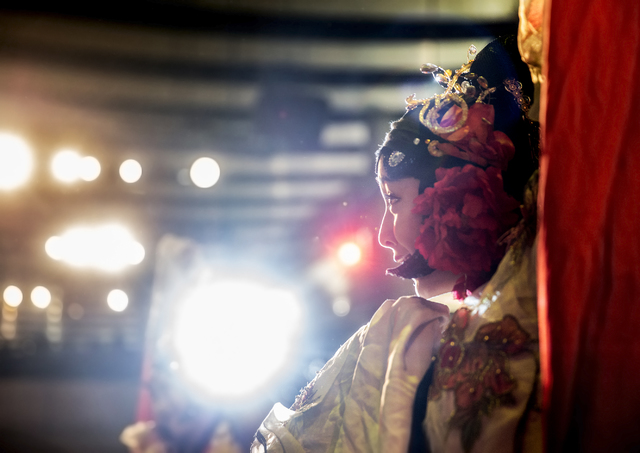 A 10-foot-tall black and red rooster with crystal eyes and rainbow-colored tail stands atop a mountain, tilts its head back and slightly flaps its wings as if alive. At its side is a hen guarding over half a dozen yellow chicks.
Nearby, 6-foot models of Chinese children dance in a garden filled with violet Guzmania Passion flowers and a fountain. Multicolored LED lights, made to look like exploding fireworks, hang overhead.
A steady stream of visitors — many from China and Korea — stop to take photos in front of the rooster as they roam the room to the sounds of traditional Chinese music. Even American visitors unfamiliar with Asian culture can quickly guess the Year of the Rooster is upon us.
The elaborate and colorful setup at the Bellagio's Conservatory &Botanical Gardens — which is entered through a model red and gold Moon Gate — celebrates the Year of the Rooster, which kicks off on Saturday.
It took 125 horticulture and engineering professionals six days working around the clock to assemble the set. Bellagio decorates the room only five times a year: for the four seasons and the Lunar New Year. That speaks volumes about the importance of the annual Asian celebration to the bottom line of Bellagio in particular and Las Vegas in general.
"China is an important market for Las Vegas, and our resort partners recognize that," said Michael Goldsmith, vice president of international marketing for the Las Vegas Convention and Visitors Authority. The authority has increased its Asia marketing budget by 26 percent for its 2017 fiscal year ending June 30.
Wynn Resorts Ltd. Chief Executive Officer Steve Wynn highlighted the importance of the Lunar New Year and the Super Bowl for first-quarter revenue at his Las Vegas resorts during a conference call on Thursday with investors. Wynn Resorts will place more than 100 tangerine trees around its Las Vegas hotels in addition to statues of roosters.
HAINAN AIRLINES ARRIVES
The Lunar New Year could have a greater importance on the local economy this year after Hainan Airlines launched the first direct flights between China and Las Vegas in December.
Hainan Airlines flights carrying visitors back to China at the end of the holiday run as high as 95 percent occupancy, said Joel Chusid, the company's U.S. executive director.
Miao Miao, a banker, and Xinmiao Zhao, a research associate, were among those who took a packed Hainan flight from Beijing to Las Vegas this week. Many others, like Sam Song, 16, are making the China-Las Vegas trip via Los Angeles. All three were in Bellagio taking photos near the Conservatory &Botanical Gardens and planned on celebrating the new year with a traditional Chinese dinner.
"This is a friendly gesture by the hotel to decorate for the Chinese New Year," Zhao said. "It makes us feel welcomed."
Not exactly fans of gambling, the young woman and her friend said they will spend their nine days together shopping for clothing and bags and trying different foods.
For those Asian tourists who bet big, the hotels are enticing them with exclusive dinners, free gifts and big prizes.
DEALS FOR HIGH ROLLERS
Down the block from Bellagio, The Cosmopolitan of Las Vegas is offering its high rollers the chance to win a new Mercedes-Benz and more than $35,000 in cash prices.
Palace Station, which has a large Asian clientele, is holding a special New Year's dinner for its high rollers consisting of braised shark fin soup, abalone, sea cucumber, steamed fish, jumbo scallops and dried whole scallops. It will also host a drawing for those guests, giving 12 winners chips worth $280 to $2,800. Bellagio is hosting a Lunar New Year gala and gaming tournaments for its VIP guests.
Retail outlets are getting in on the New Year's celebration in hopes of getting visitors inside to splurge on shoes and clothing. The Shops at Crystal, an upscale shopping center the size of six football fields, will host a Lion Dance show that pauses in front of select retailers.
Though showered with attention to their culture, some Asian visitors say they prefer to spend their time in Las Vegas exploring American culture and trying out local dishes.
"If I wanted to eat Chinese food and speak with Chinese people, I would have stayed home," said Edward Tsai, an engineer who traveled with his wife to the West Coast for a vacation, with a laugh inside The Cosmopolitan. "I travel to learn about other cultures."
Contact Todd Prince at 702-383-0386 or tprince@reviewjournal.com. Follow @toddprincetv on Twitter.